When we first started this blog, one of our goals was to inspire our friends and family to travel more. At the time, I used to joke that our only reader "gave birth to me"–and that was true, for a little while. But it's also true that nobody has been inspired more to see the world than my mom, and during this time, she's become an avid photographer with a special love for wildlife. She has devoted the past few months to documenting the explosion in humpback whale activity that we've seen this year in the Monterey Bay. She's been out on 7 (count 'em 7!) Monterey whale watching tours this season and she's captured some remarkable pictures of humpback whales. Cassie asked her to share her experiences and her whale watching Monterey photos in this post. As her son, I couldn't be more proud. – Kevin
This is a guest post by Eileen Johnson.
If you've ever wanted to go whale watching in California, now is the time to do it! The Monterey Bay whale watching displays have been AMAZING this year. The El Niño weather system has kept the water warmer than usual, bringing an abundant food source close to shore attracting the humpback whales. There are about 50-60 of them living and feeding right now in the Monterey Bay. The whales have been more active and coming up closer to shore than in recent years. (Cassie's note: And kayakers–after Eileen took this amazing shot, another group of kayakers were knocked over by a breaching whale. The tour companies have since suspended all kayak tours until the activity subsides. Group boat tours are still going out as normal.)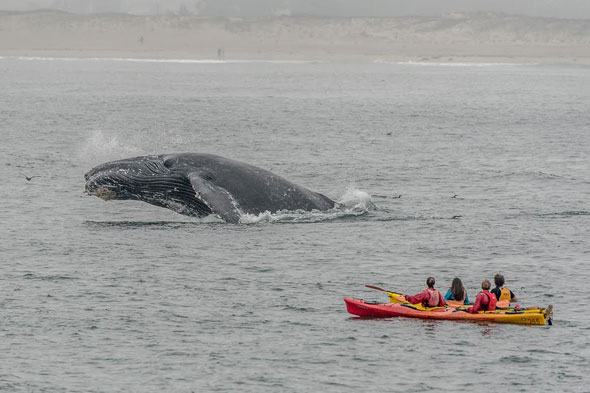 I've been on seven trips this year with my favorite Monterey whale watching company, Blue Ocean Whale Watch, located in Moss Landing, California.  I stumbled upon this company last year and I absolutely love them.
Captain Jim and the ship's naturalist, Kate, genuinely love the ocean and all its inhabitants. They've been helping with whale rescues when the animals have been stranded. I even witnessed the captain giggling with joy on a trip last April when he spotted some baby risso dolphins!  Kate does a very good job narrating.  She isn't talking just to talk, but talks when there's important and interesting information to share. She willingly answers questions, and talks about all the wildlife and behaviors they see right here in the Monterey Bay.  She even goes whale watching on her days off!
Here are some of the things I've seen on my whale watching trips this year.
Breaching. Lots and lots of breaching!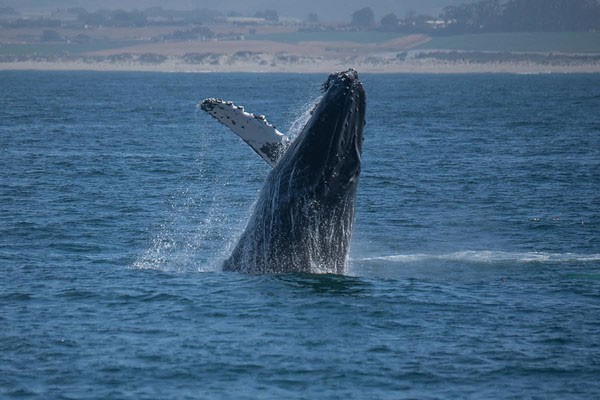 Lunge feeding.  We sat in neutral for about half an hour watching this…
Tail throwing.
Pec slapping.
Some other wildlife and behaviors that our naturalist pointed out:
A sea otter with a common murre, not a typical behavior.

Common murre father feeding his chick.
To find out more about the Monterey Bay whale watch company, Blue Ocean Whale Watch, check out their website.
To find out more about this year's unusual humpback whale behavior and whale watching in the Monterey Bay, check out these posts:
All photos are courtesy of Eileen Johnson.