It was 2005, and I'd just finished classes for the day at a Spanish language school in Guanajuato, Mexico. The instructors, José Luis, Esmeralda, and Guillermo had invited my classmates and me out for happy hour at one of their favorite bars.
We all ordered a beer, either the familiar mainstays Pacifico and Corona, or (for those of us feeling more adventurous) the local favorite, León.
When the waitress came back with our drinks, she handed José Luis his beer, but also a tall, frosty mug with a deep reddish-brown liquid in it. As he poured his beer into the glass, he explained that this was a Michelada or a "Mexican Bloody Mary". As I was to find out, depending on the restaurant and region of Mexico where you order it they make it differently, but it always includes lime juice and chile powder/hot sauce and usually includes Clamato, soy sauce, and Worcestershire sauce.
Intrigued, I ordered one myself and from the first sip, I was hooked.
Like a Bloody Mary, this drink is a considered hangover remedy. And like a Bloody Mary, this drink was savory, spicy, and tart. The michelada ingredients include an exciting mix of flavors, but I've had trouble making it at home.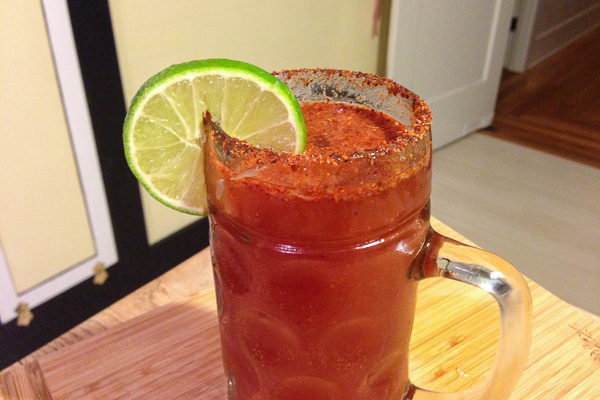 But after only 8 years, I'm happy to announce that I've finally come up with a recipe that brings me back to that very first michelada and rivals the best ones I've had when traveling in Mexico.
An Authentic Mexican Michelada Recipe
Ingredients
1

Mexican lager beer

Modelo is typical

Clamato

or tomato juice, if you really can't stomach the idea of clam juice in your beer.

3-4

splashes

hot sauce

more or less to taste. I use Tapatío

2

splashes

Worcestershire sauce

2

splashes

Maggi sauce

or soy sauce

1

lime

juiced

Tajín seasoning or salt

for the rim
Instructions
Take about a tablespoon of Tajín (or salt) and sprinkle it on a small plate. Rub a slice of lime around the rim of the glass and then press the rim in the Tajín to salt the rim.

Fill the glass about 1/4 to 1/3 with the Clamato juice.

Add the hot sauce, the lime juice, the Worcestershire sauce, and the Maggi (or soy sauce). If you used Tajín to salt the rim, pour any excess from the plate into the glass.

Fill the rest with cold beer.

Garnish with a slice of lime and enjoy!
Can't find the michelada ingredients in a store near you? Buy Tajín, Maggi Jugo, and Clamato on Amazon.
Want to save this post for later? Click here to pin it on Pinterest.