One of the snacks that my friend Jenny brought to our Avenue of the Giants camping trip, was cowboy caviar, a bean and avocado based salad that is great for chip-dipping. I thought it was the perfect food for camping! It keeps well in the cooler, it's hearty and filling and is great as a snack between meals when you are hungry after hiking or swimming. Because Jenny made this dish a day in advance, the avocado browned a bit, but it was still very tasty. I wound up eating most of the large container she brought along! I asked her to share her recipe…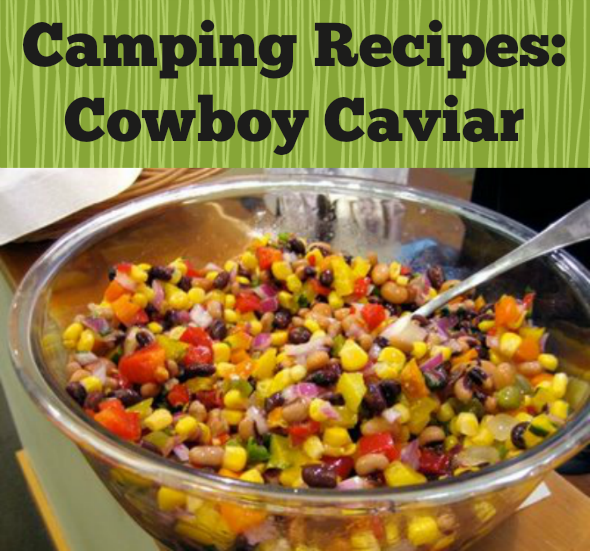 Cowboy Caviar Recipe
Healthy, hearty, and packed with protein. It's one of my favorite easy camping recipes!
Ingredients
DRESSING:
1/3 cup olive oil
1/4 cup red wine vinegar
2 cloves garlic, pressed
1 teaspoon cumin
Salt and pepper to taste (may be spiced with Tabasco)
SOLID STUFF:
1 can black-eyed peas, drained (or black white, or pinto beans)
1 can corn
1 cup green onions, chopped
1 cup cilantro, chopped
1 red onion, chopped
1 cup tomatoes seeded and chopped (or unseeded Roma tomatoes are fine)
2 avocados, diced (more or less to taste)
Instructions
This dish couldn't be more easy! Just combine ingredients for the dressing then mix in solid stuff. Serve with tortilla chips.
If you are making it a day ahead and can avoid it, don't add the tomatoes and avocados until just before you serve it. I suspect adding a squeeze of lemon to the finished dish will keep the avocados from browning, but I haven't tried that yet.
Want to save this cowboy caviar recipe for your next camping trip? Click here to pin this post on Pinterest.