The first thing I noticed when we got out of the car at our campsite in Humboldt Redwoods State Park, was a chorus of sounds echoing around me. They were faint and some of them sounded very far away, but others seemed closer so I looked up to the sky. The sounds were the trees towering over me creaking and moaning as they swayed in the breeze. I was terrified of one falling on me.

Kevin and I had joined a few friends to explore Northern California's "Avenue of the Giants", a 31-mile drive through old Highway 101 that cuts through ancient redwood groves. It was one of the few places in California I'd never been but had always wanted to visit.
The area is well-known for the enormously wide, drive-through trees that had been tunneled out allowing you to drive your car through them. Unfortunately we didn't get the opportunity to drive through any of them as we were in our friend's large truck. I'm not certain that there are size restrictions and that his truck wouldn't fit, but we figured we'd play it safe and save it for next time (don't worry, I got my fix of tourist traps when we made our stop at a local general store to get my souvenir Avenue of the Giants pressed penny.
There were six of us and two dogs piled into my friend's truck. We drove the highway, marveling at the wide trees we saw and we stopped at a few groves along the drive to hike the well-marked trails. This turned out to be more hassle than I expected, because poison oak blankets the forest floor. I tried my hardest to keep my schizophrenic dog on the trail! But the scenery was really amazing.

The best site we visited, though, was the Founders Grove nature trail (the dogs had to stay in the car for this one). Kevin remembers going to the Founders Grove when he was a kid, and gazing up in awe of the Dyerville Giant, one of the largest and widest trees in the forest. Less than a year later (March 1991) this 370-foot tree fell down in the strong winds of a storm.  Its fall sounded like a train wreck, and could be heard for over a mile away. Apparently this species of sequoia trees have very shallow-roots, which can be seen when you get up close to one of the felled trees. This realization made the possibility of being crushed by a tree at our campsite seems a little bit less paranoid.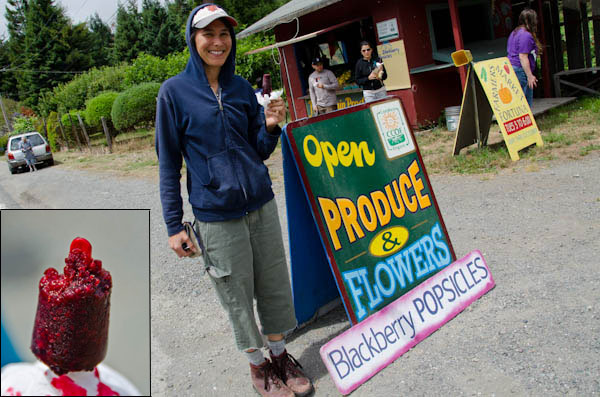 As we drove back to our campsite, we saw a little farm-stand with a sign for homemade blackberry popsicles so we screeched to a stop. At only $1 each (with a litte DIY tour of their organic farm included), it was the perfect ending to our day.
---
Has nature ever made you feel small? If so, where?