Links updated: March 2022
When we decided on the itinerary for our one-month trip to South America, we realized right away that checking a bag on each of our planned flights would be a big hassle and an even bigger expense. I've been packing incrementally lighter for several years, but the idea of carry on only travel for a month is still intimidating.
I've always loved to pack for trips. Part of this is the excitement I get from thinking of all of the places I will go and trying to imagine being there and planning the things I will need. The challenge for this trip is that we will be visiting very different climates during the southern hemisphere's fall season. Easter Island will be hot while Torres del Paine in Chile's Patagonia region may get closer to freezing with wind and rain storms. So we need an all-season wardrobe that will keep us warm and dry, but won't be a burden to haul around when we don't need them.
Tips for Packing Light
Here are some general tips for packing light:
Small backpack. I carry a Kelty Women's Redwing 40 liter and my husband, Kevin, has a Kelty Redwing 44. We both really like traveling with these bags. Each one has a large main compartment that zips open completely, roomy side pockets and compression straps on the sides to shrink the load a little more.
Quick-dry clothing. I pack mostly synthetic fabrics that are quick drying so that I can wash them in the sink when needed.
Layer! I get cold easily so I bring lightweight clothes that to take off or put on as needed.
A lightweight laptop (if you need one at all). I've never traveled internationally with a laptop. I've always been able to get by using internet cafes, computers at the hotel or hostel, and, more recently, my smartphone. But with the increasing availability of wifi, the need to back up the photos on our camera, and (last, but not least!) this blog, I thought it was time to try. I just recently upgraded to the 13″ Macbook Air. It is surprisingly quick, even when processing photos in Adobe Lightroom.
Learn from past mistakes. One lesson I've learned is to never skimp on facial care products. Travel does awful things to my oh-so-sensitive skin. When I've tried to skip a step in my normal routine to cut the number of products I bring, I've come home broken out and regret it. Bring the things that are important to your daily routine, just, in this case, pour them into smaller bottles.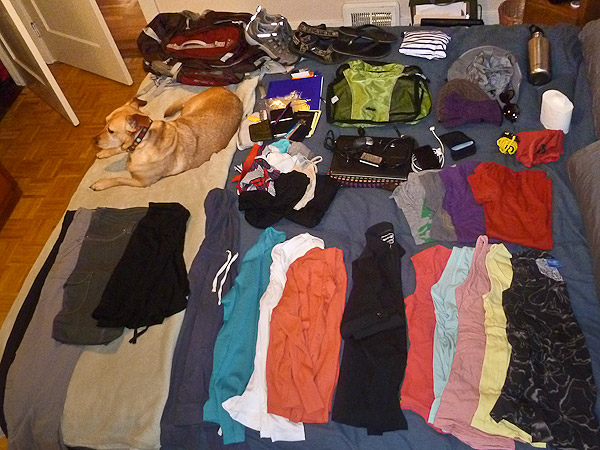 Here's what I'm taking (minus the dog).
And again, this is a bit more than half of what my husband and I are taking together. I have all of our personal care, first aid and most of our electronics, but he will have our DSLR camera and accessories (NOTE: Here is our associated Men's Packing List for Carry On Only Travel).
My all-season carry on packing list for women:
Clothing
Accessories
Electronics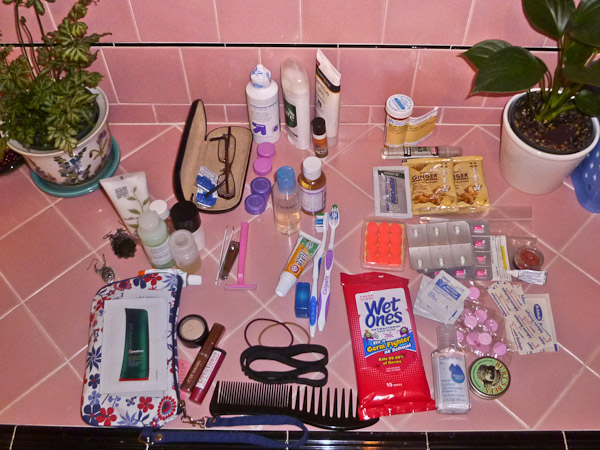 Personal Care
Facial care/Cosmetics/Jewelry
First Aid
Update: I shared more travel health tips in this post–> My Travel Health Packing List
Want to save this list for your next trip? Click below to pin this post on Pinterest:
---
What are your tips for packing light? What's on your personal carry on packing list for women?
Note: The product links use our affiliate program which means a tiny fraction of anything you buy through them go to support our site. I would never recommend something I don't use personally or believe in.