Yesterday I wrote a post summarizing my women's packing list for carry on only travel in South America. Today, Kevin has shared his list on what he is bringing on the trip. He has fewer total items of clothing, but they take almost the same amount of space as mine because they are so much larger. Also, he is toting some additional electronics including the DSLR camera and accessories (I have most of his personal care items, most of our electronics, and all the first aid).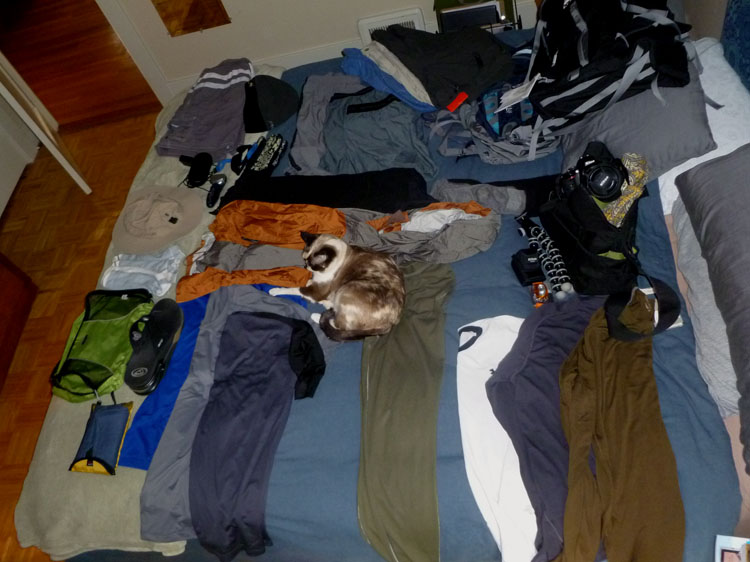 Here's what Kevin is bringing–minus the cat.
Clothing
2 pair convertible (zip-off) hiking pants
Pajama pants
Running/gym shorts
Swim trunks
Thermal underwear bottom
Long-sleeve athletic shirt
Long-sleeve thermal shirt
3 short-sleeve athletic shirts
Wind-resistant fleece jacket
Rain jacket
Hiking shoes
Flip flops
Hats (a cold-weather beanie and a sun/rain hat)
Wind-resistant gloves
3 pairs of quick-dry socks
3 pairs of quick-dry underwear
Accessories/Personal Care
Camelback pack for use as daypack and water bottle
Pack towel
Eyeglasses and case
Contact lenses (plus two spare sets)
Sunglasses
Retainer/mouth guard
Electronics
---
Last chance for suggestions…please help us cut!!!
Note: the links to Amazon use our affiliate program which means a tiny percentage of any purchase you make through them would go to support our site. We would never endorse a product we didn't use personally and believe in.