I'm a little afraid of horses. I was never one of those little girls that dreamed of owning a pony. My only experiences with horses as a child were at visits to the county fair, and my memories include the stench of manure and the flies that trail follow their every move. Though beautiful from a distance, up close they are intimidating and I always get the feeling they are ready to kick, spit or bite.
The Opportunity
Needless to say, I had never ridden a horse and it wasn't exactly something on my bucket list. So when I saw a Groupon-type offer for buy-one-get-one-free admission to a Pebble Beach horseback riding tour, it was the "Pebble Beach" part, more than the "equestrian" part that intrigued me. We love to take our pup Posey to the dog beach in nearby Carmel, and I thought that this, combined with a sunset tour on this beautiful and exclusive stretch of coast seemed a good excuse to visit.
To get to the Pebble Beach Equestrian Center, we had to enter the private, Pebble Beach community at the entrance to what most people know as "17 Mile Drive", a scenic road that stretches the length of the Monterey Peninsula from Pacific Grove in the North to Carmel in the South. Luckily on this trip, we were able to tell the gate we were "guests of the Pebble Beach Equestrian Center" and entered for free.
Because of the exclusivity of the community, I expected the center to be fancier than it was. It was a simple and rustic open, courtyard with feeding stations in the middle and stable stalls along the periphery. College-age kids in sweatshirts and jeans fed, groomed, and shuttled horses into and out of their stalls.
Our Horses
My horse was named Katie and Kevin's was named Fancy. Both horses were acquired from a rescue organization in the Central Valley. That made me happy as I remembered hearing a story on NPR about how the recession and high foreclosure rate have left hundreds of horses homeless, some abandoned in their pens and left to starve.
Our guide, Danielle, brought our horses over to a set of steps that I used to mount the horse. In addition to horses, I'm afraid of heights so my instinct was to clutch onto the saddle with both hands. Danielle corrected me telling me to hold the saddle with one hand, and hold the reins with the other. Then she said, "Katie sometimes tries to lead the pack, so pull the reins if she steps out of line". One of the other people on the tour also talked about being scared. He said his one experience riding as a child, a friend had joked that he needed to kick the horse in the side to get him to stop. He did so and the horse took off at full gallop leaving him barely able to hang on. This is what I feared "stepping out of line" could mean.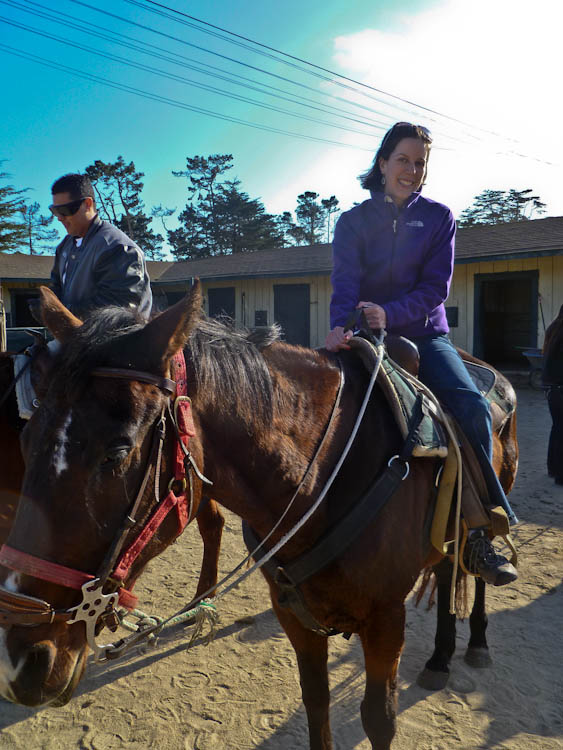 Exploring the Monterey Peninsula
Then we set off, Danielle's horse in front and the rest of our horses obediently following, single file into the forest. I was surprised that I didn't have to do anything, just hold on for the ride. Before we left, I attached my camera cord to my jacket's zipper pull so that I could easily snap photos one-handed.
The forest soon turned into sandy bluffs as we approached the coast. We saw the vegetation change to succulents and coastal shrubs and Spanish moss, that glowed in beautiful colors in the late afternoon sun.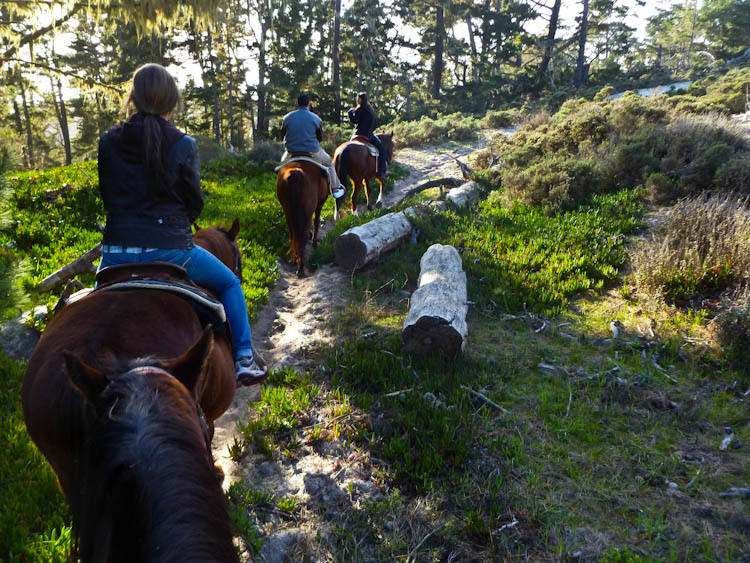 As we neared the top of the first bluff, we could see a sprawling, immaculately manicured, and empty golf course below us. Danielle told us that this was the Cypress Point Club which is one of the most exclusive golf clubs in the world. She said it is limited to about 200 members, all of whom pay annual membership dues of $500,000.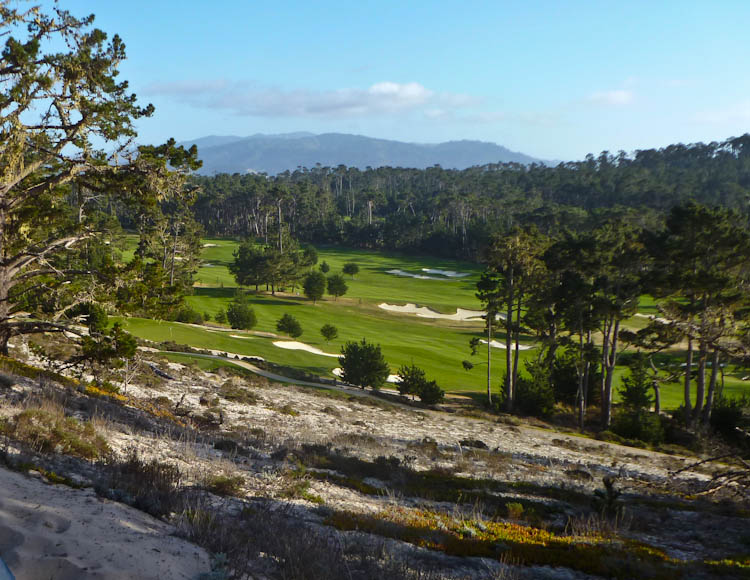 I feared that going up and down the hills was hard on our old horses. Especially for Kevin who at his tall height and relative weight, worried his horse would buckle under the pressure. But they were troopers and continued right along.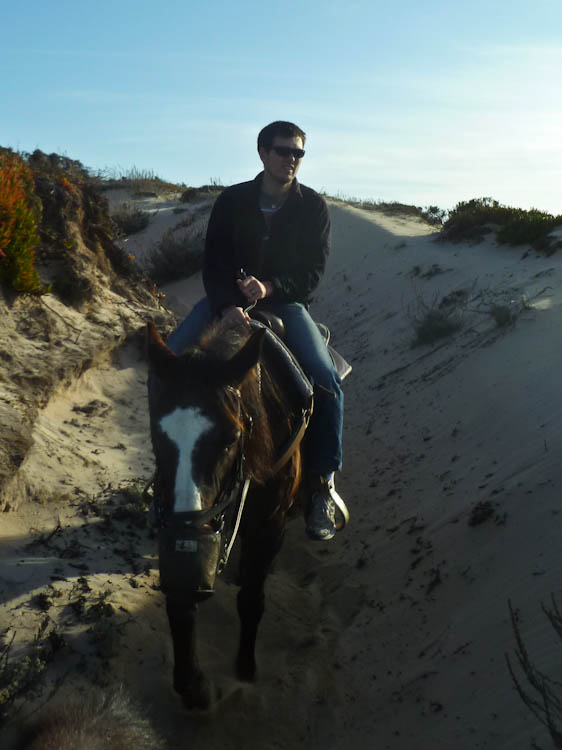 We soon descended the bluffs, crossed over 17 Mile Drive, temporarily stopping traffic. Katie did at one point step forward, off the trail in an attempt to pass the horse in front of me. In response, I quickly pulled the rains backward and up, and she stopped and waited for the other horse to pass. It was as easy as that!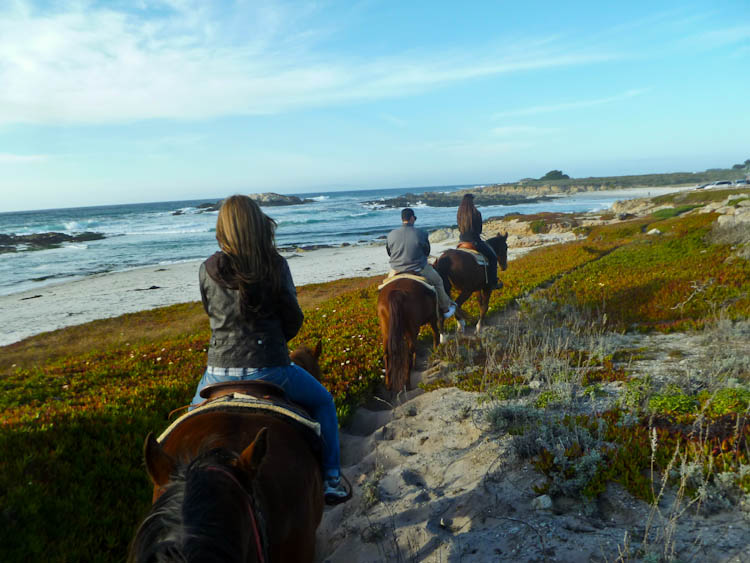 We rode for about 30 minutes along the coast, passing amazing rock formations, immaculate white sand beaches, with the sights and sounds of birds, seals, and sea lions. The coast is beautiful late in the day but though it was sunny, it was mid-February and cold! The wind whipped through us and I wished I had remembered to bring gloves.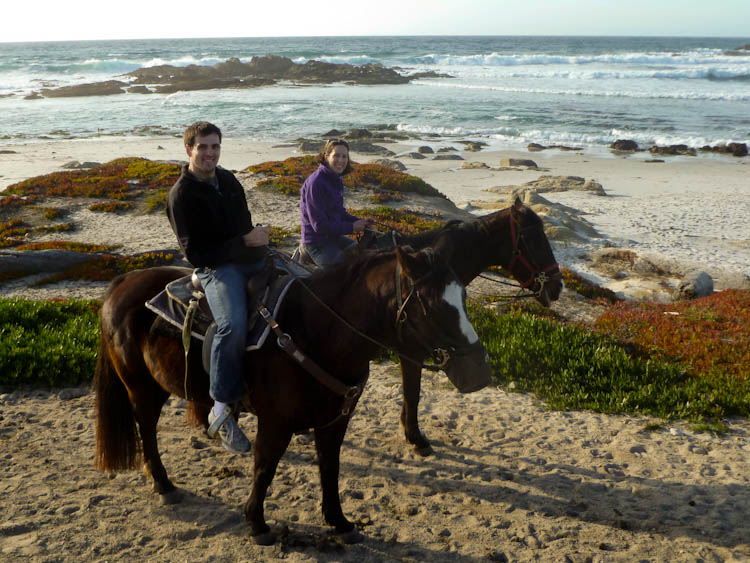 Danielle  snapped a quick photo of us before turning away from the coast to return the stables.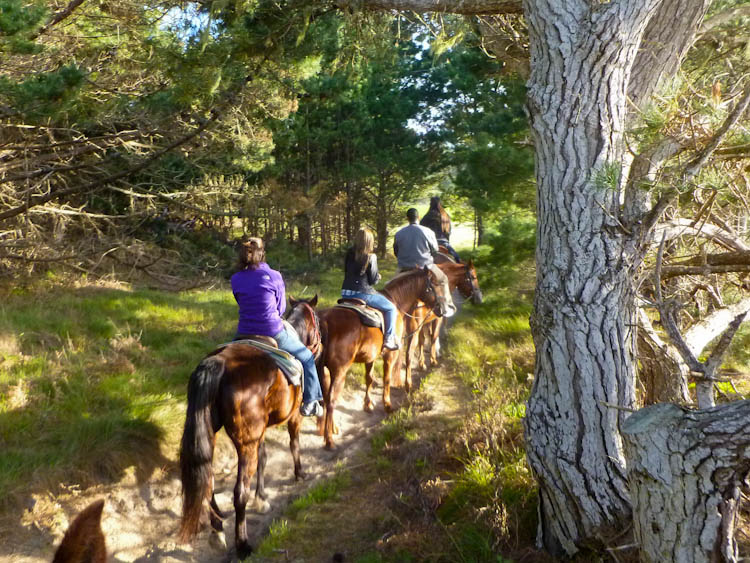 Making Friends
As the ride progressed, we all got comfortable with our horses, listened to stories about the natural history of the area, talked a bit to one another, but mostly just enjoyed a quiet time listening to the sounds of the forest and coastal breezes. It was a meditative and peaceful experience after I finally learned to relax and trust that Katie would take me in the right direction.