Why is it so difficult to pack light for a weekend away?
This a question I've wrestled with for years. While I've gotten pretty good at packing light for extended trips, I can't seem to go away for a night or two with fewer than two or three jam-packed bags!
I know that it's all about planning. For longer trips, I tend to plan out my list and be much more careful about how much I'm bringing. For weekend getaways (especially by car), it's really easy to pack at the last minute and throw things in, "just in case." Even though I know where the problem lies, I've never taken the time to plan out exactly what I should bring for a short trip.
So on my last trip, a two-day/two-night wine-tasting weekend in Baja California, Mexico, I decided to challenge myself.
What's the *bare minimum* I need to pack for a weekend away?
I wanted to keep my bag light, but also keep the total number of items down. This was the hardest part for me! I often throw lots of things in that I might possibly want just because they are light or small. This rationale is a slippery slope and always leads to me bringing too much.
I was also curious to know, numerically, how few items I could bring on a short trip. Was it 50? 30? 25? Or less?
I knew if I planned carefully (and wrote down my weekend packing checklist!) I could save a ton of time and stress packing for short trips.
Here's what I brought…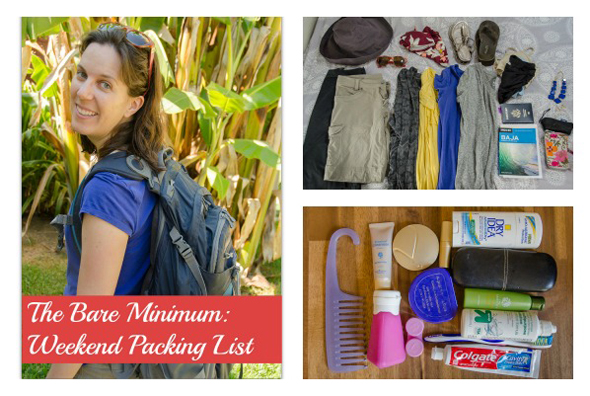 My Bare Minimum Weekend Packing List
Clothing/Accessories (18 items):
3 short-sleeved tops (one dressy)
2 bottoms (one casual, one dressy)
1 long-sleeved shirt
2 pairs of shoes (one casual, one dressy)
3 pairs of underwear
1 bra
1 necklace
1 pair of earrings
Smart phone (with camera)
Cell phone charger
Wallet
Sunglasses
Personal Care (13 items):
Shampoo
Face wash
Toothbrush
Toothpaste
Deodorant
Contact Lenses
Contact lens solution
Eye glasses
Sunscreen
Retainer
Translucent power
Lipstick
Comb/brush
Seasonal/Optional Items (4 items):
Sun hat
Swimming suit
Guidebook
Passport
TOTAL: 35 ITEMS
---
How Did It Go?
I wound up packing 35 things. Because this includes all the clothing I wore on Friday (and because it's summer), it was quite lightweight and took up less than half the space in a standard, school-sized daypack.
While I was a little disappointed the number wasn't lower, I feel like it was everything I needed to pack comfortably for a weekend away. Of course, I could survive with less (no one needs cosmetics, guidebooks, etc.), but why should I? I wanted to create a list I can use again and again that reflects the way that I travel.
And though it's less than half of what I often bring for weekend trips, I didn't really miss anything. There were even a few things I brought that I never wore (e.g. the sun hat and the long-sleeved shirt).
The ONLY TIME I wished I had brought more clothing when it came time to leave Ensenada and pack several glass bottles (local wine, olive oil, and jams) into my backpack for the flight home. We packed all of our clothing together around the bottles to pad them, but it still didn't seem enough so I worried about the bag the entire trip home. Luckily nothing broke! Obviously, I'm not going to pack extra clothing "just in case" we happen to bring back souvenirs (though a few sheets of bubble wrap is a good idea if you're going on a culinary trip).
Update: After this trip I bought a set of these wine bottle protectors that I plan to pack the next time I travel to wine country.
THE VERDICT:
I'm sold. I'm using my new weekend packing checklist the next time I go away on a short trip. My days of overpacking are over!
---
Want to save this post for your next trip? Click here to pin it on Pinterest.