It's Valentines Day, so everywhere I go vendors have popped up to sell cellophane-wrapped gift baskets, pink teddy bears, and bunches of red long stem roses. I never thought about where these roses came from until we visited Ecuador last year.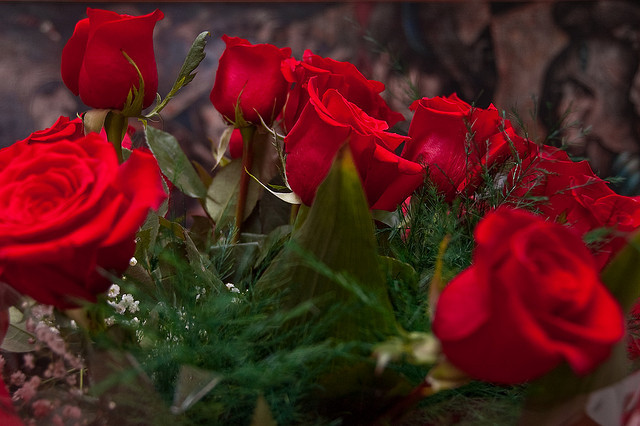 Almost all of the long stem roses sold in the US come from South America, and most of those roses come from Ecuador. There are two reasons for this. First, roses grow perfectly straight only near the equator where the sun shines perpendicular to the plan. Second, the high-altitude of the equatorial regions near Quito also offer powerful solar radiation that makes flowers grow to be heartier, with thicker stems and even, vibrant colors. Because of this combination of factors, vendors who sell roses from Ecuador are considered among the finest in the world.
When we traveled from Quito to the indigenous market city of Otavalo, our bus passed through the heart of the county's rose industry. Rows of greenhouses blanket the landscape for many miles. It's clear this industry is the lifeblood of these communities. One municipality we passed had a sign depicting the name of the town and it's motto, "Pedro Moncayo: Rose Capital of the World." We didn't get to visit the main town in the region, Cayambe, but another traveler told us that it has a nice cut-flower market, though I assume, the best flowers are reserved for export.
The industry dominates this region and the local economy has flourished from the global rose trade. Over 80% of all workers in the province work in the rose industry, and the global growth in demand (highest near Valentines Day and Mother's Day) has brought economic improvements to the previously impoverished region.
But as with any rapid economic development, there are downsides for workers and the communities. These large growers often rely on heavy doses of toxic pesticides, fungicides, and fumigants to grow perfect and unblemished roses. Companies often don't provide necessary protective gear to workers, and this exposure poses serious risks to the workers that are surrounded by them all day, every day. These pollutants often make their way into the local water supply, exacerbating these health concerns.
If you  are concerned about the working conditions and environmental impact of the flowers you buy, look for Fair Trade Certified or Veriflora Certified flowers. This international inspection organizations ensure partner manufacturers provide fair compensation, safe working conditions, and a less polluting production process.
I don't regularly buy cut-flowers–I prefer living plants that I can enjoy longer–but when I do, I'll be looking for those logos.
Photo source: Roses via Flickr/sylvia