Today marked the Lunar New Year (or the Chinese/Vietnamese New Year, as it is celebrated in much of Southeast Asia). My home city of San Jose, CA has a HUGE Vietnamese community (the largest outside of Vietnam) so I decided to spend the afternoon visiting my favorite Vietnamese shops and gorging myself on my favorite sweets.
Unfortunately, I found all my favorite businesses to be closed for the holiday. In the plaza next to our first stop, we noticed a small grocery store next door that was just closing. A crowd was gathering in front to wait for a celebratory firecracker lighting. Two long, red strings were rigged up in front of the store, and as we stopped, staff were marking the area around them with yellow police tape to keep out cars and the growing crowd.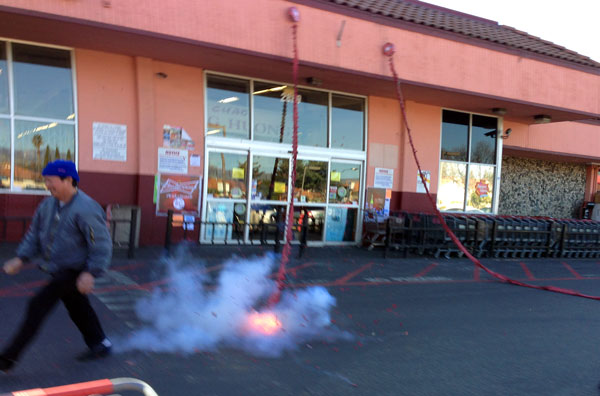 We only waited a few minutes before they lit the strings.
Here's a video… WARNING: Watch the volume! It was loud!
It was scarily loud, as we were so close! I stepped backward at 12 seconds when I noticed I was getting hit in the face with the spent shells!
Here are some other photos:
Happy (Lunar) New Year to you!