The following story was written by our friend and EIT reader, Gerald Yuscavage. 
For two summers of my life I worked as a seasonal, oceanfront taffy maker in Hampton Beach, New Hampshire. One of the machines I worked on was a one-hundred-year-old taffy wrapper that gave me more stress than I could have possibly imagined one might get from making taffy. It was a fickle machine whose true intention I believed was to crush my spirits and send me to a state of complete despair on a daily basis. The occasional spell of oppressive heat and humidity didn't help much either; conditions which made it near impossible to make that sweet candy.
Keep in mind that it is important when making taffy in an oceanfront setting to leave the windows and doors open as much as possible (despite it often being hot and humid and the air conditioning being on full-blast) to allow the aromas to wander outdoors and lure customers inside. At least that was the general rule. You'd be surprised at how far the smell of any mint taffy (when it's being cooked) can travel ("And their snouts shall lead them to a sugary paradise").
But enough about my hardship: you, reader, deserve better; therefore, I want to tell you about a friend of mine who helped me through some of those tough times/ a friend I never met in person/ a friend who came on the radio at one o'clock in the morning every Monday morning and stayed on until five/ a friend whose name was Ron Gill who hosted WGBH-Boston's "Jazz Gallery."
Up until that first summer of taffy-making I had never been much of a fan of jazz. I'd always felt uncomfortable listening to it; confused even. It wasn't until I was mentally exhausted from struggling with the taffy-wrapping machine day after day that jazz finally made sense to me as I lay awake in bed one Monday morning an hour past midnight with a new week just beginning and a pocket radio held to my ear, trying to find something that would put me to sleep. What I found instead was a program that helped lessen my despair and replace it with a belief that the next seven days would be better than the last seven which they hardly ever were, but at least I had the hope they might be.
The wide range of jazz Mr. Gill selected for his listeners to hear included many rare cuts, many of which were live recordings involving much improvisation. He also did something I appreciated very much as a novice jazz listener: after each set came to an end, not only would he recite the name of every track that was played, he would mention on which album that track could be found and on whose label that album was. Also, he recited the names of all the musicians who performed and which instruments they played/ names which I often scribbled down so I could do research on them when I had more time. Further, Mr. Gill, who was a jazz performer himself, would often recount tales of his days in the music business. He was a gentleman of a host who had a deep love for what he was doing.
Then something interesting happened at work. Instead of feeling defeated all the time, I decided to treat my struggle with the wrapping machine as something of an improvised jazz performance like the kind I often heard on "Jazz Gallery." That is, I began to consider the machine to be some kind of primitive musical instrument I had to find a creative way to master. Doing this, I somehow developed a rapport with it instead of continuing to deeply dislike it. With my earplugs in, as I fed the candy into the slot so as to lead it on its way to being wrapped, I focused my mind on the machine's loud, industrial clanging and clunking of "Ba-Dee Ba, Ba-Dee Ba, Ba-Dee Ba" and grew somewhat fond of it, for as monotonous as the noise was, it became musical to me in some strange way, and I sometimes found myself tapping my foot to keep time. This measure helped me to a certain degree/ helped me to keep my cool/ to realize my situation wasn't worth losing my mind over/ that life would go on/ that all was well.
Today, though Ron Gill's "Jazz Gallery" is no longer on the air, I like to imagine it made a difference in the lives of many early-Monday-morning listeners, not just mine. At least I hope it did. His show was that good. I wish you could have heard it, enjoyed it, and become soothed by its magic like I was.
---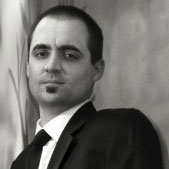 Gerald Yuscavage is a writer and visual artist based in Manchester, NH. Gerry enjoys writing, reading, making art, looking at other people's art, and taking photos. His favorite place in the world is Puerto Rico and his favorite foods are figs and homemade bread. Find him at: www.geraldyuscavage.com