Have you ever heard of the Mediterranean island Gozo? I hadn't, until about two months before I landed on its shore, having taken the ferry over from the island's larger neighbor and seat of national government: Malta.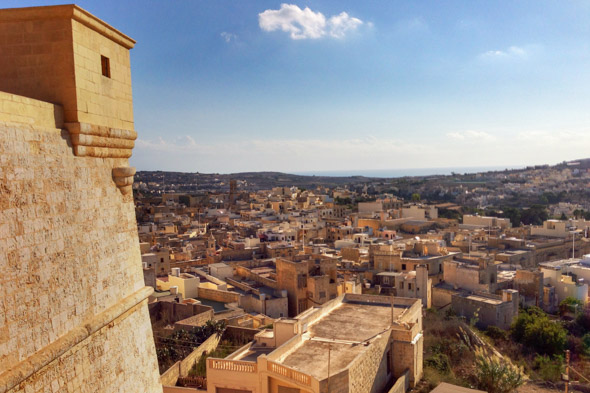 My lack of knowledge of Mediterranean geography aside, Gozo was full of surprises. For a small island (population: 37,000), there's a lot to do.
Exploring Gozo takes you back in time; the island is smaller, more rural, and has far fewer tourist-oriented developments than densely populated Malta. Locals (called "Gozitans") live in villages, not cities. Front doors are left unlocked and residents tie a plastic bag to their front doorknob to let the bread delivery person know they welcome a fresh loaf of bread. Local artisans craft metalwork, lace, and homemade foods just as they have for centuries.
Dramatic cliffs and rock formations mark the island's rugged natural landscapes and make nature lovers and landscape photographers swoon. Most notable is the Azure Window, a natural stone arch created after two limestone caves collapsed. For hikers and outdoors enthusiasts, the Gozo Coastal Walk offers a network of adjoining trails that circle the entire island.
Gozo has a handful of quiet red and white sand beaches—it is the Mediterranean, after all—and (as I learned after taking an introductory scuba class from St. Andrew's Divers Cove) offers some of the best diving in all of Europe. The picturesque turquoise waters (and packed beaches!) of tiny Comino Island are a 20-minute boat ride away.
For history buffs, the island is home to the Ggantija Temples, the oldest free-standing structures and oldest religious structures in the world. Historians believe Gozo is the island home of the nymph Calypso, described in Homer's The Odyssey. The island's only real city, Victoria, is compact and walkable. Visiting the old fortified part of the city, The Citadel, gives you an almost 360-degree view over the island, and a chance to explore a community that has been inhabited for thousands of years.
For such a small island, Gozo has a large number of Roman Catholic churches, some dating back to the 15th century. The local churches are the center of village life. Every year, each village throws a massive community party and festa ("feast") to celebrate the church's patron saint. I wasn't lucky enough to be there to attend a local festa, but I heard they are quite the experience, with each village trying to top the others in a kind of local rivalry.
Gozo is the agricultural heart of the Maltese islands and home to centuries-old cottage food industries, such as farming, cheese-making, and sea salt production. We visited Ta' Mena Estate, which is known for protecting and promoting local culinary traditions; they sell some of the island's best farmstead cheeses, wines, baked goods, and sun-dried tomato paste, a local specialty.
Farther to the north, the same family has harvested the coastal saltpans near Qbajjar Bay for more than 250 years. It's one of the strangest and most beautiful manmade landscapes I've ever seen.
There are several hotels on the island, but many vacationers opt to rent a holiday apartment or farmhouse within the local villages. The group I was traveling with stayed in a luxe stone villa rented from the group Baron Holiday Homes. I dream of my time spent relaxing on that back patio and soaking in that deep blue pool.
Maybe the biggest surprise to me was that, while Gozo is a popular weekend getaway for Malta Island residents, few international travelers make the hop to the rural island, and those who do visit only for a day. My time spent exploring Gozo was the best part of my trip to Malta, and I think it makes a scenic and relaxing base for any trip to the Maltese islands.
This post originally appeared on Jetset Extra.