UPDATED: March 2021
The travel-addicts on your holiday shopping list are probably some of the hardest people to shop for.
It's not that those of us, afflicted with wanderlust, don't want things: We want more vacation time, we want to score a good deal on a flight to Paris, and we want to see the Northern Lights someday. Unfortunately, those things are hard to wrap up and put under a tree.
Travel lovers tend to spend their money on adventures so they will enjoy gifts that either 1. enhance those experiences, or 2. are fun treats that they wouldn't otherwise buy themselves
Here are my top picks this year for holiday gifts for travelers. Some are things I have and use all the time, others are things I'd love to get myself (hint, hint!)…
Clothing & Accessories
Paradox Women's Rain Jacket: I bought this navy patterned rain jacket a few months ago and I love it! It is waterproof, wind blocking, and breathable and looks nice, with a feminine fit and rich colors. Best of all, it was cheap — under $30 at a local warehouse store (now sold out) but I see there are a few colors available here on Amazon.
Women's prAna Halle Pants: These pants look perfect for travel with a cut that could go from the trail into the city. The pants use a wrinkle resistant and water repellant stretch material and have buttons on the sides to fold up into capris in warm weather. I'm adding this pair to my travel fashion wish list!

Travel-Friendly Infinity Scarf: A versatile travel piece, in some great colors and patterns to brighten up your travel wardrobe. This one actually has a hidden pocket for stashing some spare cash, phone, or passport.

Travel-Friendly Ballet Flats
: I tried on these comfortable flats at a local yoga festival a few months back, but thought these would be great travel shoe. San Francisco-based Rothy's makes stylish, eco-friendly, and high-tech ballet flats. The company using recycled water bottles to make a soft, breathable, and sweat-wicking fabric. They then knit the fabric on a 3D knitting machine creating a seamless and fitted upper design. The shoes are lightweight, machine washable, and available in more than a dozen colors and patterns.
North Face Canyonlands Men's Full Zip Hoodie: A cozy hooded sweatshirt/lightweight softshell jacket for the guys on your list.

"The Mountains Are Calling" T-shirt : I fell in love with this t-shirt when I saw it on Pinterest! It's one of my favorite John Muir quotes and certain to inspire wanderlust in any nature lover. There's a men's and women's version, and the company, Sevenly, donates 7 percent of each sale to environmental human rights, and social justice causes. They have lots of other designs and causes to choose from.

Um, "Fashionable Sweatpants": My girlfriend Arnette was recently quoted in a USA Today article about air travel comfort saying that she always wears "fashionable sweatpants" on long flights–comfy pants that can be dressed up with a nice top or sweater. I love this idea and since I read that, I've been on the hunt for a pair to upgrade from my saggy black yoga pants. This heather gray pair by Athleta might just fit the bill…
Lucky Women's Basel Boot: Stylish but comfortable, low-profile boots are the Holy Grail of fall/winter women's packing lists. I found these gorgeous ones on Pinterest, and the reviews say they would be comfortable enough for logging miles on city trips.
Cardimom Convertible Sweater: Two sweaters in one, perfect for lightweight carry-on only travel! This sweater converts from a loose-fit boatneck sweater to a cardigan, simply by flipping the front up over your head. It's marketed to new moms as a nursing sweater, but it's great as a travel sweater, too. I have the classic one, shown here in black.
SmartWool Socks: I bought a pair of these on sale at REI earlier this year after a painfully cold photography trip and I finally understand why everyone raves about this brand of socks. They are soft and warm and protect from blisters. They're especially good for travel because wool is naturally odor-resistant and they don't actually need to be washed every day.
Personalized State Outline Necklace : These handmade necklaces let you take a little piece of home wherever you go. They are available for all of the 50 U.S. states. I'm obviously smitten with the California one.
Travel Gear
eBags With TripAdvisor 21″ Wheeled Duffel: I've long recommended eBags packing cubes in my packing lists and gift guides (see below), and I recently got to try our the brand's new suitcase line designed with the help of TripAdvisor member travelers. This lightweight wheeled duffel has convertible shelves in the main compartment perfect for sectioning off different items, and pockets that can zip open to create larger chambers if you have larger items to pack. There are a few sizes, but the 21″ inch packs a surprising amount of stuff and will fit in the overhead compartment of almost any plane. The bag comes in some bold and unique colors, plus this modern and professional heathered gray.
A Set of Packing Cubes : I love my packing cubes! They make it so easy to keep my suitcase organized and fit more things into your bag. I've had a lime green colored set of these for years and I'm excited to see they have introduced some nicer colors and even prints.
Tenba Cooper Camera & Laptop Bag
: I got this camera and computer bag a few months ago and love traveling with it. It's really well-designed, rugged material that can take a beating and, most importantly to me, doesn't look like a camera bag. I have the Tenba 13″ Cooper Slim version, for my smaller (Nikon D5100) camera and 13″ laptop, but there are larger versions available for pro cameras and larger computers.
Tenba BYOB Camera Insert
: Don't like the look of traditional camera bags? "Bring Your Own Bag" with this padded camera and lens insert that slides into any large purse or backpack. Various sizes are available, depending on your camera and the lenses you carry.
Oversized Canvas Leather Trim Weekend Bag : I love this gorgeous travel bag, perfect for a weekend getaway or your carry-on items.

Baggu Reusable Shopping Bag : It's great to keep one of these lightweight shopping bags in your purse or carry-on bag to deal with things you pick up throughout the day. This brand has lots of good colors and fun prints.
Colorful Toiletry Pouch : I've used a few different hanging toiletry bags over the years, but this one is my favorite so far–the best design and great patterns. It's made by MochiThings, a Korean company that does "cute" really well.
Hydroflask Insulated Growler : This 64 oz. insulated and vacuum-sealed bottle keeps beverages cold/hot all day. This would be good to keep beverages cold in the hot sun at the beach, on road trips, hikes, camping trips, and to have on hand for craft brewery visits, so you can take a few pints with you to enjoy back at home or at the hotel. It's vacuum-sealed so it will preserve the carbonation.
Travel Yoga Mat : Good for travelers trying to stay fit on the road or who want to be ready for yogic inspiration in beautiful destinations. This one is less than half the size of a standard yoga mat and folds up to take up less space in your suitcase.
Electronics
Skyroam Mobile Internet Hotspot: I love this little device and it's a great gift for any travel lover! This mobile internet hotspot gives you unlimited internet access that you can carry around in your pocket, in more than 70 countries around the world. It's pay by the day, so you only pay for the days and times when you really need service. It includes 3 free daypasses to get you started. For more information, check out my Skyroam review.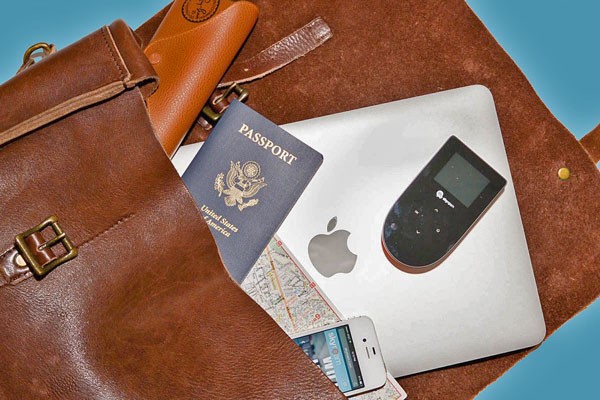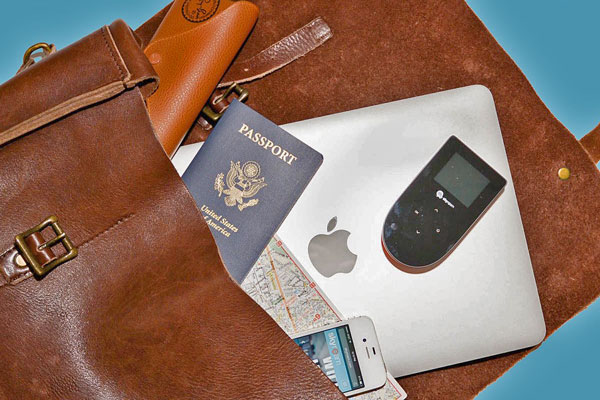 Fitbit Charge HR
: I bought my friends old Fitbit Charge HR off of her earlier this year and think it's an awesome travel accessory. It's fun to track how far you walk each day and compare it to your daily life–while I struggle to get 10,000 steps most days when I'm at home, my record day exceeded 25,000 steps one day in Sydney over the summer. Fitbit recently introduced
a newer model
, but I prefer the look of this one. I dressed mine up with one of
these colorful band covers
which also helps protect the screen from getting scratched.
Speck iPhone Travel Case: I've used this iPhone case for a few years, it lets you keep a handful of credit cards, ID, transit passes, etc. right in your phone so you don't need to carry your wallet.
Roku 3500 Streaming Stick: This tiny, thumb-drive sized device lets you stream online video wherever you are. You can use it at home, and then take it with you on trips so you can stream online movies to your hotel or vacation rentals. It works with any TV with an HDMI connection–most flat-screen TVs, even wall-mounted ones. Better yet, pair it with a gift subscription to a video streaming service like Amazon Prime, Netflix, or an HBO gift card.
iStuck Phone/Tablet Stand : This quirky little device lets you prop your phone or tablet up to play games or watch movies. It would be great for standing it up on planes, trains, wherever you are–and it's certainly a conversation starter!
MobiPro 16GB Wifi Card : This WiFi-enabled SD card lets you sync photos right from your pocket camera or DSLR to your phone. It's perfect for sharing your best travel snaps on social media without having to sync them to a computer.
Satechi Smart Travel Router/Adapter : This device is a combination adapter/router/repeater. It adapts your plug to foreign plugs AND (if you set it up in "repeater" mode) lets you strengthen and spread your hotel's weak wifi across the room!
Clip On Solar Charger: Sun power for your cell phone! This small solar panel can be clipped onto your suitcase or travel bag to charge your device while you explore. It would be especially useful to get a bit of a charge on hiking or camping trips.
Power Bank External Battery Charger : Never let your phone die again. This compact external battery pack charges any smartphone or tablet that charges via a USB cable. It has a strong 10,400 mAh battery that can charge an iPhone 6 four and a half times.
Altec Lansing miniH20 Bluetooth Speaker : This Bluetooth enabled travel speaker is good for bringing music with you when you travel or head out on outdoor adventures. It's waterproof (it floats), sandproof, and drop resistant.
Books
Food Trails: This new guide by Lonely Planet offers some wonderful travel ideas for foodies. The guidebook includes 52 food-driven itineraries in the top culinary travel destinations around the world. Some of my favorites include a seafood and scotch tour of Scotland, the tour of Parisian cafes and patisseries, a traditional Japanese food and market tour in Tokyo, a kebab tour of Istanbul, and the best chaat (Indian street food) vendors in Delhi. This is exactly the way I plan my travels and this book has me itching to go (or go back!) to all of these places.

Far Afield: Rare Food Encounters From Around The World: This photo-filled book is full of travel and food inspiration from remote places around the world. The book profiles the people that grow and make traditional foods (fisherman in the Lamu islands off the coast of Kenya, food vendors celebrating Day of the Dead in an indigenous village outside of Mexico City, taro farmers who have never left the Hawaii) and shares their recipes.


Grape, Olive, Pig: Deep Travels Through Spain's Food Culture: Last year I recommended Rice Noodle Fish a wonderful narrative culinary travel guide to Japan published by the adventurous eaters at Roads & Kingdoms, with the support of Anthony Bourdain. Their new release is a food-themed travel guide to one of my other favorite culinary destinations–Spain. It would be a good gift for anyone who is dreaming of (or who loves!) Spain.
Farmsteads of the California Coast: Closer to home, this culinary guidebook takes you to a dozen farms and food producers that you can visit on the California Coast. (Note: I met Oakland-based author, Sarah Henry a few months back, she leads awesome food tours of the East Bay. Another great gift idea for Bay Area based travelers!)
Local Eats London: A guide to the local (and underrated) foods of London, like bangers & mash, pasties, and more. The hand-illustrated book points out where to find these local foods in markets, pubs, tea shops, and cafes.
Cuba: Recipes & Stories From the Cuban Kitchen: Cuba is a hot travel destination right now and it's near the top of my travel wish list. This vibrant cookbook filled with bright photos of street food and home cooking makes me feel like I'm there.
My Culinary Journey: Foods & Fêtes of Provence
: This book is a cookbook and memoir from James Beard Award-winning author, Georgeanne Brennan. Brennan shares her journey moving from California to a farm in Southern France including her family's adventures on the farm, local festivals, and her favorite Provencal recipes
Appetites: A Cookbook
: Anthony Bourdain's new cookbook features his favorite home cooking recipes and dishes inspired by his travels around the world.
Hot Sauce Nation: America's Burning Obsession
: A gift idea for hot sauce addicts! This book shares the history, culture, and traditions of hot sauce in America including our own homegrown creations Tabasco and Huy Fong's Sriracha (invented in Los Angeles)
National Geographic Guide to National Parks of the United States: An update to celebrate the 100th birthday of the National Park System. These gorgeous full-color photo guidebooks cover all of the U.S. National Parks. There is also a kid's edition for the little ones on your list.
125 Wacky Roadside Attractions
: A fun new book by National Geographic Kids covering bizarre landmarks and roadside stops around the world. Perfect to take along on a family road trip!
New York Times: 36 Hours USA & Canada : A guide to 150 different weekend getaway itineraries, from the popular New York Times Travel series "36 Hours".
Humans of New York Stories : Beautiful portraits and in-depth stories from the guy who started the always inspiring "Humans of New York" Facebook page. I'm really looking forward to sitting down with this collection this winter!
The Only Street in Paris: Life on the Rue des Martyrs : A tour through words and stories of the diverse inhabitants of a typical Parisian street. Written by the former Paris bureau chief of the New York Times.
My Life on the Road : A travelogue and memoir by feminist icon, Gloria Steinem. "When people ask me why I still have hope and energy after all these years, I always say: Because I travel. Taking to the road—by which I mean letting the road take you—changed who I thought I was. The road is messy in the way that real life is messy. It leads us out of denial and into reality, out of theory and into practice, out of caution and into action, out of statistics and into stories—in short, out of our heads and into our hearts."
The Photographing The West Series: I discovered this wonderful travel series earlier this year. These guidebooks (geared to landscape photographers) take you to the most scenic spots in your destination so you can plan your trip around the photos. There are books for Northern California (Gary Crabbe), Southern California (Jeffrey Sullivan), Oregon and Washington (Greg Vaughn). There are also three volumes from the Southwest.

Fantastic Cities Coloring Book : I laughed when I first heard about this new trend of "coloring books for grown-ups." A few weeks ago, I spotted this one at a gift store in Paso Robles, CA and got lost in the intricate, detailed sketches of cities real and imagined–now I can see the appeal!
"I Love You Around The World" : Colorful drawings paired with "I love you" in different languages. A sweet idea for anyone, young or old.

Crumpled City Maps : Paper maps rip and get wet and are impossible to fold back into shape. Smartphone maps depend on having a wi-fi connection and destroy your battery. These crushable, fabric city maps are a creative solution! Cities include Amsterdam, Barcelona, Berlin, Chicago, London, New York, Paris, San Francisco, and Tokyo.
Travel Magazine Subscriptions: There's nothing like a good travel magazine for photographic inspiration. Just last month Lonely Planet launched a brand new travel magazine for US subscribers: Lonely Planet Magazine (4 issues/$8). Other good choices are Afar (7 issues/$20), Sunset (12 issues/$16), and National Geographic Traveler (6 issues/$10).
Decor
Scratch Map : Scratch off the places you've been–a great way to document your travels.
Maptia Manifesto Poster : Frame your inspiration. A frame worthy version of the travel storytelling publication's popular "traveler manifesto."
Other
U.S. National Parks "America The Beautiful" Annual Pass : Give a full year of access to all United States National Parks and federally protected lands.
Tinggly: Give The Gift of Travel Experiences ($79+): Use this new travel site to buy a pass that recipients can redeem for their choice of tours and guided experiences around the world.
Note: This post contains affiliate links. This means that if you buy something through these links I'll earn a small commission, at no extra cost to you! I use this revenue to keep the site up and running. Thanks for your support!
Looking for more ideas? Check out these holiday gift ideas for food lovers.
Want to save this post? Click here to pin it on Pinterest:
What's on your holiday wish list? Let me know in the comments!