Before San Francisco was born, much of the peninsula was covered by windswept layers of sand.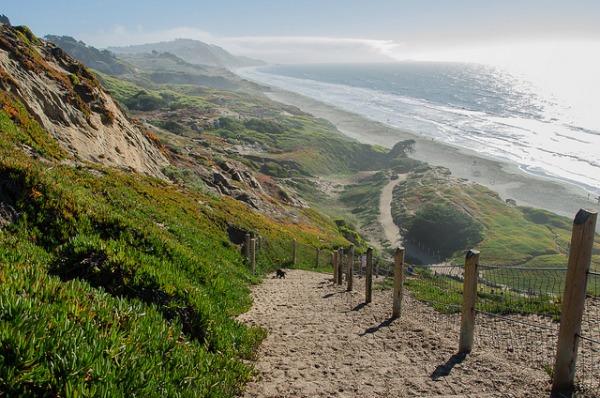 Today, the largest remaining sand dunes are in Fort Funston, on the southwest coast of the city. The park, part of the Golden Gate National Recreation Area, is a spectacular sight with rolling wild dunes, patches of warm scrubby vegetation, and steep cliffs that fall to the Pacific Coast. The iron-rich black sand at the base of the cliffs is even supposed to be magnetic, though I haven't taken a magnet to test it. Next time…
Named as the site of a harbor defense installation, the fort was deemed obsolete after World War II and the land was made part of the Golden Gate National Recreation Area. Today, it's popular with local hikers, hangliders, and locals looking for a scenic stroll.
Because the entire park allows dogs to be off-leash, it's also the best place to walk your dog in San Francisco. If you go Monday through Friday, you'll catch a glimpse of the huge industry that is San Francisco doggie day care. Hundreds of dog walkers (some surrounded by packs of twelve or more!) crowd the beach.
A few weeks ago my friends Cathy and Rebecca met at Fort Funston for a hike. The three of us and our four dogs explored the beach enjoying the unseasonably warm, sunny weather.
Being San Francisco, there is some great urban art installed on the walls of the fort. My favorite is the Dog Buddha:
Inspired, we patiently constructed our own temporary art installation…
The piece held together just for a second, before crumbling and returning for another romp in the sea.