I had just landed in Pittsburgh. Two guys behind me were talking about how long it was taking everyone to get off the plane.
Guy #1 (from Phoenix on his first trip to the city for work, as I had gathered from eavesdropping) said, "I guess they don't really want to go to Pittsburgh."
Guy #2, (local) laughs. "Seriously, Pittsburgh is a great place. There's a lot happening here, it's our best-kept secret. But, don't tell anyone… we don't want them all coming here."
I didn't have the heart to tell him that I was planning to do just that!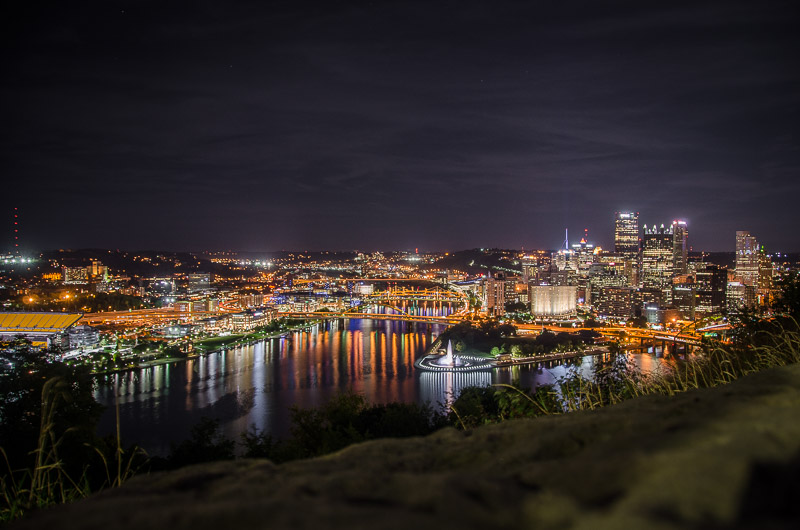 The former Rust Belt city of Pittsburgh has recently been getting a lot of love. The city was named one of the "Best Places to Travel in 2016" by Travel + Leisure and Zagat rated it the nation's "No. 1 Food City." Of all the cities in the U.S. that I'd wanted to explore, Pittsburgh was at the top of my list.
I grew up a few hours away from Pittsburgh in rural Northwest PA. My parents and much of my family still live there and I fly into the Pittsburgh airport once or twice a year to go home, but we almost never go into the city itself. "We're not city people," my stepmom once said. The only thing that gets them into Pittsburgh are the occasional Pittsburgh Pirates games (my dad is a lifelong fan), and even then we drive in and then out as early as possible to avoid the traffic. So I was excited to get an invite for a media trip organized by this writing association I belong to.
Pittsburgh Then, and Now
Pittsburgh is called the "Steel City" as a testament to its industrial roots. In the 19th-century the city was a center for steel manufacturing and had more than 300-steel related businesses. During World War II the high demand caused local producers to operate their mills 24 hours a day to produce for the war effort. The air pollution was awful. My aunt told me she remembers going to mid-day Pirates games as a kid and seeing the sky so thick and dark with soot you would guess it was the middle of the night.
In the 1960's and 70's, those industries started to move overseas, and while the shifting economy has been hard, the city is turning around. Pittsburgh is big medical, biotech, and academic center with 40 colleges and universities including world-renowned institutions like Carnegie Mellon University and the University of Pittsburgh. The city has become a US center for sustainable design, green technology, and LEED-certified building projects. Tech startups are looking beyond my home in Silicon Valley to cities like Pittsburgh because it has so much university talent with has lower startup costs. The week we were there, Uber launched a public demo of self-driving cars in Pittsburgh, the first city in the world to test this futuristic service model.
I found a lot of fun things to do on my week in Pittsburgh, but here are a few of my favorites — special places and unique things to do in Pittsburgh, PA.
(There was so much good food, I saved that for another post! Here are my tips for where to eat in Pittsburgh.)
Ride the Inclines
I like to start any trip to a new city by finding a great view.
Like other hilly, old industrial cities that grew up in the later part of the 19th-century, Pittsburgh used to have dozens of "funiculars", incline railways that climbed steep hills to transport workers from factories down by the river to their hilltop homes. Today, there are two historic incline trains still in use, the Monongahela and the Duquesne Inclines. Ride up the Duquesne Incline (1197 West Carson Street) during sunset and enjoy some of the best city views. The fare is only $2.50 one way, free for seniors over 65 and with local Port Authority bus passes
Get On The Water
Pittsburgh city sits at the intersection of three rivers (Allegheny, Monongahela, and the Ohio) and has a whopping 446 bridges. The best way to see these bridges (spring through fall, of course) is from the water. Kayak Pittsburgh does guided tours of the city, launching from three different locations. On our trip, we took a tour launching from North Shore (right next to PNC Park), up the Allegheny River and under some of the city's most beautiful bridges.
A Tribute to Education & World Cultures
Visit the Cathedral of Learning, a 42-story urban landmark and academic building on the campus of the University of Pittsburgh. The Gothic tower features 30 themed Nationality Rooms, classrooms designed to represent the cultural values of the country they represent and teach the students about the countries and cultures. You can do a group tour of the building and learn about this unique project. All proceeds go to support the Nationality Rooms scholarship program which funds study abroad opportunities for local students. (Pittsburgh locals: Their free annual open house is coming up on December 4, 2016. Learn more here.)
The Romanian Room
The African Heritage Room
Things to Do for Science & Nature Lovers
The esteemed Carnegie Museum of Natural History (4400 Forbes Ave.) is a massive museum. Highlights include the country's largest collection of real mounted dinosaur skeletons and the "type specimen" (the first discovered!) skeletons of Tyrannosaurus Rex, Diplodocus, and Stegosaurus.
The Carnegie museum also has the Hillman Hall of Minerals & Gems, one of the world's best collections of colorful and strange minerals and gems.
Animal lovers shouldn't pass up a trip to the National Aviary (700 Arch Street), one of the country's finest bird zoos and bird conservation institutions. They have over 500 rare and threatened birds from around the world including African penguins, tropical birds, and two breeding pairs of Andean condors, one of the largest flying birds in the world. And for some reason, this bird zoo has an adorable baby sloth.
Things to Do for Art Lovers
Pittsburgh is a growing center for modern and contemporary art with world-class art galleries and exhibits from around the world.
A good place to start is The Carnegie Museum of Art, the first museum of contemporary art in the United States collecting work from working artists since it was founded in 1896. Today they have over 30,000 works of art spanning all mediums including painting and sculpture, prints and drawings, photography, architectural casts, renderings, and models, decorative arts, and film, video, and digital. Admission to the museum is included in your admission to the Carnegie Museum of Natural History.
My favorite works were the Grand Staircase murals  (The Crowning of Labor, John White Alexander) they were painted in 1907-1908 depicting the hope for progress via industrial development and hard work. They are a beautiful tribute to Pittsburgh's industrial past.
Some of my travel companions visited the popular Andy Warhol Museum (117 Sandusky Street) to learn about the iconic artist who spent part of his life in Pittsburgh.
I opted to check out The Mattress Factory (500 Sampsonia Way), a former Stearns & Foster mattress factory turned world-renowned large scale art exhibition space and residency program. There are no rules, artists come in and live rent free and with full financial support in museum-owned rental units for 2 weeks to several months. They build custom contemporary works in the museum's main factory building and a network of Victorian houses that they bought and converted to gallery space.
I took a tour led by museum co-Director Michael Olijnyk, who came to the gallery back in the 1970's, then more of an artist's commune. He shared some of his favorite works and the extremes that he'll let artists go through, including this work where artist Sarah Oppenheimer tunneled through two stories of the building to create this mind-bending "wormhole" connecting the gallery and outdoors.
I've been wanting to get down to Los Angeles to visit the new-ish Broad Museum and Japanese artist Yayoi Kusama's very Instagrammable "Infinity Mirrored Room". And they had an earlier version of this work right here at the Mattress Factory. Kusama was part of the program back in 1996 and they kept this remarkable work as a permanent exhibition.
Where to Stay in Pittsburgh
Before this trip, I'd only ever stayed at hotels near the airport, before early morning or after late-night flights. This time, was a bit of a change.
I stayed at Hotel Monaco Pittsburgh, a Kimpton brand boutique hotel in a renovated 1903 building in the central business district, near Mellon Square Park.
The room was gorgeous, filled with bright colors, bold patterns, and quirky animal-themed details (a yellow penguin lamp, golden birdcage as a bedside chandelier). If I could have their designer style my home, my wardrobe, my life. (Note to Kevin: Christmas is coming…) The room also has handy little details, like an in-room yoga mat and umbrella to use while you are there.
The hotel has a restaurant on the first level, and on the 9th floor, a rooftop biergarten serving Western PA craft beers and interesting cocktails (I enjoyed the Surfer Rosa, named after my favorite Pixies album from wayyy back in the day). They have a hosted wine and beer hour in the second floor "living room" every evening at 6pm.
As if I couldn't love this place anymore, the hotel is dog-friendly, as noted by Duke the Great Dane, standing watch by the front door.
How to Get to Pittsburgh
The Pittsburgh International Airport (PIT) has landings from 54 destinations around the world every day. The airport is located 20 miles northwest of downtown, about 30 minutes by car. You can also take Amtrak, Megabus, and Greyhound into Pittsburgh from cities in the northeast and midwest. Kevin and I took Greyhound into Pittsburgh from Columbus, Ohio a few years back after our gameday pilgrimage to Ohio State.
This trip was organized by the International Food, Wine & Travel Writers Association in partnership with Visit Pittsburgh. All photos and opinions are my own.