Looking for the perfect gift for your travel and food-loving family and friends? This might help!
Over the last several weeks, I've been working to pull together my recommendations for gifts for the travelers and foodies on your list. Some of the items here are items I own and use, and others are on my own personal wish list. I also added current sales and coupon codes, when available. I'll be updating this post with current deals through the holiday season.
Here are some of my picks for this year's best gifts for people who live to travel and love to eat. Happy holidays to you!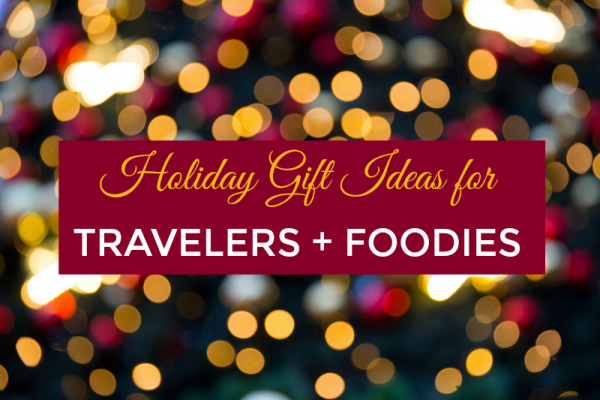 Clothing & Accessories
Paradox Women's Rain Jacket: I bought this navy patterned rain jacket a few months ago and I love it! It is waterproof, wind blocking, and breathable and looks nice, with a feminine fit and rich colors. Best of all, it was cheap — under $30 at a local warehouse store (now sold out) but I see there are a few colors available here on Amazon.
Women's prAna Halle Pants: These pants look perfect for travel with a cut that could go from the trail into the city. The pants use a wrinkle resistant and water repellant stretch material and have buttons on the sides to fold up into capris in warm weather. I'm adding this pair to my travel fashion wish list!

Travel-Friendly Infinity Scarf: A versatile travel piece, in some great colors and patterns to brighten up your travel wardrobe. This one actually has a hidden pocket for stashing some spare cash, phone, or passport.

North Face Canyonlands Men's Full Zip Hoodie: A cozy hooded sweatshirt/lightweight softshell jacket for the guys on your list.

Travel Gear + Luggage
eBags 21″ Wheeled Duffel: I've long recommended eBags packing cubes in my packing lists and gift guides, and I recently got to try our the brand's new suitcase line designed with the help of TripAdvisor member travelers. This lightweight wheeled duffel has convertible shelves in the main compartment perfect for sectioning off different items, and pockets that can zip open to create larger chambers if you have larger items to pack. There are a few sizes, but the 21″ inch packs a surprising amount of stuff and will fit in the overhead compartment of almost any plane. The bag comes in some bold and unique colors, plus this modern and professional heathered grey.
Skyroam Mobile Internet Hotspot: This is one of the few items I've carried over from last year's list because I love this device and travel with it all the time. This mobile internet hotspot gives you unlimited internet access in more than 130 countries around the world (including the US–so I take it with me when I think I might need to use wifi on a long train ride or road trip). You carry the device in your pocket or purse and connect to up to five devices (cell phones, tablet, laptop) at a time. It's pay by the day ($9 for 24 hours), so you only pay for the days when you really need the service. The package includes your first 3 day passes. For more information, check out my Skyroam review.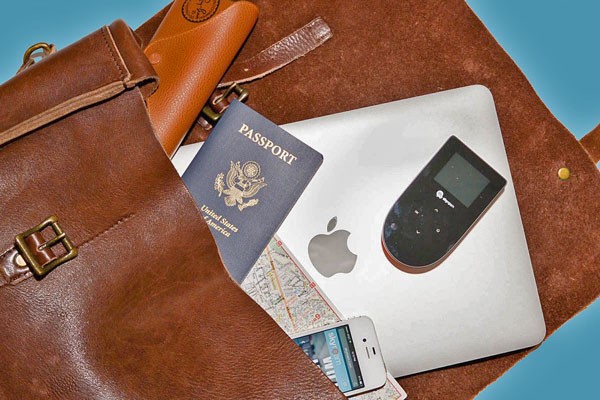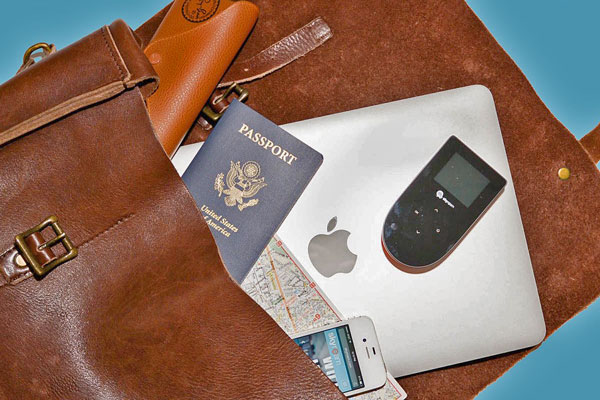 Pendleton Wool Blanket: A cozy Pendleton blanket is a great winter item for lounging on the couch or to keep in the car for camping, picnics, or warming your lap at outdoor restaurants and evening sporting events. This unique Eco-wise wool was designed to be machine washable and get softer the more you wash it.

ENO DoubleNest Hammock: A lightweight travel hammock that is strong enough to support two adults and packs down to the size of a grapefruit.

Books & Guides
Food Trails: This new guide by Lonely Planet offers some wonderful travel ideas for foodies. The guidebook includes 52 food-driven itineraries in the top culinary travel destinations around the world. Some of my favorites include a seafood and scotch tour of Scotland, the tour of Parisian cafes and patisseries, a traditional Japanese food and market tour in Tokyo, a kebab tour of Istanbul, and the best chaat (Indian street food) vendors in Delhi. This is exactly the way I plan my travels and this book has me itching to go (or go back!) to all of these places.

Far Afield: Rare Food Encounters From Around The World: This photo-filled book is full of travel and food inspiration from remote places around the world. The book profiles the people that grow and make traditional foods (fisherman in the Lamu islands off the coast of Kenya, food vendors celebrating Day of the Dead in an indigenous village outside of Mexico City, taro farmers who have never left the Hawaii) and shares their recipes.


Grape, Olive, Pig: Deep Travels Through Spain's Food Culture: Last year I recommended Rice Noodle Fish a wonderful narrative culinary guide to Japan published by the adventurous eaters at Roads & Kingdoms, with the support of Anthony Bourdain. Their new release is a food-themed travel guide to one of my other favorite culinary destinations–Spain. It would be a great gift for anyone who is dreaming of (or who loves!) Spain.
Farmsteads of the California Coast: Closer to home, this culinary guidebook takes you to a dozen farms and food producers that you can visit on the California Coast. (Note: I met Oakland-based author, Sarah Henry a few months back, she leads awesome food tours of the East Bay. Another great gift idea for Bay Area based travelers!)
Local Eats London: A guide to the local (and underrated) foods of London, like bangers & mash, pasties, and more. The hand-illustrated book points out where to find these local foods in markets, pubs, tea shops, and cafes.
Cuba: Recipes & Stories From the Cuban Kitchen: Cuba is a hot travel destination right now and it's near the top of my travel wish list. This vibrant cookbook filled with bright photos of street food and home cooking makes me feel like I'm there.
National Geographic Guide to National Parks of the United States: An update to celebrate the 100th birthday of the National Park System. These gorgeous full-color photo guidebooks cover all of the U.S. National Parks. There is also a kid's edition for the little ones on your list.
Anywhere Travel Guide: A pocket-sized deck of cards with 75 daily travel challenges to explore the place around you, wherever you are at home or around the world. Some examples: "Ask the next person you meet where his/her favorite street is. Go there." And, "Eat a dessert for breakfast. Three appetizers for lunch. And a breakfast for dinner."
Kitchenware & Food Gifts
Women's Bean Project Foods: Here's a gift that gives back. The Women's Bean Project is a nonprofit organization that trains women who have been homeless or the victim of domestic violence to craft homemade food gifts. They have lots of products perfect for gift giving. I love this six-soup gift bundle, but their old-fashioned chile & cornbread kit, and a chocolate lovers gift basket.

Other Gift Ideas
Tinggly: Give The Gift of Travel Experiences: Use this new travel site to buy a pass that recipients can redeem for their choice of tours and guided experiences around the world.