Stop into any little restaurant or cafe in Italy, and you'll probably see one of these…
A commercial wine dispensing system offering more than a dozen bottles of wine fresh on tap. Want just a sip? Or a whole glass. No problem. Don't know which wine to pick? Have a little of each. For indecisive personalities and buffet-loving grazers like me, this was a dream! When we discovered these contraptions in Tuscany a few years back, I told Kevin he should "get me one of those fancy Italian wine dispensers for Christmas." At several thousand dollars a pop, I didn't get my wish.
Luckily, a new wine startup has brought the convenience of those "fancy" wine dispensers home to the U.S.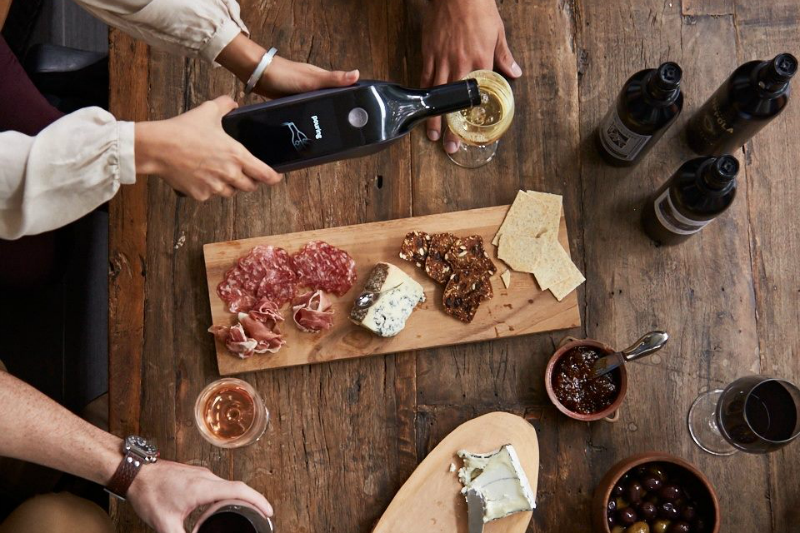 The Kuvée wine system is a "smart" wine bottle that lets you pour a glass of wine without introducing air to the bottle. This means the wine will stay fresh longer, up to 30 days. So you can keep one (or several) bottles open at a time.
You can't use just any bottle of wine with the system, you have to buy wine from Kuvee, packed in a custom airlocked plastic smart bottle. The company works with some quality California Pacific Northwest wineries and sells the bottles for about the same price you would pay at the winery or in a retail store.
The Kuvee folks invited me to test out the device and shipped me four of their custom packed wine cartridges to try: Kenwood Vinyards Russian River Valley Pinot Noir (Sonoma), Francis Coppola Sauvignon Blanc (Napa), Chamisal Vineyards (CA Central Coast), and Double Canyon Cabernet Sauvignon (WA State).
I invited my wine-loving friend Abby and her partner over for Kevin's famous sourdough pizza and wine on tap. We had a great time playing with the device and learning about the features.
Here's how it works:
First, slide one of the custom wine cartridges into to Kuvee bottle. When the device recognizes the bottle, the screen will turn on and show the label on the screen, how long the bottle has been open, and how much wine is left inside.
Scroll through the digital menu and find detailed information about the wine: The back label information, tasting notes, recommended pairings, and detailed biographical information about the winery and winemaker.
As soon as you see the digital label come on the screen, you'll know the bottle is open. Just tilt the bottle to pour, just as you would a regular bottle.
After you try it, rate the wine right within the digital system. The bottle will save that information and use it to make recommendations the next time you go to buy a bottle of wine.
Finish that glass, then change it up! Remove the cartridge, and try something new. We had four people and were able to open four bottles, without worrying about whether we could finish them all that night. The best part was that everyone could have something different, all at the same time.
Cheers to that!

How to Buy a Kuvée 
Interested in getting a Kuvée for yourself? Or as a gift for a wine lover on your list? Right now you can buy the device for $199, including a starter kit with 4 bottles of wine. For a better deal, do the subscription package: For $299, you'll get 12 bottles of wine over three months. That second package pretty much means you get the device for free.
The device is only available right now in CA, MA, NY, OR, and WA, but they are accepting pre-orders for the rest of the U.S. with delivery in early 2017.
This post was sponsored by Kuvée but all opinions and (most) photos are my own. The second from the top photo is courtesy of Kuvée .