"You got a certified letter… from Italy!"
Our mailman handed me an envelope, and I grabbed it enthusiastically, thinking I'd won a trip or was getting some other exciting news.
I should have known better.
It was speeding ticket. I owe the town of "Val di Merse" (?) 189.15 euros. Fark.
When we traveled to Italy last fall, we rented a car for two nights to explore the Tuscan wine country. While I don't regret taking the opportunity to see these stunning landscapes and historic villages (photos to come), the experience took years off of my life.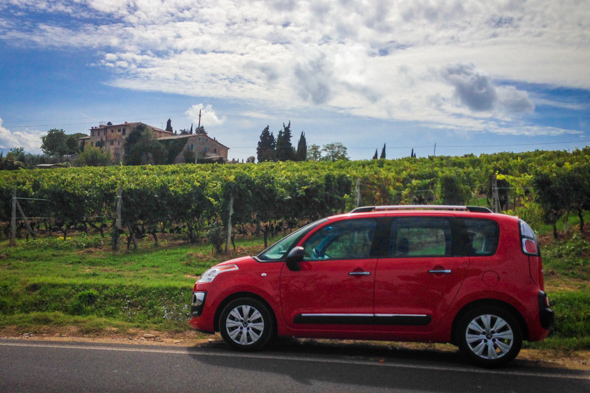 To save money, we decided that I'd drive. Kevin can't drive a standard transmission, but sticks are more common in Europe and much cheaper to rent than an automatic. I learned to drive on a standard transmission, but I haven't owned one in about 10 years. Still, I figured I'd get comfortable with it again in order to save $75 a night (Lesson #1. Don't cheap out).
Immediately after picking up our shiny new Citroën (gotta love the umlaut!), I was nervous and a little jumpy driving a stick for the first time in years. My immediate first step was to take a wrong turn down a one way street (Lesson #2: Don't let me drive!)
Because of this sudden change of course, we came desperately close to doing the one thing everyone warned us about–entering Florence's limited access urban traffic zone. Driving into this area can get you fined several hundred euros. Kevin was yelling at me, as if I wasn't nervous enough (Lesson #3: Ignore Kevin).
Luckily, we escaped and managed to follow the signs out of the city where we could breathe a bit deeper. The drive through the Chianti region was beautiful and we took it slowly, enjoying lots of stops for scenic vistas and a wonderful local wine festival.
But as we approached the city of Siena later in the day, we got fantastically lost. We stopped to ask for help several times, and no one could tell us how to get to our destination for the night, the south Tuscan hill town, Montalcino. Every few kilometers there was a roundabout and street signs pointing to dozens of destinations, most of which we had never heard of and couldn't locate on our printed map (Lesson #4: Spring for the GPS!)
According to Google Maps, Siena to Montalcino is a 48 minute drive. It took us about 3 hours. By the time we landed at our AirBNB host's home, I was haggard and grouchy and had about a dozen new grey hairs.
Rinse and repeat for 48 hours, throwing in some hilly roads, narrow medieval streets, and densely packed parking lots–all things that are really fun in a standard transmission vehicle.
By the time we returned the rental car in Florence, now with a lovely new 210 euro scratch gracing the back bumper (Lesson #5: Use a credit card that offers rental car damage protection–luckily, we did this one!), my nerves were totally shot.
I've spent the past few months trying to laugh it off as a good story to tell when the time was right (namely, after receiving my rental car repair reimbursement). I did not think the experience could have gotten any worse.
And then I got this ticket…