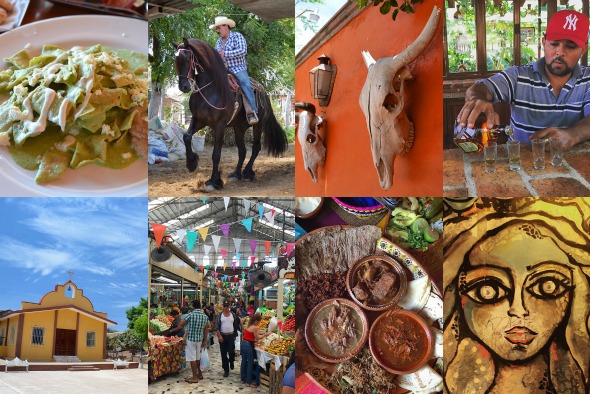 The thing that surprised me about Mazatlán, Mexico is how much there is to do beyond the beach.
Don't get me wrong, the beaches are great. Mazatlan has warm Pacific currents soft strips of sand, and broad views of three wild islands rising from the sea just off the coast.
While I appreciate a nice beach, it's not enough to lure me to a destination. I'm drawn to people, culture, communities, history, nature, and most of all, of course, food. I've traveled through Mexico several times before, but the Spring Break crowd and endless resorts I imagined always led me to leave Mazatlan off my list.
So when the local tourism agency invited me to join a trip they were planning to show off some culinary and agritourism opportunities across the mostly rural Sinaloa state, I jumped at the chance to eat my way around the region and I discovered there are lots of things to in Mazatlan beyond the beach!
I just got back last Sunday and haven't started looking through the 1,000+ photos I took over four days–stories to come. In the meantime, here are some images I shared on Instagram.
1. Breakfast: Chilaquiles!
I had some variation on this dish for breakfast every single day. Chilaquiles is a popular Mexican breakfast dish made of thin corn tortilla strips, covered a rich green (verde), red (rojo) or chipotle sauce, then baked and served topped with fresh cheese, sour cream, and–one amazing time–local shrimp.
2. Blue agave (tequila) tasting at Vinata Los Osuna
I guess it was five o'clock somewhere, but in Mazatlan, it was only 10am. You gotta do what you gotta do.
We stopped into Los Osuna Distillery to sample their three varieties of 100% distilled blue agave, or "tequila". Being in the state of Sinaloa, the company has to call their spirit "blue agave" by law–tequila is a regional protected word, limited to agave grown and distilled in the state of Jalisco. Even if it can't be branded as such, the company recently surprised the global booze world by winning three top medals at the prestigious San Francisco World Spirits Competition.
5. Village life in Puerto de Canoas, Sinaloa
The main square in small town of Puerto de Canoas, population: 334. Villages like this are the center of life in the outlying agricultural communities. Sinaloa is the agricultural heart of Mexico. The state grows 30% of food for Mexico and it's the largest producer of tomatoes in the world.
4. Making salsa and tortillas with Doña Rosa
In Puerto de Canoas, we were invited into local food-stand owner, Doña Rosa's kitchen to learn to make salsa and tortillas.  For the salsa, she roasted up some roma tomatoes and serrano chiles that we mashed together by hand using a traditional molcajete. Throw in a little garlic and salt, and pair with fresh local cheeses and hand pressed tortillas roasted up on her wood-fired griddle–the perfect, simple snack. I was so inspired by Dona Rosa's salsa, I picked up my very own molcajete (just like this one) in the Mazatlan central market
3. Alberto and his dancing horses
Before lunch we met up with Alberto, who trains beautiful Azteca horses to dance to local Sinaloa-grown banda music. The horses perform at local festivals and events.
6. The colorful town of El Quelite, Sinaloa
Exploring the colorful streets of El Quelite. This is cowboy country.
7. Cowboys & carnes
Mazatlan is probably best known for their seafood, but in the ranching villages, meat is much more common. This was the carnivorous sampler platter we ordered at El Meson de Los Laureanos restaurant, in El Quelite.
8. The seafood rocks, too.
It's true–Mazatlan's seafood is excellent, especially their fresh local shrimp. The city has the largest shrimp fleet in Mexico. One popular local dish (shown here at Restaurante Los Arcos) is aguachile, a chile-spiked shrimp ceviche with cucumber, red onion, carrot and lots of lime juice–delicious!
9. A walk through Mercado Pino Suarez
Hunting for interesting foods and Mexican kitchen ware at Mazatlan's central market, Mercado Pino Suarez. I bought some colorful fruit-print oilcloth fabric, a traditional stone molcajete (see #4), and a bag of pint-sized local mangos.
10. Visiting a marshmallow factory
For the past 50 years, Doña Maria Clara has been making a candy called "Suaves", vanilla marshmallows rolled in shaved coconut, in a converted bedroom in her home. Now in her mid-80's, she leaves the work of cooking, cutting, and bagging the fluffy treats to her family. Before we left, she gave us each a bag. The bags sell for 20 pesos ($1.50) each in the market, and they are a popular local sweet in Mazatlan.
When we went to the airport to come home, my friend Karin had her suitcase checked by the Mexican TSA. When he opened it and saw the fluffy bag of Suaves on top, his face lit up and his voice softened, "Ohhh, Suaves!"
11. Street art in the Centro Historico
From dawn to dusk, the historic downtown (centro historico) of Mazatlan is the commercial center of town and packed with people going about their day. But by night, it turns magical, with warm colonial architecture, narrow cobblestone streets, bohemian cafes, and modern street art.
12. Those Pacific sunsets!
Last but not least, our good friend, The Beach. There's no better place to be at sunset. I was blessed with this gorgeous sunset the night I arrived at my hotel, Pueblo Bonito Mazatlan. What a treat!
---
Thanks to the Mazatlan Tourism Board for organizing this trip. Opinions and photos are my own.
Have you been to Mazatlan or Mexico? What are some of your favorite things to do in Mazatlan?