Last month, I traveled to Mazatlan, Mexico, for a food-focused trip.  I've often said that Mexico is one of my favorite countries, and one of the world's most diverse culinary destinations, so this was an exciting opportunity for me.
I'm vegetarian, so I get a lot of questions from friends and readers about how I manage my diet in this land of meaty tacos and so-much-seafood. It can be challenging if you are a very strict vegetarian or vegan, but it's definitely possible to find tasty, authentic veggie food whatever your dietary concern.
Here are my best tips for finding vegetarian food in Mexico:
Learn some basic "survival Spanish":
I speak Spanish fairly well and love navigating restaurant menus and chatting up servers and cooks to negotiate the things I can and can't eat. I see it as a fun challenge and talking about local food is one of my favorite parts of traveling in Latin America.
Still, you only have to speak a few words of Spanish to make sure your diet is understood.
There are two important phrases that I use more than any others. These are all you need to know to communicate exactly what you can't eat:
Soy vegetariano / Soy vegetariana. I am vegetarian ("o" if you are male, "a" if you are female)
Many people do not understand what "vegetarian" means (some people think it means you just really like vegetables!) so ALWAYS follow that phrase with a detailed description of exactly what that means to you…
No puedo comer: (I can't eat:)
carne (beef, or generic word for meat)
puerco (pork)
pescado (fish)
mariscos (seafood)
leche (milk)
crema (cream/sour cream)
queso (cheese)
huevos (eggs)
mantequilla (butter)
manteca (lard)
and so on…
Bean, cheese, and cactus tacos at a stand in Loreto, Mexico
And of course, it goes without saying that manners are important. If you are polite and respectful, most food vendors will go out of their way to help you find something that you can eat.
Watch out for lard:
While some Mexican cooks are trying to appeal to consumer demand for healthier foods by using vegetable-based oils, pork fat (or lard, called manteca) is still used to fry lots of things in Mexico, including the ever-present refried beans. It's also often used to bind together the cornmeal paste (masa) used to make tamales and sometimes in tortillas. Lard is so common, it's something I have personally opted to overlook in Mexican cooking–so in Mexico, even though I would prefer to avoid it, I'm vegetarian, except for lard…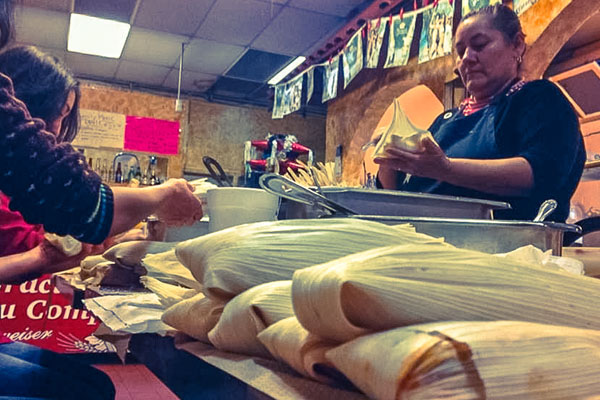 If you are not able to do that, you'll definitely have to stay away from tamales and ask about whether it may be included in other staple grain products.
EIT reader Juan, tells me that while corn tortillas (tortillas de maiz) usually do not include lard, sometimes they do use it in wheat tortillas (tortillas de harina). So to be safe, stick to corn tortillas or ask if the wheat tortillas have been prepared with lard: Se utiliza la manteca en las tortillas de harina? 
Also, you'll need to avoid refried beans (frijoles refritos). Another EIT reader, Beatriz Sosa-Prado, is vegan and shared some advice for maintaining her plant-based diet when traveling in Mexico. One tip I'd never heard was to try asking the restaurant to substitute frijoles de la olla (beans cooked in a pot of salted water) for the refried beans. She said sometimes they will balk and say they don't have frijoles de la olla, but they usually do because these are the starting product for making refried beans.
Look for common dishes that are usually vegetarian:
Mexico is a big country, and the food varies from region to region, but these are some common dishes that are usually vegetarian or can be modified to remove meat and sometimes dairy.
Tacos: Some vegetarian taco options that you may see on the menu are: tacos de papa (potato tacos), tacos de calabaza (squash tacos), tacos de flor de calabaza (squash blossom tacos), tacos de hongos (mushroom tacos), tacos de rajas (roasted poblano pepper strips), tacos de nopales (cactus tacos), and one of my favorites (common near Mexico City) tacos de huitlacoche (a gross-looking but earthy and sweet black corn fungus). (I've previously shared my weird love for huitlacoche.)
Huaraches/sopes: (I'm not sure how these two dishes differ other than their size and shape?) A huarache is a large, oblong piece of fried corn meal covered with toppings like lettuce, onion, tomato, cheese and sour cream. A sope is a smaller, round piece of fried corn masa dressed the same. In both cases, you can order them made with beans, cheese, sour cream, or nopales (fried cactus).
A street vendor selling blue corn tortilla huaraches in Mexico City.
Tortas: A sandwich made with fat rolls of fresh-baked French bread. Most vendors can make you a bean and cheese torta and throw on any vegetables they have (lettuce, tomato, onion, avocado).
Enchiladas: Stuffed with cheese and vegetables.
Burrito vegetariano: If burritos (which originated in Northern Mexico, then spread into the US, and are now common all around Mexico) are on the menu, most places can make you a vegetarian burrito with beans, cheese, rice, and various vegetables.
Quesadilla: Wheat tortilla filled with a mixture of cheese and sometimes vegetables, cooked on a griddle, then folded in half in a half-moon shape.
Chile Rellenos: Roasted poblano peppers stuffed with cheese and vegetables.
A vegetarian chile relleno. Photo: Tony Kuehn
Chilaquiles: Popular breakfast dish made of thin corn tortilla strips, covered a rich green or red sauce, then baked and served topped with (if you want) cheese and sour cream.
Enselada verde: Green salad.
Ask for substitutions:
Sometimes menus don't have anything vegetarian, as is, but you can sometimes ask for meat to be left out of it. If the menu includes: quesadilla de pollo (chicken quesadilla) you can usually ask for a quesadilla sin pollo, solo queso (quesadilla without chicken, only cheese). One of my favorite Mexican street food dishes are thick, crispy but pillowy corn sopes. Usually they are served with meat on top, but you can order a sope con frijoles… no carne (sope with beans, no meat)
A deep fried quesadilla. Photo: Tony Kuehn
One vegetarian EIT reader and frequent Mexico traveler, Suzie, agreed that many restaurants she's visited "are more than willing to make substitutions – like instead of bacon on a BLT, a few slices of avocado."
Avoid specialty food restaurants and stalls:
When a restaurant is very specific about the type of food they prepare, they are less likely to have something to substitute. For example, seafood restaurants (any restaurant with the word "mariscos" in the name) often don't stock beans or cheese, so they are unlikely to be able to make you a veggie burrito, quesadilla, bean tacos, etc.
Mariscos is Spanish for, "there's nothing vegetarian here"
When traveling with seafood lovers, I understand that if we are dining at a seafood place, I'll need to eat something vegetarian before we go in case there is nothing on the menu, and stick to drinks and dessert.
This goes for small food stalls and street vendors, too. These kinds of places only make a few items (but make them really well!), but it's harder for them to accommodate special requests.
Do some research in advance:
Look for local vegetarian restaurants in the areas you'll be visiting. Check out the global vegetarian and vegan dining database, Happy Cow. Don't fear that you will be missing out or not eating authentically by opting to go a vegetarian restaurant. Many of these restaurants are frequented by local people, vegetarians or mostly-vegetarians trying to improve their health.
And it's always interesting to see how local people adapt to vegetarian and healthy cuisine. I loved browsing the shelves of a hippy natural food store and cafe called Super Soya (Super Soy!) in Mexico City about a decade ago. I didn't think the place had updated their funky decor since they opened in the height of the vegetarian and macrobiotic boom in the 1970's (and I guess it still hasn't–check out these photos!) I loved seeing all the health foods, supplements, and prepared Mexican meat substitutes, like Soyrizo, soy-based faux chorizo sausage.
Look for ethnic restaurants that tend to have lots of vegetarian options:
Both Chinese and Indian restaurants (sometimes called comida hindú or "Hindu food") are very common in Mexico especially in the bigger cities and popular tourist destinations.
Visit markets:
This goes for wherever you travel around the world. Never pass up the opportunity to visit local food markets! Mexican markets are filled with fish and meats, but vendors also sell all manner of fresh fruits, vegetables, and sweets. Here's a post about a market I visited last year in Ensenada, Mexico.
Fill up on fruit!
One of my all time favorite things about Mexican street food is the ever-present "fruit man," street vendors who sell a freshly chopped mix of fresh fruit, covered with a generous squeeze of lemon or lime juice, a sprinkle of salt, and (if you like things hot–I do!) chile powder. They'll make it as spicy or mild as you want.
Fresh coconut with LOTS of chile and lime juice
Also, fresh-squeezed juices (jugos frescos) are very popular in Mexico. Vegetable and nutrient-rich green juices and oh-so-sweet carrot juice are a common breakfast item in Mexico and you can order them at lots of restaurants and food stands.
---
Thanks to my friends Steph Harrison and Tony Kuehn for contributing some great food photos to this post. They are living in Mexico right now and sharing all kinds of delicious vegetarian (and non-vegetarian) Mexican food inspiration on their blog, 20 Years Hence.
---
Do you have any other tips for how to find vegetarian food in Mexico/Mexican restaurants?