There's a conversation that happens again and again in our house. It usually occurs after we discover some new home-fermented or pickled recipe, or discuss (again) whether we want to get chickens.
Kevin will sigh, and say that we are "hipsters."
Each time, I'll disagree. We can't be hipsters — we're too old, he's too interested in sports, and neither one of us care about fashion or wearing the right clothes. Then I argue that our love of artisan food, hobbies, and lifestyle are more closely aligned with the less popular, but equally disparaging moniker, yuppie.  Kevin will disagree and then quote how much we resemble some of the caricatures on the show Portlandia. I'll go on to say we don't share the yuppie political leanings or interest in status items like home renovations and fancy cars, so we're probably somewhere between the two ugly labels.
It's a stupid debate, but so it goes.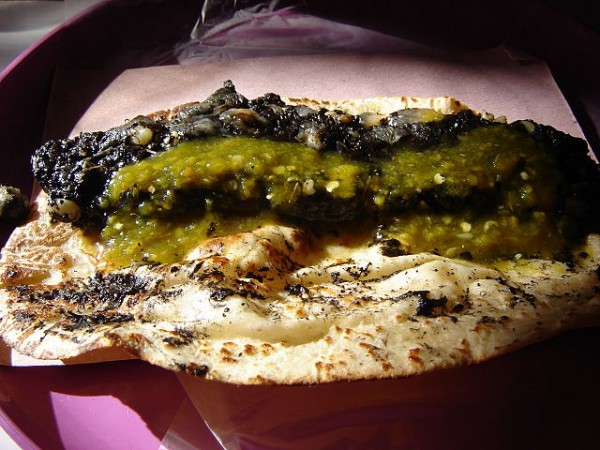 A few weeks ago we were in the fashionable Brooklyn neighborhood of Williamsburg.  Kevin had bought me tickets to see The Pixies, one my favorite bands from back when I was in college. They had broken up before I discovered them so the prospect of seeing them live was exciting. With time to kill before the show, we stopped into a nearby Mexican restaurant.
When I looked at the menu, I was excited to see they featured a huitlacoche quesadilla. Huitlacoche (pronounced: weet-la-koh-chay) is an agricultural pest fungus called "corn smut" in the US, but it is a culinary delicacy in Mexico where it is served on tacos and quesadillas.  The black, oily fungus is not very pretty, but has an earthy and sweet flavor that I really like. I tried it first on street tacos in Mexico City several years ago and found it a second time at a taqueria in Southern California, but otherwise it's hard to find in the United States.
When the waitress came to our table, I questioned her eagerly.
"Where did the huitlacoche come from?" And, "Is it fresh, or from a can?"
She said she didn't know but asked if I wanted her to go ask the chef. "Yes, thank you," I replied.
As she walked away, Kevin smirked.
"Did you really just ask where the huitlacoche was sourced? That was probably the most hipster thing you can say."
I objected, "No, I really wanted to know!"  Then I realized that was irrelevant and laughed.
It was a ridiculous moment. The quirky and hard to pronounce specialty food product, the question about produce sourcing, in an iconically hip neighborhood, just prior to a sold-out show by indie rock pioneers.  I pretty much walked right into this one.
For now, on this argument, it's Kevin 1, Cassie 0.  But this is NOT over.
---
Photo: Huitlacoche quesadilla on Wikimedia Commons