Cookies are delicious. Ice cream is delicious. Press them together into an ice cream sandwich and you get the ultimate dessert.
Wait — one more thing. Lets finish it off by covering the whole thing in a crispy, dark chocolate shell. Amazing, right?
That's what I thought the first time I had an It's-It.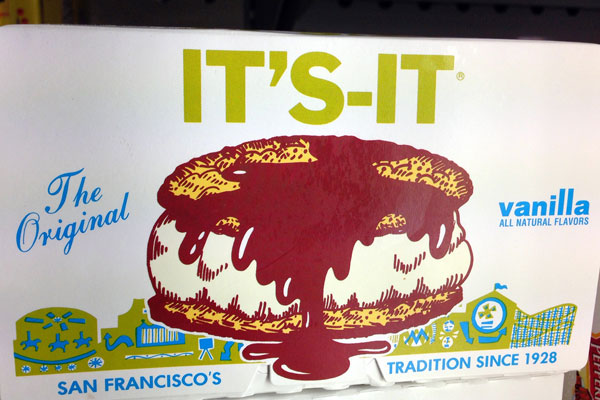 This oddly named ice cream treat is a San Francisco tradition. The company was founded in 1928 by a vendor at the San Francisco Beach boardwalk. He baked two large oatmeal cookies, pressed them together with vanilla ice cream, and covered them in a hard chocolate shell. When the boardwalk was demolished in 1970, the stand closed down but the people of San Francisco didn't forget their It's Its. In 1974, the company opened back up, now selling the frozen treats to local mom and pop stores across the city. In the following decades, demand spread. Today they are found in most every corner store and grocery store in Northern California. (Note: The website says they are also sold in Southern California and 15 other states, but I never discovered the treat until I moved to Northern California).
For Kevin's birthday this year, I wanted to make him something different from the usual birthday cake or cupcakes. When I raised the idea of trying to make an It's-It from scratch, he was very excited. The one thing better than an It's It, he said, was an It's-It made from all homemade ingredients!
Here are the steps for making a homemade It's It style ice cream sandwich (if doing it all in one night is too laborious, save time by baking the cookies a night or two before you begin the ice cream and want to do the final assembly):
1. Bake large, evenly shaped cookies
Technically, It's-Its use oatmeal cookies, so if you are looking for authenticity, make oatmeal cookies. But chocolate chip cookies are our favorites, so that's what we decided to use as the base of the sandwich. But whatever cookies you decide to use, be sure they are about the same size and shape, as you'll need to equivalently sized cookies for the best looking, easiest to eat ice cream sandwich.
I always use this classic recipe when I bake chocolate chip cookies: Toll House Chocolate Chip Cookie Recipe

2. Put the cookies in the freezer to chill
You want the cookies to be cold when add the ice cream filling so that it doesn't melt on contact.
3. Make ice cream
It's-Its are traditionally made with vanilla ice cream, but on occasion you can find them filled with mint chip and mocha flavored ice cream. We have been a big fan of fresh mint flavored ice cream for a while, so we decided to use this mint chip ice cream recipe from ice cream expert, David Lebovitz. For a richly flavored whole vanilla bean ice cream recipe, check out this one that we posted last year.
4. Assemble the ice cream sandwich
Take the ice cream out of the freezer to soften for about 10 minutes. Scoop, or pipe the ice cream in between the two cookies. You can use a piping bag or, as I did, a freezer bag with the tip cut off (the photo above was right before I cut the tip). Add it evenly to one inner side of the cookie and then very gently press the top cookie onto the ice cream. Immediately after filling, put each ice cream sandwich into the freezer to harden.
5. Make the chocolate shell coating
Making a fast-hardening, chocolate shell to pour over ice cream is ridiculously easy. All you need are two ingredients: 1. one bar of dark chocolate and 2. a small scoop of coconut oil. That's it!
For the exact ratio of chocolate to coconut oil I referenced this "Wordless Recipe" for frozen bananas — this post is especially creative because it was inspired by the epic TV comedy series, Arrested Development and has a joke from the show in every photo.
The ratio is 1 cup of coarsely chopped chocolate to 1 tablespoon of coconut oil. Toss them together,  melt either in a double boiler on the stove or in the microwave in three, 30 second increments (taking it out and stirring after each cycle), as pictured in this recipe.
6. Pour the melted chocolate shell over the ice cream sandwich
Next, pour the melted chocolate shell over the cookie and do your best to spread it around using a spoon.  You have a minute or two before the chocolate shell starts to harden.
Once you've spread as much chocolate onto it as you can, put the ice cream sandwich in the freezer right away to help the shell harden faster. After about 10 minutes, it will be fully hardened and ready to go!
As you can see, my sandwich wasn't very pretty, but it hardened well.
7. Enjoy your homemade Its It!
The It's It I made was HUGE so it was a bit challenging to eat! The chocolate shell will stay firm if you set the sandwich on a plate or napkin, but will melt quickly from the warmth of your hand. To keep from getting chocolate all over your hands, I decided to wrap my treat in aluminum foil and hold on to that while I ate the sandwich.
Kevin's verdict? It was a big win and a nice addition to his very happy birthday!
---
Give this recipe a try and let us know what you think in the comments!