A few weekends ago, we met up with my sister and her fiance who were visiting from Pennsylvania. They had spent a week in Los Angeles, but they wanted to meet up with us for a few days before they went home, so I suggested we meet halfway in the Central California wine region of Paso Robles.
We spent our first afternoon hopping between local wineries, tasting some good things, but with no real plans for what to do next. At our last winery of the day, my sister picked up an flier for an olive oil farm that offered free tours by appointment. It was close to 4 pm and I figured there was no way that we would get an appointment at this time of day, but she decided to give them a call. Surprisingly, they were able to meet with us right away, so we hopped in the car and headed up the hill to begin our Paso Robles olive oil tasting adventure.
Kiler Ridge Olive Oil Farm is owned and operated by Gregg Bone and Audrey Burnam, who were inspired to produce olive oil while on a cycling trip through Tuscany. They bought the Paso Robles property in 2005, planted several Italian varieties of olives and were able to produce their first batch of extra virgin olive oil in 2010. Their annual output is quite small, and everything is produced over a few weeks each November.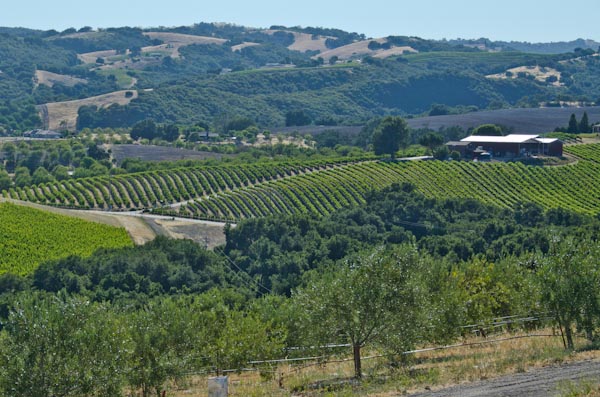 The property is beautiful. The olive oil tasting room and small mill that they call Frantoio is perched on a hill overlooking the westside Paso Robles wine estates. I can imagine how excited they were when they saw the resemblance to the rolling hills of Tuscany.  I took advantage of the view to take some photos of my sister and her fiance that they plan to use for their wedding Save the Date card!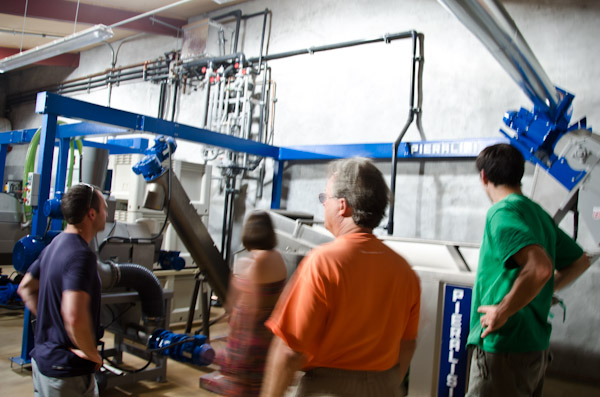 Gregg gave us an enthusiastic tour of the production facility. He's an engineer by trade who has poured his creativity into the olive oil making process. The heavily insulated building uses natural, straw-bale construction, and he custom-built an olive harvest weighing device that he controls on his iPod Touch, using software he wrote himself!   The rest of his facility is a technological marvel consisting of high-speed centrifuges and other machines designed to extract every possible molecule of oil from the fruit as quickly as possible.  It's an interesting process, and if you like gadgets, you'll love this place.
Finally, we arrived in the tasting room where we sat down at a small bar to sample all of their varieties with fresh-baked bread, from most mild to the most bitter. The aromatics that give fresh extra virgin olive oil their distinctive, peppery bite break down very quickly, so the 2011 varieties (that were actually produced in late 2010) were much milder and vegetal than the more recent batch. The more recent varieties, the 2012 Gregg's Reserve and 2012 Tuscan were both more bitter and pungent, flavors that I really like.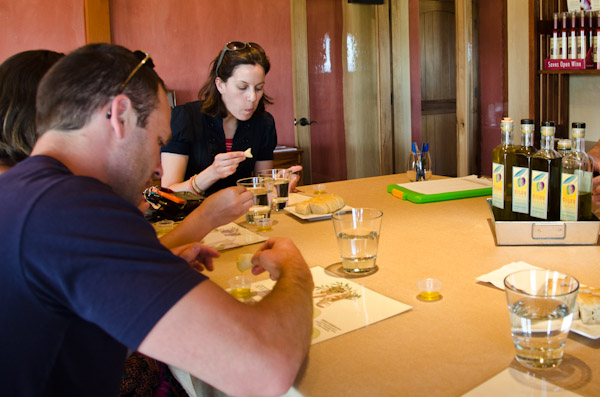 It's scary, but true, that many store-bought oils  are probably not actually extra-virgin, likely contain benzene (a toxic solvent used to extract as much oil as possible), and even include cheap dilutants like peanut oil (peanut allergy sufferers beware!!!).  So if you've only had store-bought oils, I can guarantee you've never tried anything like this!  He added that if you visit just after the harvest in November, you can sample their incredibly fresh and delicate olive oils that have a very short shelf life (I'm marking my calendar for this!).
Finally, they offered the ultimate no-brainer:  The olive oil of your choice drizzled over vanilla ice cream and topped with a sprinkle of sea salt!  The pungent oils and salt highlight the sweetness of the ice cream and create a magical, buttery feel on the tongue.   It was amazing!  So amazing, in fact, that we were inspired to replicate it at home and make our own ice cream using whole vanilla beans!
Here's our recipe and a photo of it drizzled with Kiler Ridge olive oil and sea salt: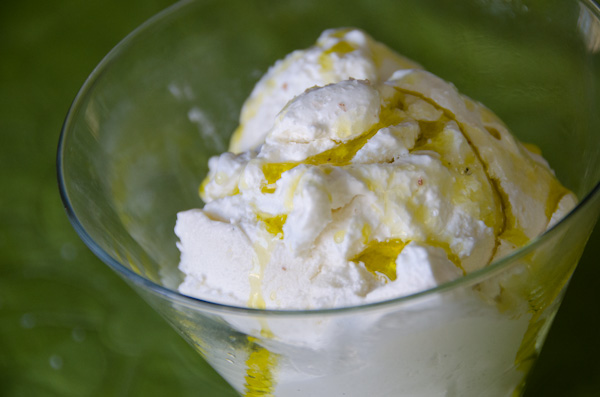 Homemade Vanilla Bean Ice Cream Recipe
Ingredients
2 cup heavy cream
2 ½ cup half and half
5 egg yolks
1 ¼ cup sugar
1 vanilla bean (vanilla extract is strictly forbidden)
Instructions
Add 1 cup of heavy cream to a medium bowl and place in an ice bath (a bigger bowl capable of surrounding the medium bowl with ice and chilling it sufficiently). Set aside.
Separate the egg yolks and whip them until the mixture is very smooth, but not frothy–don't overdo it.
Add 1 cup of heavy cream and one cup of half and half to a medium saucepan and simmer. Slice the vanilla bean lengthwise and scrape the dark, sticky material from the inside of the walls. Add the material to the simmering cream and half and half, and throw in the shell of the vanilla bean as well (we will strain this out at the end). Steep the vanilla "tea" for about 20 minutes on low to medium heat (150 degrees Fahrenheit will do nicely). You'll notice the black flecks of the vanilla bean insides start to separate and look recognizable if you've ever had store-bought French Vanilla before. (It might appear the same, but wait until you taste it.)
You'll smell the strong vanilla aroma coming from your "tea," and when you feel ready, add the remaining 1 ½ cups half and half to the tea. Then add the sugar and stir until dissolved. Last, drizzle in the whipped egg yolks and stir thoroughly so that the egg mixes evenly. Bring the temperature up to about 160 degrees and stir until the mixture starts to thicken somewhat. You'll notice it coats the edge of the pot and slowly moves down the side, as well as your stirring spoon when you remove it from the mixture. When you see this happen, quickly remove the mixture from the heat and pour it through a mesh strainer into the cream that has been waiting in the ice bath. This will immediately stop the cooking process and prevent the egg from curdling.
Chill for several hours in the refrigerator, then freeze in an ice cream maker.
Serve in chilled bowls, drizzle with high-quality olive oil, and sprinkle a pinch of sea salt evenly on top.
Salt and olive oil on ice cream — what do you think?