Have you ever seen one of these vans when traveling around the West Coast?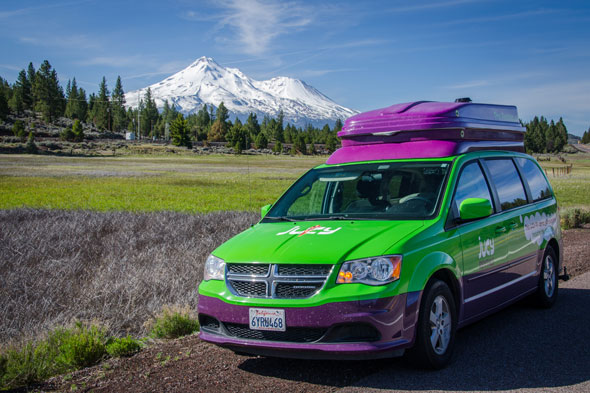 Now that I've shown you this photo, I bet you'll start to notice them in California and beyond. They are neon purple and green with colorful graphics on the side–they are kind of hard to miss. Kevin spotted four of them out in Yosemite National Park when he was there this past Memorial Day weekend.
This vibrantly colored little van is a Jucy Campervan, a fully stocked rental campervan and it's a great thing to consider if you are looking to plan a West Coast roadtrip. I took one up to Oregon last month with a few friends and we really enjoyed our time camping in it.

Before our trip, I didn't know anything about the company Jucy nor what to expect on a campervan trip (and we made some big mistakes), so I put together this post to introduce this service and give you some tips for planning your own campervan roadtrip:
About Jucy Rentals:
The company, Jucy Rentals is based in New Zealand which has a long history of campervan travel. Families rent campervans and small RVs and use them to travel around the scenic islands. Here in the US, travel via motorhome and RV is far less common. The vehicles are big and beastly vehicles to drive, or they require giant pickup trucks that can tow them. They are mostly used by older retired folks, and very long-term travelers who are planning to live in them. My grandparents owned a camper when I was a kid, and I have a few friends who have rented big RVs for longer trips, but I never in a million years considered renting an RV myself.

Jucy has made RV camping more accessible for beginners by retrofitting easy-to-drive and relatively fuel efficient Dodge Grand Caravan minivans to add a popup top, a full kitchen (including refrigerator and sink), and two double beds that sleeps up to 4 adults, or 5 total passengers if you have any small children in the mix who can share a bed.
Jucy currently has three pickup locations in the United States: Los Angeles, San Francisco, and Las Vegas.  You can pick the vehicle up and return it in the same city (like I did in SF), or do a one-way rentals (in one city, out another) for an extra fee.
Jucy campervans rent for about $55 per night, so it's not much more than a regular car rental and it saves you on lodging. You can park overnight for free in some public land areas/forestry roads, though you probably will want to book campsites for your overnight stops so you have a safe place to park and access to a bathroom. The Jucy van's keychain had a coupon code on it for something like 10% off KOA campgrounds, so they are always a reliable option.
What's inside a Jucy Campervan:
Two "bedrooms"–each with a double-size foam double bed. Bedroom #1 is the pop-up top, that you enter from a pulldown ladder on the outside of the vehicle. Bedroom #2 is inside the van, where the back seats fold down into a thick foam mattress. Both rooms have built-in ceiling lighting that you can use after dark. The pop-up top room also has a powered fan that you can use to improve ventilation.
The rear hatchback door opens to show off a fully-stocked kitchen with 2 gas stove burners, and a hand pump sink. The sink comes loaded with a 5 gallon supply of water, and the sink drains into a wastewater chamber that you can empty into the sewer if it gets full.
You can refill the sink's water supply using a hose (see below).
A compact refrigerator drawer for storing perishable foods. The refrigerator charges anytime the car is moving and it can store enough power to keep your food cool for over 12 hours. The refrigerator runs on an auxiliary battery, so even if it did run low, you wouldn't have to worry about it killing the van's main battery.
The optional (but highly recommended) cooking package includes:

Dishes, mugs, and cutlery for 4 people
A cutting board and chef's knife
A variety of pots, pans, and cooking utensils
Tea and coffee gear (a kettle for boiling water, a glass coffee pot, and a two cup pour-over cone coffee maker)





A pop-up kitchen table on the inside of the van that can be used for dining or playing games. We used it once to eat lunch inside the van when it was raining.
A folding card table that you can set up outside–we never used it because we always stayed in campsites that had picnic tables, but if you don't, it would come in handy for offering more food storage and prep space.
A spacious storage cabinet inside the floor of the van that allows you to stash gear you don't use much and things you want to put out of the way when you are driving. We filled it with three duffel bags, two bags of camera gear, a tripod, and the tent we brought in case we needed extra space (we never used it).
A built-in TV with DVD player.
Who is this good for?
Younger travelers out on road trips with friends. The van is fully stocked so you don't need to own your own camping gear. Also the vibrant colors are always a conversation starter.
Older, grouchy (oh wait–that's just me!) travelers who enjoy the open road, but prefer beds to tents, and who like having a full working camp kitchen with real (non-plastic) dishes.
Couples and small families. It's an easy and cheap way for families to travel–you save money by not having to pay for accommodations, and limit the work of camping trips by picking it up fully-stocked with kitchen gear, beds, and linens.
Photographers! Avid landscape and wildlife photographers spend A LOT of time in their vehicle and make an effort to be out in the field shooting at both sunrise and sunset. On our Oregon trip, my friend and I woke up before dawn one snowy morning to shoot the sunrise and we discovered how amazing it was to just to just lift the back, fire up the stove and make hot coffee (in ceramic mugs!) to warm our hands while we waited for the clouds to burn off.
How to Plan a Roadtrip with Jucy Campervan:
Travel Tips:
Consider the local weather and altitude when you plan your route. There is no heater inside the van, unless you leave the engine running which you can't do overnight. As a naive Californian, I made a big mistake assuming it wouldn't snow in Southern Oregon in mid-April. When we started to climb the mountains around Crater Lake National Park and came across a blizzard, I realized we weren't prepared to camp in freezing temperatures. It wound up being too cold to sleep in the campervan for two out of the five nights of our trip, so we had to book last minute motel rooms which was an inconvenience and an added expense.
The top is rainproof, but it does get colder up there than it does inside the vehicle.
The provided sheets and blanket are fine for warm weather camping, but if you are camping in spring or fall, going to high-altitude, or just get cold easily, be sure to pack an additional blanket, sleeping bag, or long underwear. Even though we opted for the linens package, we were so grateful to have our additional sleeping bags on our early spring Oregon trip!
A campervan is not technically an RV–it doesn't have an RV power hookup so don't bother booking more expensive camp sites that have a power hookup. Also, many RV sites have strict admission rules and will not allow Jucy vans, as we found out one night when the RV park we reserved a space at denied us admission. We tried to argue that the Jucy vehicle was a small RV, but the park manager said, "it was too much like camping" and didn't meet the "community standards" of their mostly residential park.
While the vehicle is much lighter and easier to drive than a full-size RV, it's still heavier than your typical passenger car, so it took me a few minutes to adjust to the weight of driving it.
The front seat doesn't move back very far because of the gear built into the back seat. This could be an issue for someone who is very tall.
Make sure things stored up top (ladder, table, pop up top) are locked. I read horror stories of renters who forgot to latch the ladder and it came off on the highway, damaging the vehicle–or worse–causing an accident.
The cutlery and dishes bang around against each other when you drive, so you may want to shove a towel into the dish cabinet to cushion them.
Be careful with the zippered door–the fabric is thick, but the zipper rips from the seam easily. We could tell our zipper had ripped before and it had been sewn back together by hand. It started ripping from the seam our first night and we had to patch it with duct tape. Luckily Jucy said they knew they needed to fix it, so we were not charged for the repair.
You need to return the vehicle relatively clean. The waste water tank needs to be drained, the dishes need to be washed and dried, and the sink must be relatively cleaned. Jucy will vacuum the interior and wash out the kitchen area, but you'll be charged if you leave it excessively dirty.
Some items that are NOT included in the kitchen setup that you'll probably want to pack:
Kitchen sponge
Dish soap (Note: Pack a biodegradable soap if you want to release right into public sewer or street)
Kitchen towel and/or paper towels
Garbage bags
Large cone coffee filters
A small cooler or insulated bag for beverages and things that don't fit in the refrigerator.
 In all, it was a great experience and a comfortable and fun alternative to camping. It's going to be hard to go back to tent camping (which we are doing over 4th of July weekend)–I'll certainly be missing the campervan on that trip!
---
Have you ever rented a campervan for a road trip? Or spotted a Jucy rentals van on the road?
Our campervan rental was hosted by the company for purposes of review. Opinions and photos are my own.