Louisiana's food is legendary and I had been wanting to plan a culinary road trip through Cajun Country for a few years, ever since I learned about the area (beyond New Orleans) back in 2013 at a local travel show.  When we decided to go out to Louisiana for a family reunion earlier this year, I decided to tack on a few days in Lafayette, the Southern Louisiana city that won the title of Best Food City in the United States.
Southern Louisiana's Cajun culture is named for the French-speaking "Acadian" people who were driven out of Eastern Canada by the British in the 1800's. The Acadians (shortened to, " 'Ca-juns") settled in large numbers in Southern Louisiana and adapted their traditional French culinary habits with the rustic ingredients and native meats and seafood they found in the forests and wetlands of Southern Louisiana.
We ate a LOT on our trip to Lafayette. We checked out two more traditional Cajun restaurants (Prejean's and Randol's)–both feature live music each night, roadside food stands and diners, and an award-winning downtown Lafayette restaurant called, The French Press, for a modern take on classic dishes–or as I called them, "hipster cajun."
Here are ten important cajun dishes to try in Louisiana:
1. Crawfish/shrimp étouffée
Étouffée is a smothered seafood stew served over rice. It's a staple cajun dish on the menu year round. During the spring crawfish season, they often use fresh crawfish, and at other times of year, frozen crawfish or shrimp.
2. Crawfish/shrimp boil
A crawfish or shrimp boil is a spicy one-pot dish made for festivals, parties, and events including restaurant meals to mark the start of crawfish season. I shared more "mudbug" love and our uncle's Crawfish Boil recipe in this post.
3. Jambalaya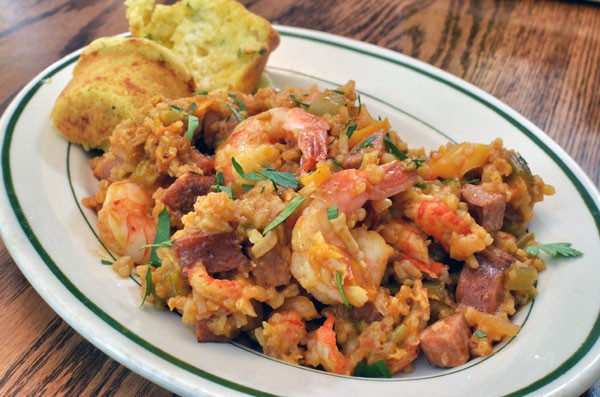 Flickr/southernfoodwaysalliance


Jambalaya is a spicy one-pot meat (usually andouille sausage), shellfish, celery, and rice stew. The dish is related to the traditional Spanish dish, paella. 
4. Gumbo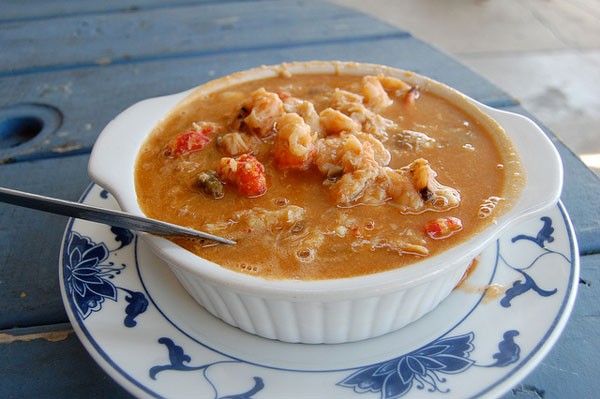 Flickr/jeffreyww

Gumbo is a spicy seafood and meat stew with okra and thickened with filé, a spicy herb made from dried sassafrass leaves. Filé is a common seasoning served tableside in cajun kitchens.
5. Boudin/boudin balls:
Boudin is a spicy pork sausage made with green onions and rice. To make a good thing even better, "boudin balls" are battered, deep-fried, and bite-sized pieces of sausage.
The best boudin is sold in local butchers, corner markets and roadside convenience stores. Every local person has a favorite spot to get their boudin, though one local visitor's bureau put together a Cajun Boudin Trail driving map, of some local vendors through the Lafayette and neighboring parishes.
6. Po' Boy Sandwich
Photo: Wikimedia commons
Po' Boys are served hot and usually are stuffed with fried seafood hot and include fried shrimp and oysters. The sandwich is most common in New Orleans and the southern parts of Louisiana along the Gulf Coast.
7. Alligator:
Yup, this guy… alligators and other local game meats are common in Louisiana and you can find 'gator on many local menus. I'm kind of in love with alligators, as is Kevin, but he did try it at Prejean's Restaurant–grilled white tail meat seasoned and stuffed with crab and shrimp blend and drizzled with an etouffée sauce. He said it was delicious.
8. Maque choux:
Macque choux is a common Cajun side dish made of corn, bell pepper and onion, braised in a pot with stock and seasonings. I loved the presentation (in a savory pie crust) that we got at Prejean's restaurant.
9. Pain perdu
Pain perdu is what we non-Louisianans call "French toast" — pain perdu means "lost bread" in French, indicating the egg smothered and fried bread recipe was a common way to revive stale bread. The cream cheese and stuffed french toast I got at Lafayette's The French Press restaurant was the breakfast highlight of the trip.
10. Hot Sauce
While hot sauce isn't techically dish, every dish you do order in Louisiana will likely be joined by the state's world famous TABASCO brand hot sauce, or a another regional variety.
While it's a common stop on local tourist bus tours, serious chile lovers should still visit the TABASCO Factory, on Southern Louisiana's Avery Island. After a short factory tour, you can sample several dozen varieties of hot sauces and spicy condiments they sell only in their factory store. My favorites were their chipotle hot sauce, the chile garlic sauce, and their sweet and spicy pepper jam.
Have you been to Louisiana? What are your favorite cajun dishes?