Anyone who has come around here more than once knows I'm totally in love with local markets. I've written about markets several times before and I seek them out wherever I go. To share the love, I'm starting a series called "Market Monday." Each week I'll feature photos from an interesting local food or flea market from around the world.
First up, this not-to-be-missed market in Ensenada, Mexico…
Mercado Los Globos (or "Tiangui Los Globos", using the Spanish word for flea market) is a large, partially enclosed food and flea market on the east side of Ensenada, Mexico. While downtown Ensenada is a popular tourist destination and cruise ship port with English-speaking tourists everywhere, this Ensenada market zone feels a world away.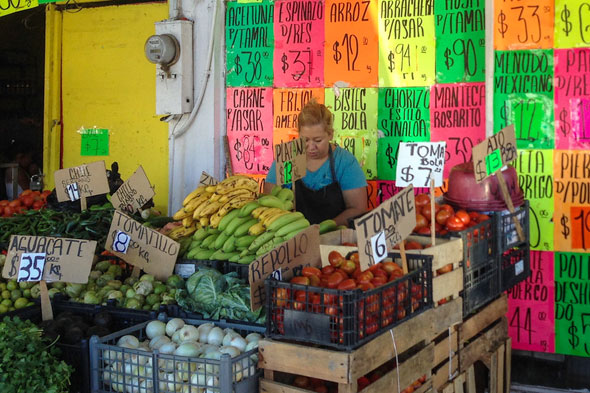 The market is divided into two sections. The first is a series of buildings and enclosed passageways where vendors sell fresh produce, meat, fish, and prepared foods seven days a week…
The second is a series of temporary tent stalls set up on the street to sell new and second-hand merchandise like rugs, clothing, hardware, and even small pets (cages with birds, hamsters, and a few fish tanks). On weekends, these streets are closed to automobiles.
As we wandered the rows of food, I recognized one sign: Cremería Los Globos, the cheese shop we visited in the Valle de Guadalupe, has a second location here in the market. Judging from the name, I assume the market stall was there first.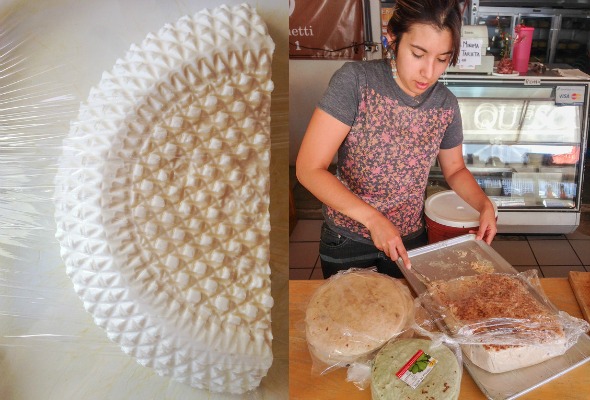 We peered into the kitchen of a small tortilla shop where a guy was pressing flour tortillas by hand, then dropping them on a hot griddle to cook, one side at a time.
There were several street vendors out selling various snacks and treats. A few of the stands had signs for nieve de garrafa a handmade lime sorbet, often added to a home-fermented cornmeal beverage popular in Mexico called tejuino. I've tried tejuino a few times before and I can't stomach the stuff, so I skipped it for a tall cup of the tart sorbet–a steal at only 75 cents.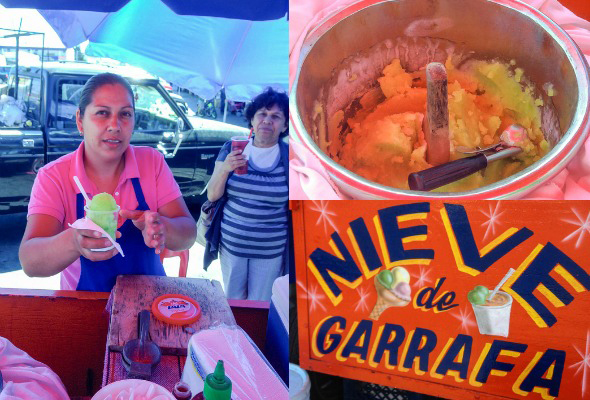 This Ensenada market was a great way to experience real, local Baja California food culture and it shouldn't be missed if you visit this region.
Mercado (or "Tiangui") Los Globos
Location: Calle Nueve (between Revolución and Colón), Ensenada, Mexico
When: The food and produce vendors (in enclosed building) are open every day. The new and second-hand item vendors (who sell in booths set up on the street) are only there on weekends.
Share the love: Do you have a photo of a market you've visited anywhere in the world? Please send it to me (with the location and photography credit/link) and I'll feature it in an upcoming post.