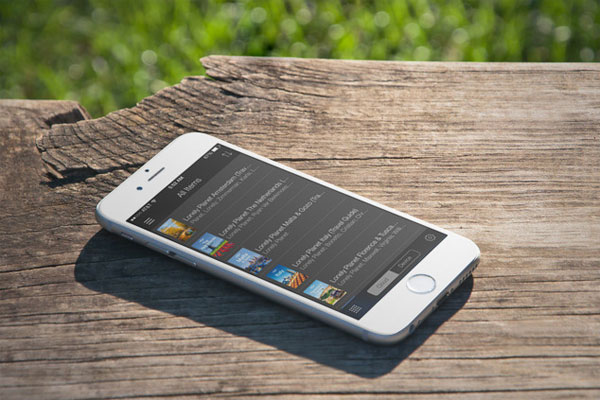 While I'm a big fan of print travel guidebooks, I've never liked their electronic counterparts.
I experimented with toting an e-guidebook on a trip back in 2012 and it was a kind of a disaster. I couldn't zoom into any of the maps on my Kindle and I felt awkward taking the e-reader out in public. Because we were going to several countries (and because I didn't want to shell out $15 per Kindle book), I bought Lonely Planet "South America" to cover all my bases. Because these multi-country guide can't give much detailed information about any one country, the information it did have was shallow and of little use.
I paid $15 for the file that I never used. After that trip, I went back to buying print guidebooks every time I planned an overseas trip.
Fast-forward to last month. We were just about to leave for Europe. Because we would be visiting a lot of places in a short time and I'd have to pack light, I knew I couldn't bring a heavy guidebook. Still, I knew I'd miss having this resource because I really value the information they provide–especially the history and culture, local orientation/public transit options, neighborhood guides, and day trip options.
At about that time, I saw an ad that made me willing to give e-guidebooks a second try. It was for a new Amazon service called Kindle Unlimited. Here's a screenshot from the website:
Kindle Unlimited is a subscription service that is the e-book equivalent of Netflix and Spotify: One monthly price for unlimited downloads of their books. Doing a quick search, I found that the entire Lonely Planet travel guidebook collection was available under the program.  When I realized I'd be able to view the files on all our devices (my phone, Kevin's phone, our computer), I signed up for the account and started downloading guidebooks for everywhere we were going.
Here's a screenshot of the books I installed on my phone:
That was just the first screen — on the second screen we had Lonely Planet Venice & the Veneto, LP Pocket Milan, LP Prague & the Czech Republic, and LP Berlin!
The Pros:
The price: Free for 30 days, after that $9.99 a month (which is what I paid because I forgot to suspend the service when I returned home). This is still an excellent deal, because the prices for the Kindle versions of the books I downloaded ranged from $9.39 to $15.39. To buy the e-version of all nine of these books would have cost $109.71 Do note: This measure is for illustration only — I wasn't planning to buy ANY travel guide books, but once they were all virtually free, I downloaded every one covered the regions we were visiting. Which gets to #2…
With unlimited downloads at one price, I could install both the country guide (e.g. The Netherlands) and the city guide (Amsterdam), getting access to both the broad national scope and the local detail.
It was very convenient to have all the Kindle Unlimited books right inside my phone. Instead of drawing attention to the fact that you're a tourist with a big guidebook or print map, you just get to read from your phone. It doesn't look any different from if you were surfing the web or texting. I used them a lot more than I thought I would, especially when we were on planes and trains and in transit. They were invaluable when Kevin and I were traveling solo and trying to figure out what to do and where to go at the last-minute.
Offline access to the books! We had a hell of a time finding stable wi-fi connections on this trip, so I was constantly grateful to have the guidebooks to help figure something out that I would normally Google.
The Cons:
The Kindle (iPhone) app's Table of Contents-based book navigation is frustrating and time-consuming. I constantly forgot which section I had to go to find information about local regions and attractions. While the country maps are better than they were a few years ago (I was able to zoom into them), the regional/city maps were still buried in the chapter content so I was never able to remember how to get them when I needed a street map.
Kindle Unlimited only carries the Lonely Planet brand, not any of the other major travel guidebook companies that I often prefer (e.g., Rick Steves, Moon Guides, DK Eyewitness)
The Kindle app was one more thing that sucked power from my phone. This was frustrating, because when I'm traveling, I use my phone as my point-and-shoot camera and my primary way to access the internet. Consequently, my battery was always dead or dying.
Conclusion:
If I am planning to travel to one place for an extended trip, I will still bring a print guidebook. It's much easier to read and reference a print guidebook than one on a tiny screen. That said, the Kindle Unlimited service is a great option for short visits, when you're visiting lots of different places, when you need to pack extremely light, or when you're not sure you will even use a guidebook. Despite the downsides, having access to these guide books still seemed to be a better option than not carrying one at all.
Note: I am an Amazon Affiliate program member, but Amazon didn't ask me to share this post and I'm not sure whether sign ups to this program would even apply (I did put affiliate links in this post, just in case). Either way, I wanted to share my experience with this useful tool.