I've been traveling a lot these last few months–too much, as I've been confiding, with no small amount of shame, to my friends.
It's only May, and I've spent about 60 days away from home so far in 2015. I live to travel and feel very blessed that Kevin and I have both been able to choose careers in flexible freelance and startup environments that let us take off frequently and work from the road. So I know I shouldn't complain, it's a dream. Travel is my job! Still, I'm tired.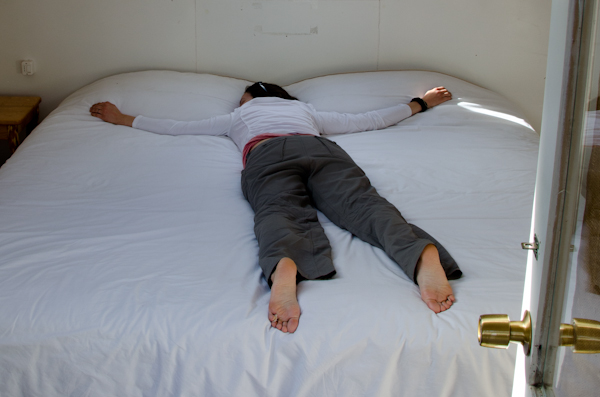 The Homebody Traveler
I've been joking for years that I should rename this blog, "The Homebody Traveler," or (during particularly low points when I've been gone for a while) "The Grouchy Traveler." I really miss home when I'm away. Maybe you remember this post, dated April 19, 2012?
A few months ago, HP & Intel asked me to help with a campaign they are doing to promote their new Stream 8 with Intel Inside tablet. It was called "Work From Happy Place," to highlight the ways the device can do to help you work from anywhere.
I didn't have to think about my answer to the question, "Where's your Happy Place?"
My Happy Place is home.
Whether I'm in my backyard (the purple wisteria was gorgeous this spring), my favorite local cafe, the neighborhood dog park, or even on the couch in front of my favorite TV shows, I'm always happy to be home and enjoying my community in Northern California.

Finding Balance
Even when I'm home or traveling locally, I can't always be at my desk and when I'm not, I try to limit the amount of time I spend on the web. Unfortunately, to maintain this travel-friendly life, I need to be connected regularly at least for a few minutes wherever I go.  I've been testing the HP Stream 8 with Intel Inside tablet for the last few months, using it to check email, do web research, update my personal and client social media accounts, organize blog post ideas, and manage my "to do" lists. It has Office 365 (Word, Excel, etc) so it's even been a good lightweight computer alternative for short trips.
My favorite thing about the tablet is that it comes with a T-Mobile data plan and 200MB of 4G data each month for the life of the device at no additional cost. This is huge, because more often than not when I travel, the promised internet in cafes and hotels doesn't work or it's too slow to get anything done. The free data plan gives me some peace of mind that if I'm coming up against a deadline and I can't find wifi or the wifi doesn't work, I can still get things in.
Because the data is capped at 200MB a month, I'm smart with it. I just use it when I really need it, but doesn't suck me into browsing the internet when I shouldn't be. Just connect, send, and then get back to life. It's one way to find balance and work from your happy place, wherever that is.
Where's your happy place? Any other "homebody travelers" out there? And any tips you have for finding work/life balance?
This post was sponsored by HP & Intel. All opinions and photos are my own.