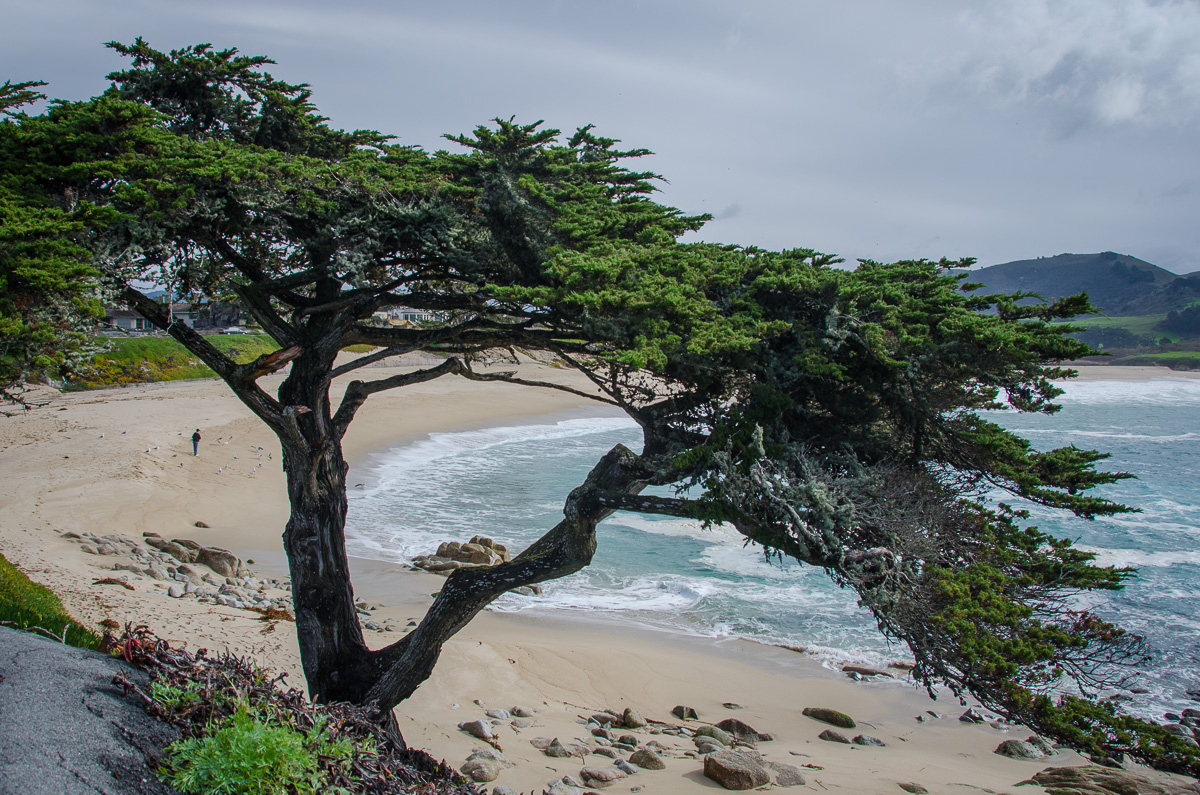 Cypress tree on Carmel River State Beach, Carmel, California
I'm starting a new monthly round-up of links I loved and things I've been reading this month, about travel, food, and more. I hope you find something interesting in here!
Why it's time to ditch the stigma of doing things alone and why more people are traveling solo and dining alone.
Teaching English and American culture through cooking & food.
My friend Josh put together this list of California's 35 must-see natural wonders – so many places here that I would still love to see!
I want this hand-drawn guide to Latin American food.
This weekend's Super Bowl here in Silicon Valley has brought light to the hidden industry of human trafficking here in the Bay Area and across the United States. This article written by a LA-based flight attendant is an unsettling look at the issue and I can't stop thinking about the tragic secrets hidden here in our neighborhoods.
The downsides of being designated as a UNESCO World Heritage site.
How Canada can fix it's faltering tourism industry by embracing indigenous cultures.
My friend Jenna shared these great tips for deciding whether or not to take a cruise and for choosing a cruise company.
A nifty little photography hack if you 1. are always losing your lens cap, and 2. like ice cream.
A fascinating and tragic story of what life is like for wildlife living in our biggest cities.
What happens when bloggers who have shared every aspect of their life online for more than seven years try to quit the internet.
Think your kitchen is small? Interior design lessons from the not-so-romantic side of cooking in tiny Paris kitchens.
My friend Lori shared this interesting look inside a working California olive oil farm.
A join Mexican & Vietnamese street food restaurant in Oakland — a California story, a love story.
I've been wanting to eat less dairy, and this disturbing report from UC Berkeley was just the incentive I needed.
(In light of that news), here are some easy vegan recipe ideas.
If you have been watching the Netflix series, "Narcos" you might wonder how accurate the story is in Colombian history. I really enjoyed listening to this podcast discussion from two Colombia-based journalists who are critical of the series (warning: spoilers in here!)
I've been watching the Amazon series, "Transparent" and Season 2's episode "Man on the Land" pointed out the troubling hypocrisy of some anti-transgender feminist beliefs (warning: spoilers in here!)
Some Peruvian and Bolivian schools have started requiring kids come to school wearing hats.
How Pinterest may be helping to save lives of people with Depression.
How to spend winter in Santa Cruz — some interesting finds in here!
I love my friend Noel's list of quirky things to do in San Francisco.
Great tips for preparing a hearty winter salad.
The New York Times's top places to go in 2016. Lots of places I love and places that are on my wish list.
This college ethnic studies professor teaches Latino students to "decolonize their diet" and get back to eating the (healthy) traditional foods of their cultures before the Spanish conquest.
This Chrome extension blocks all mentions of Donald Trump.
I'm fascinated by the growing culinary insect industry. What WILL it take for Americans to learn to eat insects?
A pointed op-ed on the troubling conflict between Yosemite National Park and outgoing park hotel contractor, Delaware North.
This makes me want to go stand up paddleboarding… with my dog.
This makes me think twice about using free public wifi.
A great article on Molokai, my favorite, little-known Hawaiian Island.
The complicated world of tipping etiquette is my least favorite part of travel but it's so important. Here are some tips for knowing who to tip, when to tip, and how much to tip, even at all-inclusive resorts–you can't assume tips are included.
Offline: (Let's see who made it this far for this big announcement) We are going back to Japan next month (!) and I'm reading two travel and cultural guidebooks, this new one, written by the editor of Roads & Kingdoms, along with Anthony Bourdain, Rice, Noodle, Fish: Deep Travels Through Japan's Food Culture and this older one, Cool Japan: A Guide to Tokyo, Kyoto, Tohoku and Japanese Culture Past & Present. Let me know if you have any suggestions or travel tips!
What are some interesting things have you been reading this past month? Please share links below in the comments…