If you are anything like me, you have loads of digital photographs buried deep within folders on your computer's hard drive or stored somewhere on your phone. Many of which, your friends and family will never see, and — admit it — many of which you will not even look at again. If you take as many photos as I do, that black hole includes tens of thousands of images and several gigabytes worth of data.
You can, of course, print your digital pictures. But then once you've gone through that trouble,  you are left with bulky photographs that have to be put in an album and then take up loads of space at home. I have boxes of old photo albums in the garage that, like the files on my hard drive, never see the light of day.
Photo books are another solution. Kevin's uncle is a photographer and makes beautifully constructed hard cover albums of his best shots from every single trip he takes. But these books take time to do the layout and organize the photos in a way that looks good and makes sense. While I love his books, I've never taken the time to do one myself. I've got a few unfinished albums scattered around different online sites that I never finished barely started. I know I gave up on one when I had trouble deciding what color cardboard the cover should be made out of.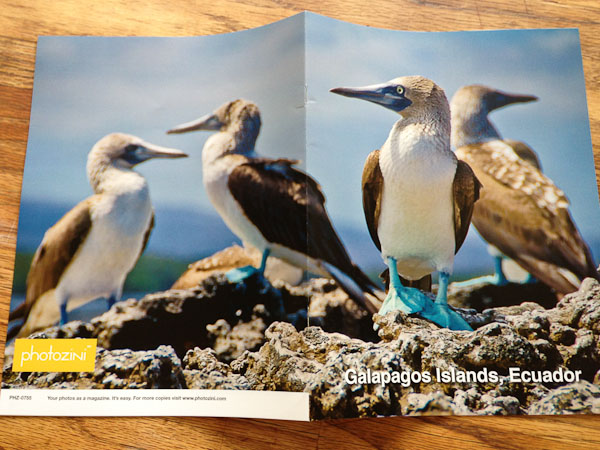 I recently met the folks from Photozini. Photozini is a photo album service which they said was the easiest and fastest way to print albums of your own photos bound in a vibrantly colored, magazine-style format. All you have to do is put the photo files onto the Photozini flash drive and pop it in the mail. Their software would sort the photos and do the layout, and in a few short weeks, they'll send you the completed album in the mail. When they offered me one to try, I thought this would be a great way to print and share some of my favorite photos from the Galapagos.
How does it work:
They have a few options, their standard Photozini (100 images, $38), a smaller Minizini which is 45 photos ($22), and a Limozini which is up to 175 photos ($48). For the standard 100 image Photozini ( the one I did), this works out to 18 pages, plus front and back cover.
When you order a Photozini, they will mail you a little silver tin (looks like it will hold mints), but instead it includes a credit-card sized USB flash drive, a little paper sleeve to put it the drive in (where you fill out your name and email address) and a postage-paid envelope.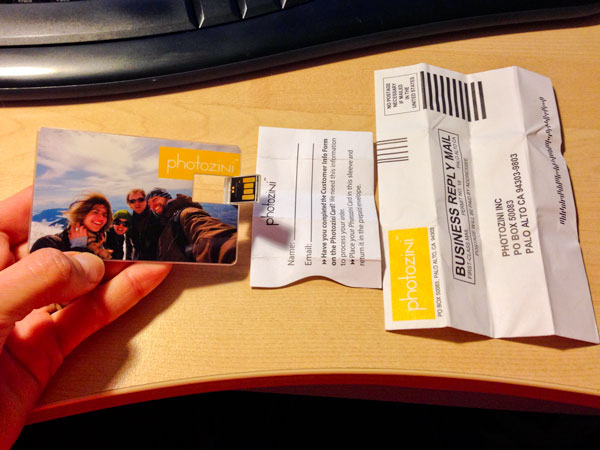 Here's what you do:
Select the folder with the photos you want to include and save the photos to the USB flash drive.
Select 5 of these (or different) photos to add to the folder called "cover photos" on the USB flash drive. From these 5 photos, the Photozini design staff will select one photo that will look best on the cover.
The flash drive includes a file called the Customer Information Form. This file is saved to the flash drive, and it is a fillable PDF form.  The form asks for your name, mailing address, and in a few words what you want to title the album. I called ours, "Galapagos Islands, Ecuador". Fill it out and save the file.
Stick the drive in the paper sleeve, fill out your name and email address, and stick it in the mail.
Within about 2 weeks from receipt, you'll receive your completed Photozini magazine in the mail. We got ours last week and it looks great! The cover (see above) was one photo that the stretched across the front and back cover, which I though looked pretty nice. Here are some shots of the internal pages: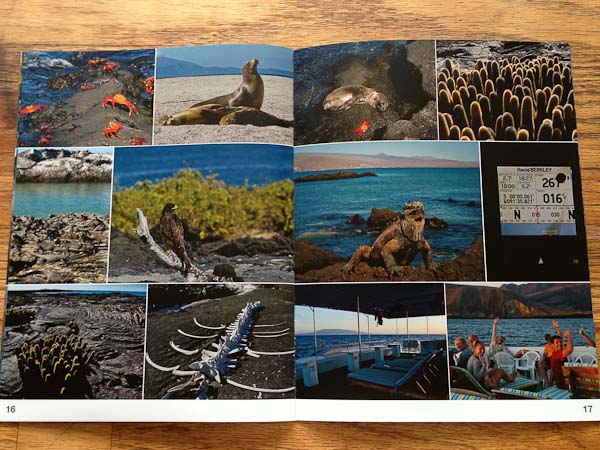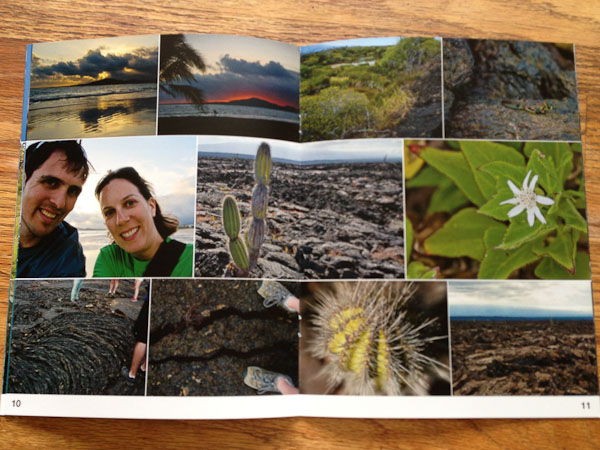 I like the collage layout of the photos, and for the most part, they are ordered by date and time taken (some were shuffled around to improve the flow and make it look more symmetrical). Here are some other thoughts I had on the service. Photozini review:
Pros:
Easy! Choose your photos, drag your photos into the Photozini flash drive, and then mail off in the postage-paid envelope. You don't need to do any alignment of photos, they will take care of it all for you.
Fast: I received the finished product about 2 weeks after I put it in the mail. (I live a few towns over from their mailing address in Palo Alto, may be a bit longer if you live farther away)
Looks great! See photos above…
Easy duplicates: Once you've set the album up, you can order reprints for only $20. This is about what it would cost for 100 print photographs, but it is way easier and better looking. It's a great gift for family or travel partners that are featured in the album! (psst: Don't tell, I'm ordering a copy for Kevin's dad as a souvenir from the trip)
Cons:
Lack of control over layout. This is the hardest part for a type-A, control freak like me. You have to trust that Photozini's algorithm and professional designers will lay it out in a way that will look good.
Soft-cover only: I would be willing to pay a few dollars more to have a more sturdy hard-cover option. I am worried about the condition of the magazine. I'm keeping it out of the kitchen where it will get wet or food-stained and I need to keep it off of the coffee table where it'll be likely to be used as a coaster.
Overall, it was a easy experience and a good finished product. It doesn't allow for some of the control that you have over layout that some other photo album services offer, but the time saved and ease of use makes up for it. The streamlined process makes it hard to over think and easy to just get it done.
---
Photozini gave me their standard kit to try and review. The thoughts on the service are my own.