We love to take our dog Posey with us when we travel by car, and Northern California's Mendocino coast is one of our favorite destinations. Mendocino County rolls out the red carpet for dogs!
To help you plan your trip, I compiled some resources (and our own experiences) to put together a list of some of the many things to do with your dog in Mendocino County:
 Hiking/Beaches
Stornetta Public Lands (Point Arena): On our last visit to the area, this was our dog, Posey's favorite place! 1,132 acre coastal area just south of the Point Arena lighthouse. Dogs can run along for two miles of coastland with every type of environment: Grassy fields, coastal bluffs, rocky beaches with tidepools, and cypress trees. It used to be off-leash, but now under "interim management rules" it appears to require leashes. Either way, it's still a beautiful place for a hike.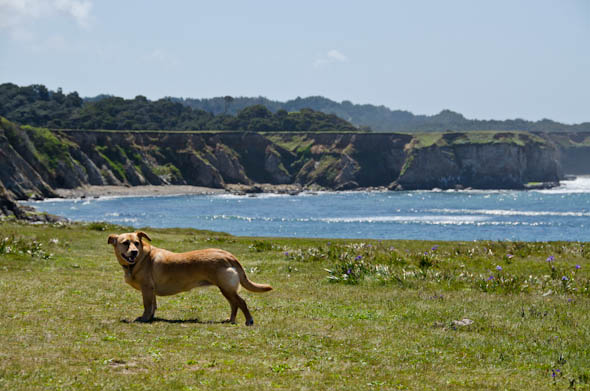 Noyo Beach off-leash dog area (Fort Bragg): This beach is small, but it is off-leash and dogs love it! When we were there, we saw a curious harbor seal was swimming about 10 yards off shore. Posey had the time of her life barking at it! The beach is located right next to the Noyo Harbor (a working fishing harbor). Stop here before or after you grab fresh fish from one of the restaurants along the harbor!
Glass Beach (Fort Bragg): This unique place is on the site of a former garbage dump. After an immaculate restoration job, everything was removed except for the remains of many years of dumping bottles. Pieces of smooth, colorful, brushed glass cover patches of sand, though not in as large a quantity as I would have guessed from the photos online. (I think tourists have been picking it up for years!)  Dogs are allowed on leash.  Posey loved climbing over and around the rocks near the tidepools here, sniffing for crabs.
Mendocino Headlands State Park/Big River beach (Mendocino): This is a wide, sandy beach at the mouth of the Big River. It's a beautiful place to walk and take in the sunset, and just a short walk from downtown Mendocino. Dogs are required to be on leash, though I'm not sure how much it's enforced. Be warned.
Greenwood State Park (Elk): Free admission.  A short, but pretty beach at a small cove, and trails along the coastal bluffs. Dogs are allowed on leash.
Westport-Union Landing State Beach: Our guidebook recommended checking this out during the gray whale migration (January-April). There are lots of places to sit at the bluff tops where you can bring a picnic lunch and binoculars and watch for whales!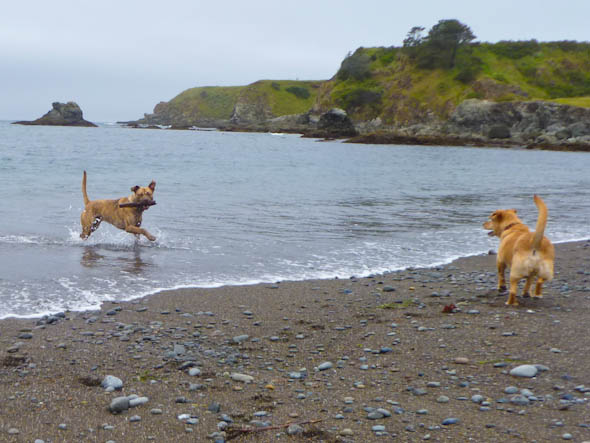 Other Activities:
Kayaking: Why should your dog stay on land while you have all the fun exploring the region by kayak? Liquid Fusion Kayaking allows you to bring your dog on board. We haven't tried this yet, but we would love to.
Mendocino Coast Botanical Gardens (Fort Bragg): These gardens have a great view! It's the only coastal botanical garden in the continental US. Dogs are allowed on leash. Collection is right on the coast. They have a locally-made Cowlicks Ice Cream stand onsite. And guess what! They give a FREE scoop to dogs!
The Skunk Train: Take a ride on this vintage steam engine to get an experience of what travel was like before cars, and dogs are welcome to come along! Size restrictions apply, dogs must remain on leash, and a soft muzzle is recommended (the noises of the train can sometimes be unsettling). Trains run from Fort Bragg to Northspur and Willits.
Wine Tasting: Many of the local Anderson Valley wineries allow leashed dogs on site.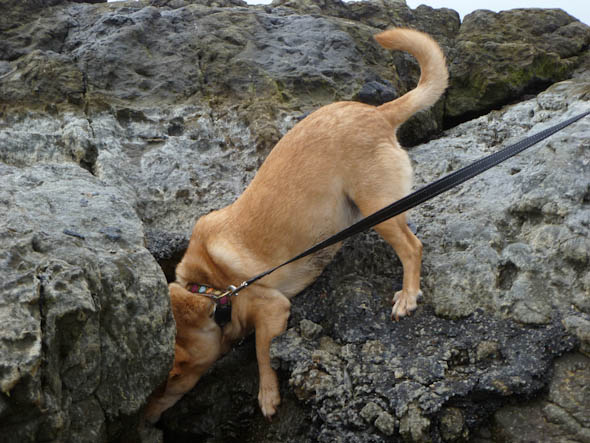 Restaurants
The Ravens, upscale organic and vegan cuisine: This place is really unique. Because it is inside a hotel (Stanford Inn by the Sea), dogs and their people can eat INSIDE by taking a table in the hotel lobby! This is perfect for cold or rainy days.
Frankie's Pizza and Ice Cream. We went there the last time we were in town. We loved the pizza (and the ice cream–we had the candy cap mushroom flavor!).  You and your dog can sit on the outside deck.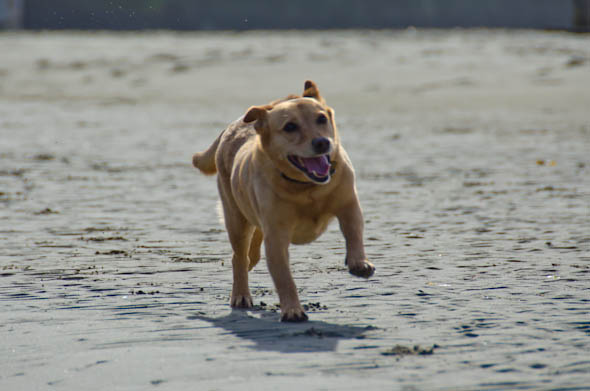 Lodging
Lots of hotels and B+B's in the area will accommodate dogs. I can recommend the Greenwood Pier Inn and the Nicholson House Inn. We've stayed at both places with Posey and had a great experience. Check out this brochure for the full list of options.
Doggie Day Care
When traveling with your dog it's always a good idea to know of day care facilities in case something  comes up (most hotels will not allow you to leave your dog in the room). Here are two local options:
Resources and More Information
We learned about many of these activities from a book that every California dog-lover should have on their bookshelf or in their car, The Dog Lover's Companion to California (I like to refer to it as Lonely Planet for traveling dogs). Others information came from Visit Mendocino's very comprehensive Pet-Friendly resource page. If you've never taken a road trip or stayed in a hotel with your dog before, check out these tips.
---
Have you ever visited Mendocino with your dog? What did I miss?