Where do you find inspiration?
Personally, I find inspiration in lots of places. Sometimes it's big things. People who are driven to tackle almost unbelievable feats and push their personal limits to do something extraordinary.
A few weeks ago, I heard about a team of 13 women who are competing in the Volvo Ocean Race, one of the world's toughest sailing races. It lasts nine months, and covers 39,379 nautical miles which is almost two laps around the globe.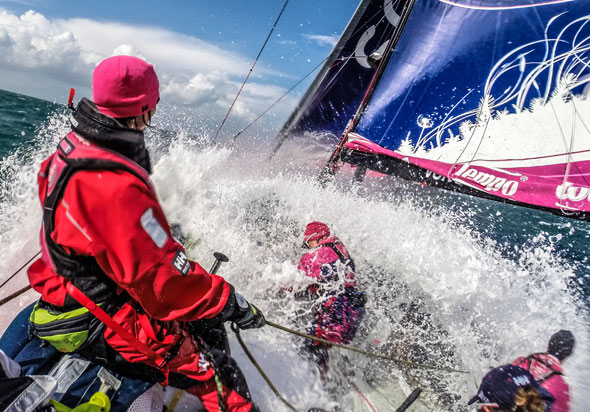 Every day, this group (Team SCA) are being battered by waves, and weather, and technical problems to keep their boat afloat in the most challenging sailing conditions in the world.
I know it's something I would never have the guts to do, and frankly, it sounds terrifying. But I'm in awe of women who confront big challenges like this. It helps me put things into perspective–if they can survive grueling conditions like that, I can do just about anything that confronts me on a daily basis.
As part of their effort to get out the word about this race, the team's sponsor launched a campaign called "Amazing Women Everywhere", a digital photo mosaic to celebrate women who have a positive impact on others. Women around the world are uploading photos to create a colorful mosaic of the strong women who inspire them.
Who inspires me?
While women tackling big things inspire me, I'm equally inclined to think of the women I know and love. My moms, my sisters, cousins, aunts, grandma, and friends–women who confront the many challenges of life and work and family, while still–usually–managing to smile and have some fun. Here are some of those beautiful and goofy faces:
Who inspires you?
Share your inspiration! Upload a photo to the Team SCA Photo Mosaic to celebrate a woman who inspires you. If you can't pick one (like me) share a few. As a bonus, tor every photo you add, Team SCA will donate 1 Euro to the World Wildlife Fund.
Here's more information about the campaign:
SCA believes that everyone should have the opportunity to live life to the fullest, and we are committed to creating value for people and nature. To champion these ideals, SCA launches Amazing Women Everywhere, to celebrate women who have a positive impact on others.
The women of SCA's all-female racing team, Team SCA, exemplify this spirit. They have come from all walks of life and backgrounds to take on one of the world's most challenging endeavors, the Volvo Ocean Race. For nine months, their journey of hard work and determination will inspire millions around the world. Follow along with Team SCA on Facebook!
We aim to gather thousands of stories from all over the world and inspire thousands more by illustrating that amazing women truly are everywhere. Visit http://www.teamsca.com/awemosaic to submit a photo of an amazing woman in your life.
This is a sponsored conversation written by me on behalf of SCA. The opinions and text are all mine.