This is a sponsored post written by me on behalf of AT&T. All opinions are my own.
As the year comes to a close, I've been thinking a lot about how we can better manage our time in 2016. Kevin and I both work from home, so we get to see each other a lot (and have the flexibility to travel), but we have a hard time drawing the line between work and life. When we are home, we often wind up working late into the night and not taking enough time to take care of ourselves by cooking and exercising. We've been talking a lot about the issue and we've resolved to make some changes in the new year.
For the last several weeks Kevin has been testing out the new BlackBerry PRIV, the maker's first Android phone which has some interesting features for getting and staying organized. I asked him to share some tips for what he's doing right now to manage his time and how he's using the device to reach those goals. Thanks for sharing this, Kev! — Cassie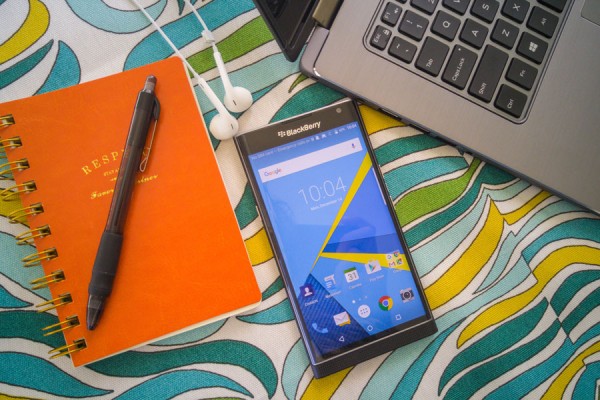 I'm the lead developer and project manager at a small tech startup. My coworkers are all over the map (in Canada, Chile, Ukraine, and Indonesia), so I work some crazy hours and wear a lot of hats.
Here are a few things I'm trying to do right now to manage my day.
Contain the email beast: It's easy to let email suck up a lot of my day, so I try to only check email two or three times a day. Other than those times, I don't log into my email at all. I keep the ringer turned off on my phone and turn off email alerts on my phone. When I do check email, I try to blast off a response right away, so they don't pile up.
Scheduling time off: During the week, I'm trying (but not always succeeding) to get away from the desk and take two 30 minute dog walks a day, one in the morning and afternoon. Also, Cassie and I have resolved to start setting an alarm and take 7-9 pm (at least!) off to cook and enjoy dinner.
Getting Organized With the BlackBerry PRIV
I could see right away why BlackBerry has so many fans in the corporate world. The PRIV feels like it was made to get stuff done. It has a slide out keyboard for faster typing (if you're used to that–I'm not yet) and the calendar is a lot more intuitive than other devices I've used.  It's a cleaner view of all my events in one place, and I just find it more pleasant to use than the standard Android calendar. I need to schedule in those daily dog walks…
BlackBerry Hub is a handy feature that organizes all my conversations (email, text, phone calls, social media) in one place so I can manage them all in one place. The app offers a "snooze" button for email, so with a single tap, I can delay messages until a later time or even until I am at a different place.
The device runs on Android so I'm able to use all the third party apps I rely on every day. I use Trello to keep track of work projects, Slack and Skype for messaging colleagues, and TripIt for organizing our travel plans.
Security and privacy are things I'm always concerned about, especially when traveling and connecting to sketchy wifi networks. One of the BlackBerry PRIV is an app called DTEK which puts all my privacy settings in one place, so I can monitor risks, see which apps are using my data, and suggests things I can do to make my device more secure. Most other devices I've used make that information hard to find and I appreciate BlackBerry bringing that information front and center.
Finally, Cassie asked me to mention this one because it, in her words, drives her "nuts"– battery life & external charging light. I have a habit of letting my phone die. The BlackBerry PRIV has an impressive battery said to last up to 22.5 hours. I definitely don't have to charge it every day. It also has a useful feature where it has a lighted down the edge of the screen that illuminates while charging, with the status as red (empty) to green (full). You can see the battery status from across the room so it's easy to be sure I'm charging it long enough.
Overall it's a great tool for keeping me on track of things and reaching these work and life goals. Here's to more of that in 2016!
To find out more about the BlackBerry PRIV, check it out on AT&T.