This past weekend, Kevin and I did a quick San Francisco getaway to see the holiday decorations and do some research for upcoming posts. We only live about an hour from The City (as we call it), but we rarely make it up there for more than a few hours at a time for meetings or to see friends. This time, we decided to book a hotel, spend the night, and take the extra time explore on our own. We dropped off our dog, Posey, at grandma's house in the East Bay and headed over the Bay Bridge to San Francisco.
Here are some photos of San Francisco dressed up for the holidays.
First stop was the Ferry Building, a former 19th-century ferry terminal turned gourmet food market. It's one of my favorite places in the city (I've written about it before) so we wound up eating there twice on our short stay.
The food hall was decked out with holiday garland and lights and the vendors were full of creative holiday gift ideas. It was packed with people doing their last minute gift shopping.
A jumbo Christmas tree at Pier 39, Fisherman's Wharf.
Buena Vista Cafe, home of the Irish Coffee (steaming hot coffee + Irish whiskey)–it's no surprise the place was packed on a cold and rainy Sunday afternoon!
Another lovely Chrismas Tree at Ghiradelli Square.
We stopped in to taste a flight of wines from San Francisco-made Bluxome Street Wine. They just opened a new tasting room in Ghiradelli Square and it was a great place to come in and warm up.
A boxed beer Christmas tree at San Francisco's Anchor Steam Brewery.
Grace Cathedral, a French Gothic-inspired Episcopal cathedral on Nob Hill. They were in between Sunday services when we popped in and one of the parishioners came over to gave me a little bag of Christmas candy.
We waited in line for this, but it was worth it–the Fairmont San Francisco's annual Holiday celebration.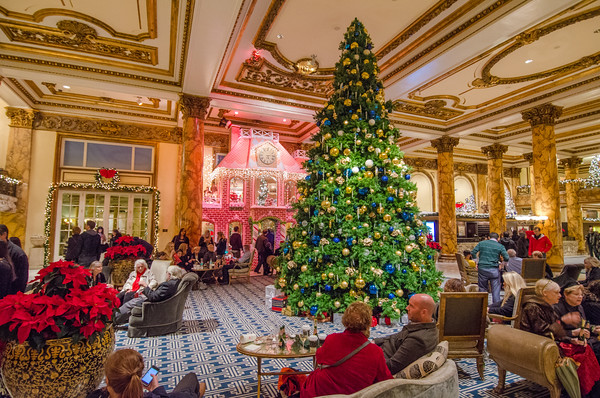 The centerpiece is their Giant Gingerbread House, a two-story fantasy castle made of home-made gingerbread, marshmallow peeps, and candy canes!
The smell inside the house was amazing–irresistible if you have a sweet tooth. You could see candy pieces that had been picked off by visitors who didn't have much self-control.
They even had a small "dog-sized" gingerbread house, apparently a reminder that the Fairmont SF is dog-friendly.
We then headed right across the street to see the lobby decor at the InterContinental Mark Hopkins. I had read that they had some stunning displays up in their rooftop restaurant "Top of the Mark", but the lines to the elevator were long so we holed up in the lobby and enjoyed the cider and Christmas cookies they put out for their holiday visitors.  As the rain started to soak through, the warm cider was extra-welcome.
Holiday shoppers at the bedazzled Union Square Macy's store.
Union Square's giant tree reflecting in the rain. This was right about when it started to pour, when our jeans were unbearably wet, and we finally decided to call it quits.
Our home for the night–Hotel Vitale, a boutique hotel on the San Francisco waterfront with lovely views of the city's iconic Ferry Building and the Bay Bridge. It's one of my favorite areas of the city, scenic, conveniently located to some of the city's top sights so it's great for a first-time visitor to San Francisco–or a local escape.
The lobby was decked out for the holidays in lovely blue, white, and gold decor.
Beyond the holiday lights, we did some popular (and "touristy") things we had never done and explored the city as a first-time visitor would. I realize I take living here for granted, and it was good to see the city with fresh eyes. I'll be writing a lot more about San Francisco in 2016, stay tuned!
Thanks to Hotel Vitale for hosting our stay. Opinions and photos are my own.