My favorite thing about San Francisco is its food culture and enthusiasm for local, fresh, organic, hard-to-find, and artisan-crafted food products. For this reason, the first place I always recommend first-time visitors go is the Ferry Building in San Francisco. This sprawling, bay-front market houses gourmet food vendors of all sorts and is a great place to start on a food lover's visit to the city.
Three times a week, they have a huge Farmer's Market outside of the building (Tuesday: 10am–2pm; Thursday: 10 am – 2pm; Saturday: 8am-2pm), so visit then if you can, for the full experience. At the Saturday and Tuesday markets, volunteers from San Francisco City Guides offer free walking tours of the Ferry Building that start at noon.
When you visit, here are some of my favorite stops:
The most unique shop is probably Far West Fungi. This store carries dozens of varieties of fresh, locally-harvested, and dried mushrooms, mushroom infused oils, and mushroom growing and wild mushroom foraging supplies.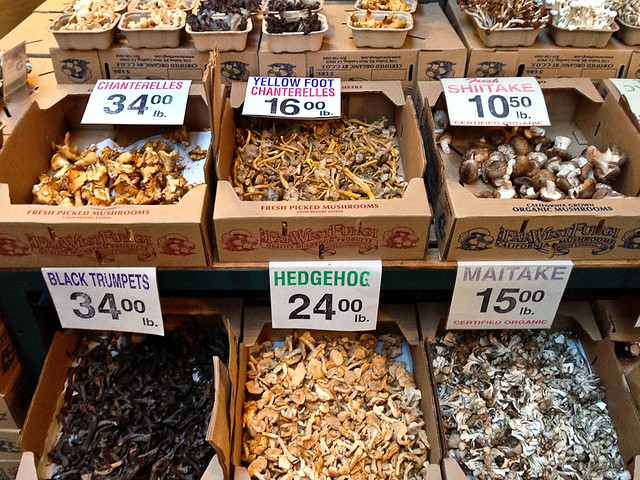 My favorite find at the store is their candy cap mushroom-flavored ice cream bar.  For only $3, its sweet, nutty maple flavor is unique to this variety of naturally sweet mushrooms.  Mushroom ice cream?!?  Yes, please!
Cowgirl Creamery is a local cheese producer from right over the Golden Gate Bridge, in Marin County. We are huge fans of local Marin cheeses, and I love to browse the beautiful cheeses they carry here at the Ferry Building. Because it's always so crowded, it's sometimes difficult to taste cheeses. But nearly whatever you want, they'll have.
More Highlights:
A labyrinthine display case of sausages and salumi (or is it salami?) cured in an Italian tradition at Boccalone.
Brightly colored heirloom tomatoes at the Farm Fresh To You indoor market. They stock fresh, organic produce seven days a week, so you can find it even on non-farmer's market days.
The Ferry Plaza Wine Merchant serves wines from across California and around the world. Stop in for a glass and ask the waiter for a recommendation; it's a great place to try something new from one of California's many wine regions.
The back of the building offers stunning views of the Bay Bridge and Treasure Island, and is adjacent to the ferry terminal. From here, ferries go to Oakland, Alameda, and Vallejo.
If you are on a budget, it's easy to blow it on the many tasty, but often pricey, food options in San Francisco.  The San Francisco Ferry Building offers a convenient way to sample some of the best flavors the city has to offer.
Looking for more foodie things to do in San Francisco? Check out these posts:
Want to save this post for your next trip? Click here to pin it on Pinterest.
---
Find these shops on Urbanspoon:
Far West Fungi
Cowgirl Creamery
Ferry Plaza Wine Merchant
Have you been to the Ferry Building? What's your favorite foodie find?