"Which bath house are you going to?" Nelli asked. I had barely put my bags down when our Hungarian Airbnb host pulled out a map and started marking her picks. "Rudas is my favorite of the Budapest baths," she said. "It used to be a little dirty, but they just renovated it".
As it turned out, everyone has their favorite thermal bath in Budapest. Budapest has more mineral hot springs than any other capital city in the world, and the almost 2,000-year-old thermal bath tradition started by the Romans continues today. Local people stop into their favorite thermal bath before and after work, on weekend mornings, and even (with some added dance music and club lighting) to party on weekend nights.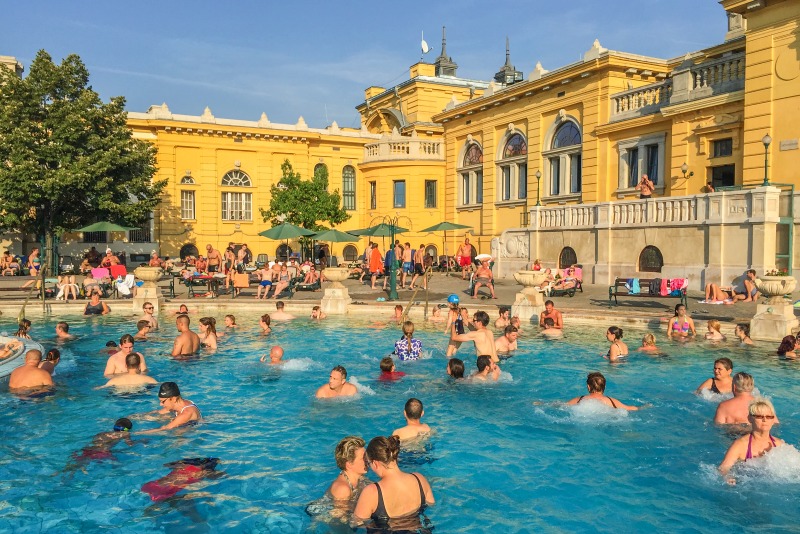 When we started planning our trip to Budapest, I saw lots of photos of the beautiful Szechenyi Baths, a thermal spa complex in an old palace that is one of the city's top tourist destinations. I didn't realize that there were more than a dozen other public hot spring spas throughout the city. While some of the baths are on the site of those earliest Roman facilities, the oldest still-existing spas structures were built by the Ottoman Turks in the 16th-century.
On Nelli's suggestion, the very first thing Kevin and I did after dropping our bags was head to her recommended bath house. The warm mineral water soothed my travel-weary feet and legs and I loved the people watching — young and old, big and small, all enjoying this relaxing local tradition. These baths were the highlight of our trip to Budapest. When I started to feel guilty earlier this week about how ridiculously late I am posting stories from this trip, these beautiful hot springs experiences were what I most wanted to share.
We visited three Budapest thermal baths that week and wish we could have stayed longer to visit some of the lesser touristed hidden gems (next time!) Here are the three that we made it to.
The Rudas Baths
H-1013 Budapest, Döbrentei tér 9 – Website
Nelli's favorite Budapest bath was also my favorite. The Rudas Baths (Rudas Gyógyfürdo) are one of the oldest bath houses in Budapest, dating back to 1550. The original Turkish baths are still used today, featuring a central domed room with a round, warm pool surrounded by hot and cold plunge pools of varying temperatures (no photo, because cameras were off limits in there).
The spa also has a large lap swimming pool in the main hall…
…and a pristine, modern wellness section with steam rooms, dry saunas, and showers for guests to use.
I couldn't get enough of this cold plunge pool that was literally ice water. Check out this video of ice chunks sliding down the ramp…
The spa also has a popular rooftop thermal pool that looks out across the Danube River and this stunning view…
The Szechenyi Baths
H-1146 Budapest, XIV. kerület Állatkerti körút 9-11 – Website
This stunningly beautiful palace complex is just as remarkable as I expected it from the photos. The Szechenyi baths are in a Baroque palace that may be one of the most unique and photogenic places in all of Europe. It has 15 indoor baths and three outdoor pools to explore. The open air pools are even open for public use in the cold winter where the steam hangs in the cold air.
The thing I didn't expect was just how busy this place would be. We were there in late August on a Sunday morning and I think everyone in Budapest was there with us. The outdoor pools are all-ages, which was nice because we were there with our family including three young cousins, so it's not necessarily a quiet and relaxing spa experience, though this guy–somehow–was able to sleep…
This was one thing I'd never seen before–a swim-up chess board!
While the outdoor was stunning, the indoor pools and mineral spring bathing areas were a bit disappointing. They were crowded and the floors and aging wall tiles were cracked and dirty. Some walls were boarded up, hopefully for renovation.
I took one look at this crazy scene and decided to head right back outside.
Still, we had a lot of fun day enjoying the outdoor pools with our cousins and their family. My favorite moment was when this sometimes grumpy pre-teen discovered the joy of goofy selfies and ran off with his dad's phone, snapping photo after photo. Here he is–I photoshopped the beard and sunglasses on so his mom won't shoot me for posting these photos here 🙂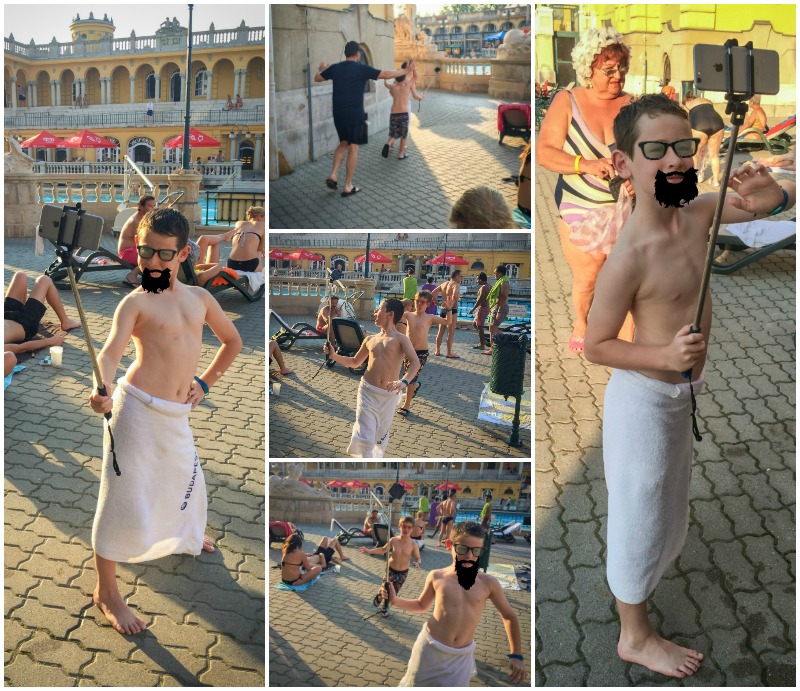 Veli Bej Turkish Bath
1023 Budapest Frankel Leó u. 35 (in the basement of the Hotel Csaszar Budapest) – Website
The Veli Bej bath is the oldest and most beautiful of the city's Turkish baths. In the 19th-century, it was built over and only uncovered recently. This bath house was a bit hard to find, but we headed out in search of it in our last few hours before heading to the Budapest airport to begin our trip home to the U.S. It's also known as the Császár Baths because it's located in the basement of the Hotel Csaszar Budapest.
We happened to get there at about 8:30 am on a Tuesday morning so there were only a few people there taking a dip before heading off to work. After about 9 am Kevin and I had the main pool all to ourselves, which was a serene experience, especially after the crowds we saw at Szechenyi the day before.
Surrounding the main bath were four cool water pools. The neighboring wellness area had two different steam baths with oil fragrances, a dry sauna, and a modern jacuzzi spa. We lingered as long as we possibly could before heading back to our apartment to check out and head to the airport. Afterwards, it was a lot easier to ease into our seats on the airplane.