As I said in my previous overview about the Alaska trip, I'd had a good run. A really good run, in fact. Cassie and I have had insanely good weather on our trips for years now, so I think the reason I was so dumb in Alaska is due to complacency. She was complaining she didn't have enough clouds for our pictures. I had some serious weather karma going on, I flaunted it, and was severely punished by the weather gods for my hubris. Consider me humbled. Because I was an idiot, I missed out on the one thing I really wanted to do: see lots and lots of bears.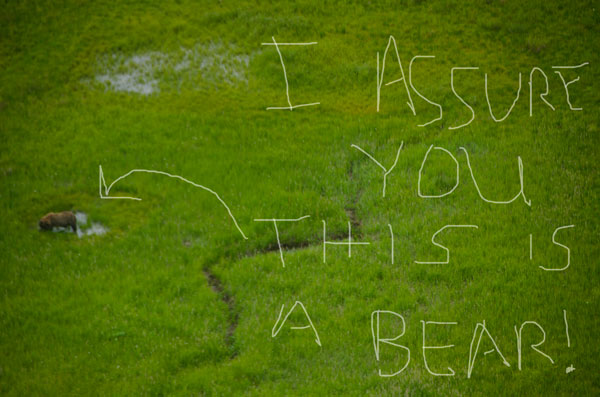 This is literally my only picture of an Alaskan Brown Bear!
In Alaska, the weather is very unpredictable. A weather forecast is like that funny joke that the locals tell each other. It's good for maybe 4 hours, and after that, all bets are off. But there's a really simple way to minimize your chances of having weather ruin your trip (I will add that my trip was very far from ruined, but I would have traded everything else for a good bear day). By planning weather-dependent events as early in your stay as possible, you can reschedule and shuffle your plans accordingly if bad weather strikes.
If we'd planned our bear flyout the first day of the trip, it would have been cancelled three days in a row, but the fourth and fifth days of our trip were those perfect Alaska summer days I'd been dreaming about beforehand (how very Pythonesque!). We could have scheduled tours for either of those days, seen all the bears we'd ever wanted to see (though I'm not sure that's actually possible for me, did I mention I love bears?), and fished when the weather got a little ugly again later in the week.
So if, for example, you're going to Barcelona and want to see Parc Guell, plan to go there your first day. If it rains, switch it with an indoor trip to the Sagrada Familia or Casa Batlló (I'm assuming you're a Gaudi fanatic, of course). Then, when the weather gets good again, you can go back and take in those romantic panoramic views of the city.
It's simple, it's common sense, and it's just slightly more than I'm able to remember when I'm traveling without Cassie, who usually saves me from myself. But if I can save even one person from making the same mistake, my work here is done.
And of course, if you get the feeling you've just got a set of rain clouds following you around, you can always make the most of it by looking for those ominous mood shots that Ansel Adams made so famous. (The photo below may look black and white, but it's full color!)