UPDATE: This contest has ended.
I know I'm not the only one out there infatuated with sea turtles. These graceful creatures capture the hearts and minds of beachgoers around the world. Anyone who has been lucky enough to catch a glimpse of these gentle animals in the wild will tell you it's a thrill you'll never forget.
Last week, buried among a dozen or so, unsolicited and irrelevant marketing proposals bloggers get each day, there was an email in my inbox that stood out:
Turtle Island Restoration Network (a non-profit environmental conservation organization) and the California Coastal Conservancy (a California state agency) are sponsoring the bilingual, "Be a California Sea Turtle Hero: Sea Turtle Sand Castle Snapshot Contest" to raise awareness of endangered Pacific leatherback sea turtles and encourage exploration of the California Coast. The contest is free and open to everyone, and the winner will receive a three-night stay at La Jolla Cove Suites in San Diego.
An opportunity to help save sea turtles, promote travel to California beaches, AND win a trip to San Diego? Tell me more…
Why Pacific Leatherback Sea Turtles?
This contest is working to bring attention to the conservation of Pacific Leatherback sea turtles. Pacific leatherback sea turtles are the largest turtle–and one of the largest living reptiles–in the world.
These ocean giants can grow to over six feet in length and weigh as much as 2,000 pounds. Also–of special interest to this travel blogger--leatherback sea turtles are world travelers! They are the most migratory and wide ranging sea turtle species. They nest on beaches in Indonesia, and make an (annual!) 6,000-mile journey to the coastal waters of California to forage jellyfish.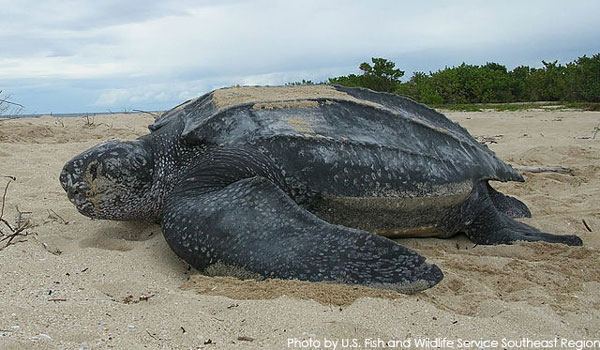 Unfortunately, these gentle giants are very endangered.
As the turtles make the long trek from Indonesia to California, they are faced with threats such as commercial fishing from drift gillnets and long lines for tuna and swordfish and plastic debris that they ingest by accident. Commercial fisheries and illegal poaching have decimated the population of Pacific leatherbacks to less than 10 percent of their historic population (Source: TIRN, 2013)
Once leatherbacks reach the California coast, they are not out of harm's way. The California drift gillnet fishery creates yet another deadly obstacle. This fishery complex using massive, mile-long fishing nets is lethal to marine mammals, sharks, and sea turtles which are often caught and killed as bycatch. I wasn't familiar with this specific large net practice and when I googled it, came across this set of photographs (Beware: They are disturbing).
Efforts to protect these sea turtles, their habitat and their offspring on the U.S. West Coast are critical to saving this ancient species from extinction.
Turtle Island Restoration Network, California Coastal Conservancy, and other conservation organizations are working together to address some of these issues and reduce the harm that our communities and our industries have on the ocean.
Here's how you can help:
Help the Turtle Island Restoration Network bring attention to sea turtle conservation by entering the Sea Turtle Sand Castle Snapshot Contest.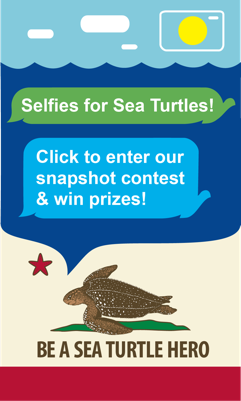 How to Enter:
Go to the California coast
Build a sea turtle sand castle
Submit your photo via Facebook, the contest website, or via Instagram using the hashtag: #sandseaturtle
Vote for your favorite snapshot!
Entry is free and open to everyone! Winner will receive the following donated prize: A 3-Night Stay in La Jolla Coves Suites!
Visit the campaign website to learn more, or watch this video:
Personally, I'm heading to the beach next weekend, and though I haven't played in the sand in years, I'll try my hand at building a sea turtle. Saving leatherback sea turtles is a worthy cause–and a trip to San Diego would be a great prize!
Stay tuned for photos!