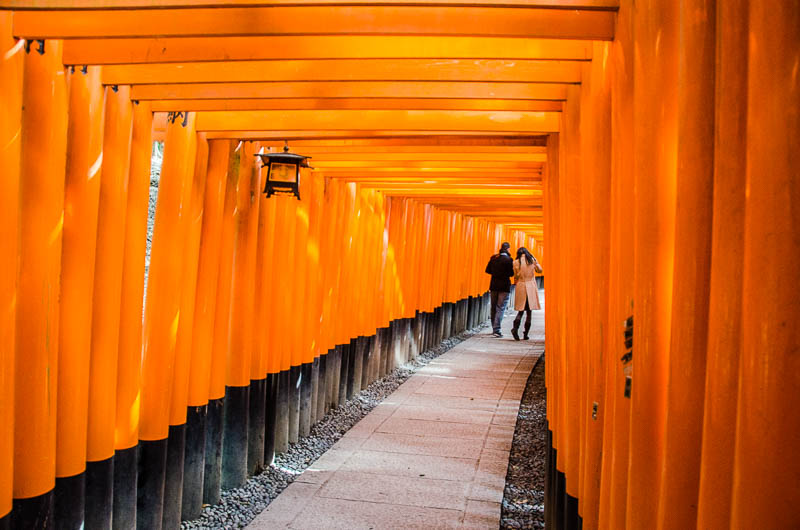 Fushimi Inari Shrine, Kyoto, Japan
A (semi-) monthly round-up of things I'm reading, watching, and obsessing about.
We're doing our next #SweetsCrawl food tour next weekend in Sacramento. Northern California friends, join us there!
You learn so much from traveling and working that you could not get in school. I love this trend for college-bound students who are able to take time off.
I can never sleep the first night I stay in any new place. I always just chocked it up to "excitement" or "missing my bed," but there's a lot more to it than that.
Celebrating the 40 year anniversary of an event that forever changed the world of wine–and California!
Has the U.S. reached "peak food city?"
The weird world of Japanese Kit Kats.
The official ranking of instant ramen (Top Ramen Oriental was my college favorite)
Why every woman should travel alone.
Tips for reducing your emotional attachment to stuff so you can declutter
Home organizing tips for weirdos.
This wild ingredient is a big deal near my family's home in Western Pennsylvania. How foodies might be destroying it.
The surprising way caffeine affects how you use the internet.
The struggle is real: How expat Californians long for California burritos.
A shopping list for anyone else trying to make Japanese food part of their daily life. (I discovered one of these delicious ingredients, sansho, this spring on our trip to Kyoto)
Travel does a lot of good in the world, but it also does a lot of harm. It's hard to read studies like this.
I was horrified to see this common tourist attraction in India last year. So, "yes."
… and other countries around the world.
At least we are not in the Philippines.
I had never heard this story about the very first Memorial Day and the holiday's roots in the fight for civil and human rights.
Americans don't miss manufacturing, they miss unions.
An intimate look inside the White House.
Memories of Hiroshima — survivors share their stories.
Here's what it would look like if an atomic bomb hit your hometown.
Thoughts on travel + food from Anthony Bourdain
Celebrate our National Parks by not bothering wildlife.
My blogger friends have been traveling and going on some great farm + food tours. Here are some stories from visiting a chocolate farm in the Dominican Republic, visiting a strawberry farm in Watsonville, California, and visiting a rustic cheese maker in rural Washington State.
Exciting news for transit & beach lovers in Los Angeles!
The best thing about San Diego is… Mexico?
Salt, smoke, & chocolate chips!
We're now well into Season 3 of my favorite T.V. show, HBO's "Silicon Valley." There have been a ton of articles published over the last few years about how scarily accurate the show is in portraying life here in the San Francisco Bay Area–I even wrote one myself. Here are two of my most recent favorites–one on Fortune and one on Business Insider.
Sad news for tea drinkers.