Summer is here, and I cannot wait to get outside. I'm planning two different camping trips this summer–our annual 4th of July friends trip, and a trip to Pinnacles National Park, America's newest national park in the rocky hills east of Monterey, California.
On both trips, we'll be camping and driving up there with our dog.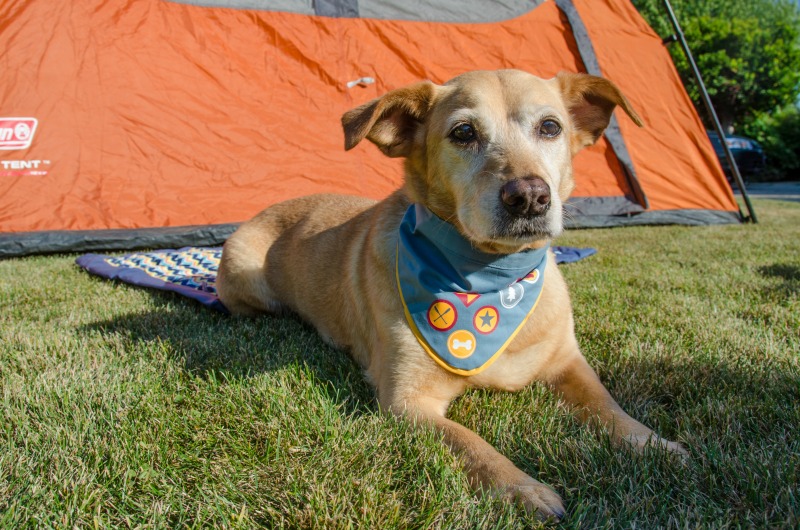 Posey is a seasoned traveler and we take her on a lot of California road trips, overnight hotel stays, and camping trips. While I've found that camping with dogs is not that different than other means of traveling with your dog, there are some specific things that are good to pack for dog-friendly camping, road trips, and outdoor adventures.
To celebrate the beginning of camping season, pet supply retailer and post sponsor, Petco, sent me a few summer-y dog travel items to review. I tested them out with my dog, Posey, and my friend's dog, Macy, and included links (and gratuitous dressed-up dog pics), where relevant.
Here is my dog travel packing list and tips for going on road trips and camping with dogs.
Medication & vaccination: Make sure your pet is current on all recommended vaccinations and monthly flea, tick, and heartworm medication(s) – we like the Seresto flea collar because it provides long-lasting protection against fleas, ticks, and mites. For extra protection against fleas and ticks, consider packing something like this insect-repellent and reflective (good for black dogs!) neck gaiter.
License, microchip, and vaccination records: Important in case your dog is lost, injured, or your campsite requires proof of vaccinations–some do!
Collar and leash: Dogs need to be kept on a leash at most campsites and on many trails.
List of dog-friendly hiking trails: Do some research in advance to identify places where dogs are (and are not) allowed.
Food and water: Bring a sufficient supply of dog food and clean drinking water, if there isn't a clean water supply at your campsite.
Food and water bowls: One each to leave at the campsite, and one water bowl to take hiking. I have this collapsible silicone bowl which is great for hiking — it folds down easily for travel and snaps onto the outside of your hiking pack so you don't have to put the slobbery thing back in your pack.
A tie-out cable: Most campsites require your dog to be tied up on-site. A 30-foot tie-out cable can be tied to a tree or the leg of a picnic table. If you aren't sure whether or not your site will have anything to attach the cable to, bring a stake like this one.
Blanket or mat to sleep on: Bring something cozy for your dog to sleep on, in the car and wherever you stay – your dog's favorite blanket, a crate liner/compact dog bed, or even a children's insulated sleeping bag.
Tick remover: Bring tweezers or a tick remover to safely remove ticks. If the dog's hair is long, remember to bring a comb
An old towel: For wiping off water or mud.
A favorite toy: A frisbee, ball, squeaky toys, treat dispensing toys — whatever your dog likes.
Camping-themed squeaky toys.
Collar light: My friend Jenny gave me a dog collar light a few years back as a gift and I love it! It attaches to Posey's collar and lets us see where she is after dark.
Extra dog waste bags: Don't get stuck without them, bring a few extra rolls.
Sunblock: Dogs can get a sunburn, especially dogs with short fur and light skin. Apply a natural, mineral sunscreen to sun-sensitive areas such as nose and ears.
A seat cover: I have this hammock-style seat cover — it has nylon backing to protect your car seats from mud, water, and fur.
Car harness or crate: For safety on the road. I use a car safety harness like this one. Small dogs are generally safer in a crate.
Doggie lifevest: If you will be boating or playing near the ocean, bring a doggie life vest. Even dogs that love to swim can get tired, cramped, or weakened by the cold.
Doggie socks or boots: Good for hiking in rough terrain and/or wearing on the beach on hot days. In the photo below, Macy is wearing these canoe-print ones (discontinued), but any might help dogs when hiking on warm days.
---
Now, for some things that are certainly not camping essentials, but camp-inspired fun…
Outfits Pictured (all discontinued)
This post was sponsored and select products were provided for review. This post includes affiliate links, so if you click a link to buy one of these products, I'll earn a small referral fee at no extra cost to you. I would never recommend something I don't use or wouldn't buy myself.