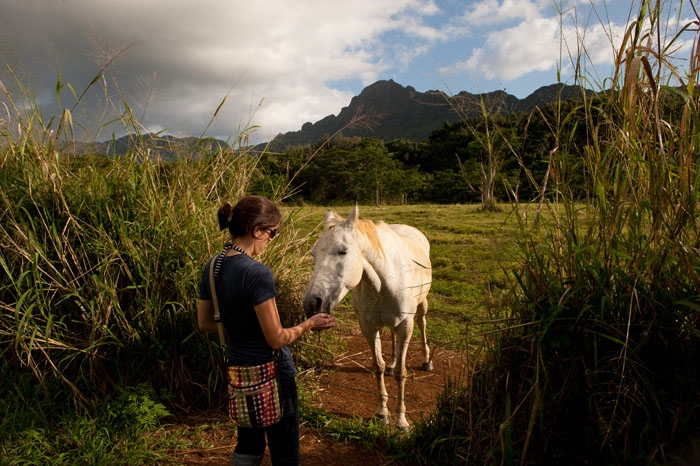 My friend Vee's post from earlier this week got me thinking about the trip we made to Kauai, Hawaii to visit her last year. I have very few photos from that trip. After we returned, I had a series of hard drive failures (on both my computer AND my external backup drive) and I lost almost a year's worth of photos that I had not yet edited and uploaded to my Flickr site. This is one of the few that remains, from the one memory card that hadn't been cleared.
This photo was taken near a trail-head for a swimming hole that Vee told us about. The swimming hole was a magical place, with intersecting streams, a 15-foot waterfall and a rope swing that stretched over the cliff and into a deep pool. Kevin jumped off of the rope swing twice, while I captured it on video (which is sadly, now gone).
After our swim we returned to the car to find this horse near the side of the road. I loved this view–the rugged mountains, the ominous clouds, and the lonely horse glowing in the late afternoon sun. The fact that it is also one of the only photos I have of this island, makes it extra special.
Foto Friday is a series where I go back through my archives to share photos that I love either because I think they are beautiful or they have an interesting story. I hope you enjoy them as much as I do!