On our recent New Year's trip to L.A., we got to the city at dusk just in time to enjoy one of my favorite things about Southern California: The seemingly endless views of Los Angeles at night.
I lived in Los Angeles for several years and there's so much that I love about the city. For one, LA is huge! There's no end to the interesting things there are to see in LA and neighborhoods to explore. At night, it seems to go on on forever. I love to gaze at the city from above and try to identify the different neighborhoods, freeways, and landforms based on the patterns of light and dark.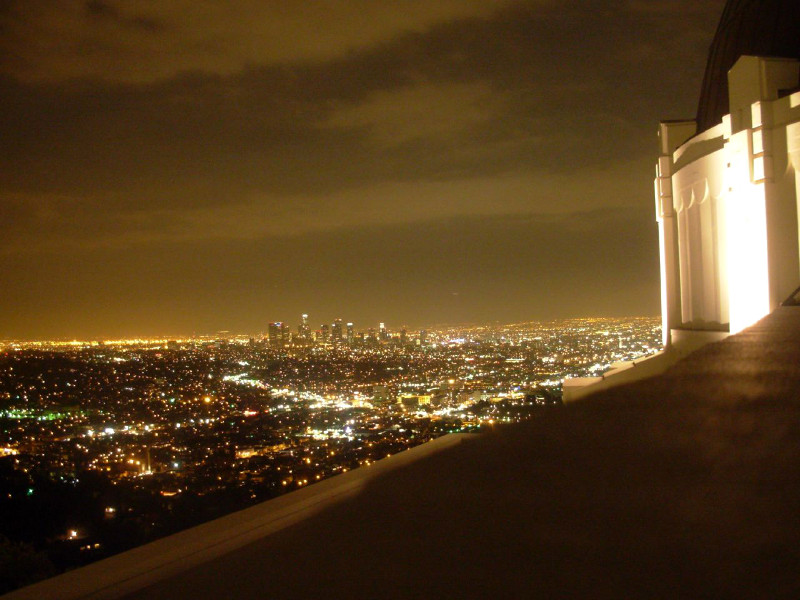 Looking out over Downtown L.A. from Griffith Observatory, 2005
My favorite view of Los Angeles after dark is the one from historic Griffith Observatory. From this vantage point on the top of the hill you can see Downtown L.A., Century City, the Hollywood sign, most of the city's major freeways and arterial streets, and on clear nights, all the way to the Port of Los Angeles and the Palos Verdes peninsula.
On this trip, we weren't able to get all the way up to Griffith Observatory because of the New Years crowds–parking up there is tough on normal weekend evenings, on holiday weekends it's even worse. So we veered off a side road and headed part of the way down Western Canyon Road to a point where we had this awesome view: Griffith Observatory (on the left), Downtown Los Angeles (center), and Hollywood and the Los Angeles basin (on the right).
Zooming into the basin, I could pick out the faint outline of the hills of the Palos Verdes Peninsula off in the distance. And the brightly lit road to the right of this photo is Western Avenue, one of L.A.'s longest streets. It starts right there at the entrance to Griffith Park and ends on the coastal cliffs of San Pedro, more than 30 miles away [ map ].
Visiting Griffith Park Observatory
2800 East Observatory Rd., Los Angeles, CA 90027
Admission to the observatory, grounds and parking is free, but parking is very limited at the top of the hill. When parking at the observatory is full, you can park for free at the base of the hill (at the Greek Theater) and walk up. During the day, there are great hiking trails through the hills that take you to one of the best views of the Hollywood sign. And don't miss the observatory which is free and open, Tuesday through Sunday.