Yesterday was my "blogiversary," the four-year anniversary of my inaugural post here on Ever In Transit.
I decided start EIT after discovering a few travel blogs back in 2011. Launching the site was my New Year's resolution at the turn of 2012. It's the only New Year's resolution I've ever kept!
Instead of cupcakes this year, per my annual tradition, I celebrated by baking scones. Why? Well, I found a jar of lemon curd in my cupboard that I got as a Christmas gift last year (!) and figured it was as good a time as any to crack into it.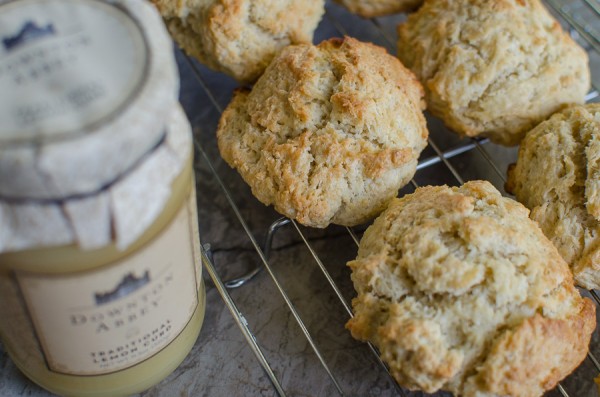 In 2016, I've got some new New Year's resolutions here on EIT: I'm getting serious about achieving a more consistent post schedule–I'm trying to stop going ten days without a new post, then sharing four in four days. Second, I'll want to make sure I'm sharing things you want to see. I've been wanting to do a reader survey for years and I'm finally working to put one together. Third, I want to plan more and in-person tours and events. A few people have asked me to plan organized day tours or food, so I'm figuring out the feasibility of launching one here in California in 2016, and perhaps one abroad, next year. At the very least, I want to host a few more SweetsCrawls and other reader meetups this year. Where should SweetsCrawl go next? Let me know in the comments!
By the way, the scones turned out great — they were rich and crumbly, and so easy to make.  Give them a try and let me know what you think!
The Perfect English Scone Recipe
Ingredients
1 2/3 cups all-purpose flour
2 1/2 tsp baking powder
3 tbsp sugar
1 pinch of table salt
3 tbsp butter
½ cup milk (I used almond milk)
1 tsp vanilla extract
1 egg
Instructions
Preheat oven to 400 degrees F.
Add the flour, baking powder, sugar, salt, and butter into a food processor. Pulse in the butter until the mixture resembles a coarse meal. If you don't have a food processor, mix the butter into the dry ingredients with your fingers until it is the same texture.
Whisk together the milk, egg, and vanilla. Set aside a few teaspoons of the liquid to brush on top of the scones to help them brown (I forgot this step, and mine looked okay)
Add the liquid to the dry ingredients and stir in quickly with a wooden spoon until a soft dough forms. It should be a little sticky. Don't over-mix the dough or your scones will not rise well.
Make small balls of dough and press them lightly onto a parchment paper lined cookie sheet. I used our large cookie scoop (approximately 3 tbsp) so that they were uniform.
Brush the tops of all the scones with the reserved milk and egg liquid.
Put the scones into the heated oven and cook for about 12-15 minutes or until the tops of the scones are evenly browned. Cool on a wire rack.
Serve with clotted cream, jam, or lemon curd. We used this fun (and delicious!) Downton Abbey-branded lemon curd I got for Christmas.
Adapted from this recipe that I found on Pinterest.
What are your New Year's resolutions? Or goals for 2016?