One curious thing about digital photography is how amazing photos often remain hidden, buried by the thousands of shots we take each year.
Since we lost Kevin's dad back in May, I've spent hours going through old photos from times we spent with him, digging for photos of him and memories of times we spent together. As photographers, this is how we deal with our emotions. Time spent with our photos is a poor substitute for time spent with loved ones, but when that's all you have left, I'm so grateful that photography is our pastime.
I uncovered two folders of images Kevin took on trips with his dad to Alaska, once in 2004 and again in 2012. There were thousands of photos in these collections, and I had never really looked through them before. It seemed an overwhelming task to sort and process so many images, so it always got pushed aside so that I could work on photos from later trips.
At first, I just scanned through the folders to pulled out photos of Bill, but then I got drawn in by the landscapes and otherworldly beauty of the state. Kevin always refers to Alaska in the lazy shorthand, "the Africa of North America," as tribute to the awe-inspiring landscapes and access to wildlife.
I didn't get to go on either of those trips, but looking through all these photos brought me closer to the place and inspired my dream of visiting Alaska one day.
Until then, here is a brief photo tour of Alaska.
Glaciers:
Kenai Fjords National Park:
Aerial view of a glacier near Wolverine Creek.
Mountains near Portage Glacier.
Bears:
A black bear at Kenai Fjords National Park.
Brown bears, fishing for salmon on the Katmai Peninsula.
Mama and cub brown bear fishing for salmon at Wolverine Creek:
Whales:
Humpback whales "bubble-netting" at Kenai Fjords National Park (find out more in this post: The Amazing Sights (and Smells) of Humpback Whales in Kenai Fjords)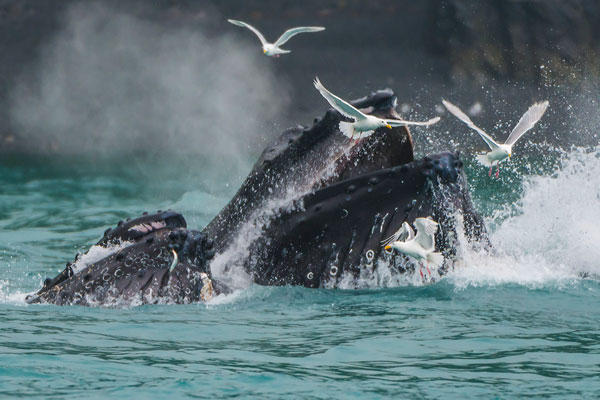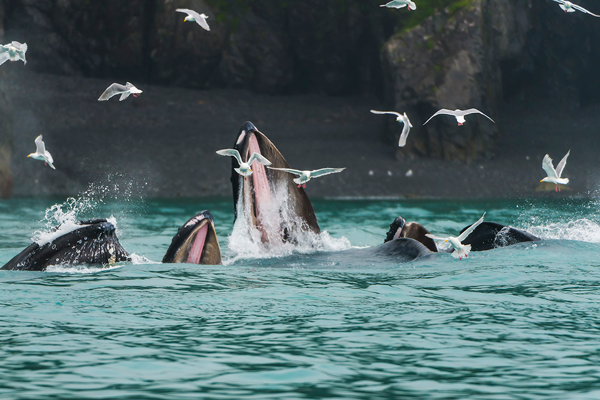 Other Wildlife:
A puffin
Sea lions…
And a sleepy otter…
Fishing:
Fishing for salmon at Wolverine Creek.
Halibut fishing off the coast of Homer, AK.
The day's catch!
Landscapes:
Capture the best views by air…
Back on the water…
---
Have you ever been to Alaska?