The Road to Hana is top of my list for things to do in Maui and one of the best road trips routes in the world. The 52-mile drive winds through some of the most beautiful and diverse landscapes on the island and one of the most remote and traditional communities in Hawaii. Kevin and I did the drive as a day trip back in 2011, and I'm dying to go back to Maui and spend a few nights in Hana so I can explore the area even more.
This road trip is not for the faint of heart. The drive to Hana has over 600 sharp curves and 50 single lane bridges. If you choose to go past Hana and do the full loop, the road past Hana is rocky with deep potholes and more hair-raising curves. The road is actually nicknamed the "Divorce Highway" because so many couples argue about safety along the winding road (I spent part of the drive with my eyes closed, white-knuckles on the dashboard and I probably would have threatened divorce if Kevin and I were married back then!) Still, I thought it was well worth the temporary agony for the stunning Road to Hana stops, passing through the most beautiful parts of Maui. If you are concerned, leave the driving to a pro and book a tour, see more information below. Consider it relationship insurance.
Whether you choose to drive the Road to Hana or do a Hana tour, here are some things to see on the drive presented in the typical clockwise route. Sights are marked with the "mile marker" (mm) indicating their location along the road. I also include some tips for deciding whether to drive or do a Road to Hana tour, and some Road to Hana travel tips.
Hana Highway Stops
Beautiful waterfalls: There are several beautiful waterfalls along the drive. Two favorites are Twin Falls (mm 2) just a short hike off of the road, and the Upper Waikani or "Three Bears" Waterfall (mm 19), right off of the road.
Lush rainforest flora and fauna: The drive and hikes pass through deep misty green forests that are unlike anywhere else on Maui.
Keanae Peninsula view (between mm 16 and 17): Great views over the rustic peninsula featuring some traditional Hawaiian towns, sprawling taro fields and the rugged Hana coast.
Waianapanapa State Park / Black Sand Beach (past mm 32): One of my personal favorites — a 120-acre state park featuring a gorgeous black sand beach, sea caves, and a blowhole. This full-service park has a picnic area, bathrooms, etc.
Roadside stands: There are lots of roadside stands along the road selling fresh tropical fruit, banana bread, shave ice, and homemade ice cream. Stop at any or all of them! My favorite memory was stopping at Coconut Glen's (mm 27.5) for their delicious homemade vegan coconut milk ice cream served in a half coconut shell.
Hana Town Stops
Homoa Beach: Beautiful soft sand and turquoise waters. Rarely crowded and often named one of Maui's best beaches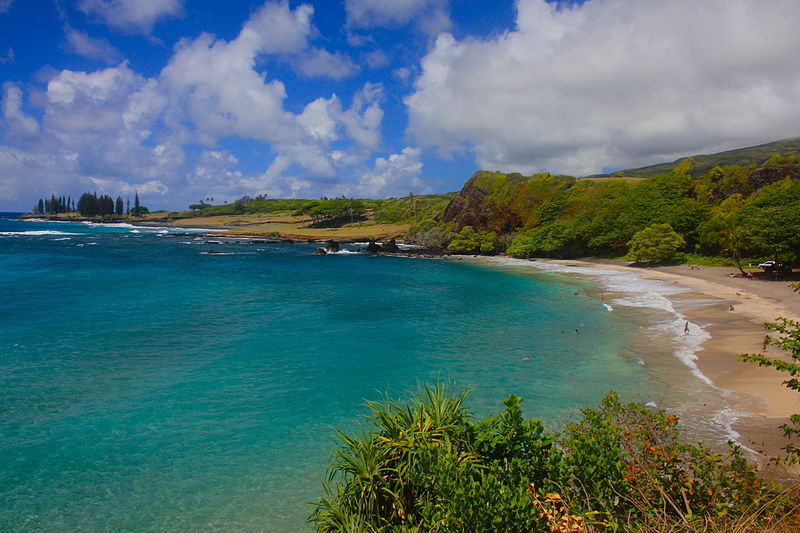 Koki Beach: A dark red sand beach that's a favorite of local surfers. Not always safe to swim because of choppy water and rip currents, but it's pretty.
Hana Bay: A gray and rocky volcanic sand beach in a protected bay so it has the calmest water in Hana. Not as scenic, but it's a relatively safe swimming spot for young children.
Kaihalulu Red Sand Beach: Beautiful red sand cove but requires a steep hike that can be dangerous if it's been raining.
Hana Cultural Center: Museum highlighting Hana's history and the culture of this very traditional Hawaiian community.
Hasegawa's General Store: A tiny historic store that dates from the early 20th-century.
This is when you'll either turn around and head back along the North Shore or continuing on past Hana where there are some beautiful sights but the unpaved roads are rugged and feel even more dangerous. Note: If you are continuing on past Hana, at this point Highway 360 turns into Highway 31
The Road Past Hana
South Wailua Waterfall (between mm 45 and 44): A gorgeous 100 feet tall, with easy access, right along the side of the road.
The Kipahulu District of Haleakala National Park sights (mm 42): This area of the coast has some of Hana's most photogenic sights: The bamboo forest, the Pools of Oheo ("the 7 Sacred Pools) and the Pipiwai Trail, a 4-mile round-trip hike to Waimoku Falls. These sights are within the Haleakala National Park so admission is $10. Keep your entry permit! Entrance price gets you into the Haleakala Summit if you use it within 3 days.
Charles Lindbergh Gravesite: See Lindbergh's grave, the first man to fly across the Atlantic Ocean. He retired to this remote part of Maui and was buried at the Palapala Ho?omau Congregational Church.
Kaupo Area: The dry and windswept backside of Haleakala. The vegetation disappears and the landscape glows in the late day sun
Upcountry Maui: End your trip with a drive through this rural farming and ranching community, though by the time you get here, most things will be closed. Explore this area the day you do the drive to Haleakala Crater.
Driving vs. Road to Hana Tour?
The decision depends on how many people you have in your group, how much time you have to explore, and what your personal risk tolerance is. Here are a few of the pros and cons of each.
Driving the Road to Hana:
Pros: This is certainly the most flexible option. You can take your time on the drive and make impromptu stops or cut your trip short if you want to. If you have the time, you can choose to stay the night (or longer) in Hana so you can explore more of the area. Driving can be cheaper if you are traveling in a large group.
Cons: The road takes a bit of planning to make sure you have time to see everything you want to do. The narrow windy roads can be scary when the traffic is moving, and frustratingly slow, mid-day if there are lots of other cars. Parking is extremely limited at many of the popular stops and you may have to park a long way past the attraction and hike along the narrow windy road to get back. You need a rental car and taking the road past Hana may be against your rental car contract and if you'll be liable for any damage to the vehicle.
Taking a Road to Hana Tour:
Pros: It's the easy and relaxing choice. There's no planning required, no driver (or passenger!) stress, and no need to deal with parking. It's the most eco-friendly option, limiting the number of polluting cars making the trek. You don't have to risk damaging your vehicle on the drive past Hana. Tours are better for solo travelers who don't want to do that risky drive alone and couples who don't want to fight.
Cons: Less time for hiking and unplanned stops.
You can book a full day, full-loop tour with Valley Isle Excursions and benefit from their expert Road to Hana guides–they know all the stops, the local history, and hidden gems. All their tours are small groups, limited to no more than 12 people per "comfort cruiser" van (big windows & lots of legroom). All tours include pickup at your hotel or condo, breakfast at the Clubhouse at Maui Lani Golf Course Kahului, and a Hawaiian-style picnic midday. Find out more & book online to save $10!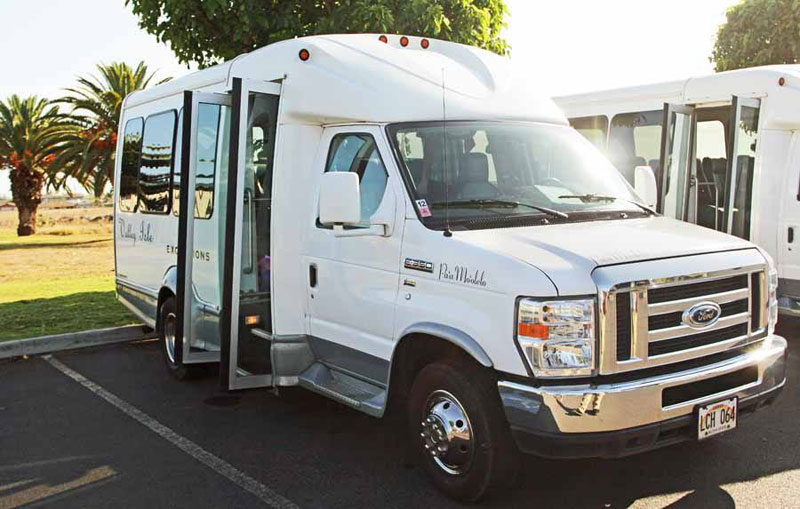 Road to Hana Tips
Drive cautiously: This is not a race and there's so much to see along the way so take your time.
Leave early! At or right before sunrise. Consider staying the night on the North Shore the night before helps so you can get going at sunrise.
Parking can be challenging. Again leaving very early helps.
Fill up on gas the night before.
Bring cash for buying food and drink at roadside stands.
If you are doing a tour, sit on the left side (driver's side) of the van for the best ocean views.
Bring motion sickness medication (the road is windy!), sunscreen, and insect repellent.
Wear a swimsuit — you may want to take a dip in the pools.
If you are driving, consider staying the night in Hana so you have more time to explore.
Don't try to do other things on the same day. Road to Hana (whether you go out and back, or do the full loop) is an all day affair. I read a blog post suggesting you try to do the Haleakala Crater the same day (in the evening, after the full loop) but that's nonsense. Take the time to do it right.
This post was written in partnership with Valley Isle Excursions. 
Photo Credits: #1, 3, 6: Eileen Johnson; #2, 4, 7: Cassie Kifer; #5: Flickr/Navin75 via Wikimedia Commons; #8: Valley Isle Excursions
Have you ever traveled the Road to Hana? Please share your Hana travel tips!