Last Monday was the start of the Lunar New Year. You might recognize it as the "Chinese New Year," but it's also celebrated in other parts of Asia that traditionally used the Chinese calendar. In Vietnam, the holiday is called Tet, and it is the most important festival of the year. Tet celebrates the arrival of spring and it's marked by home cleansing and purification rituals, cooking celebratory food, exchanging "lucky" red envelopes full of money, and hosting family reunions.
I live in San Jose, California and my city has a big Vietnamese community–the largest outside of Vietnam, in fact.  There are big organized festivals and small local parties. Every day for the last week, kids in my neighborhood have been setting off firecrackers and yesterday I ran into these dragon dancers on my way to the grocery store.  In Vietnam, the holiday is celebrated for three days whenever it falls on the lunar calendar, usually in January or February. In the U.S. (because we don't have those days off work!), the celebrations span a few weeks so that the parties and events can be hosted on sequential weekends.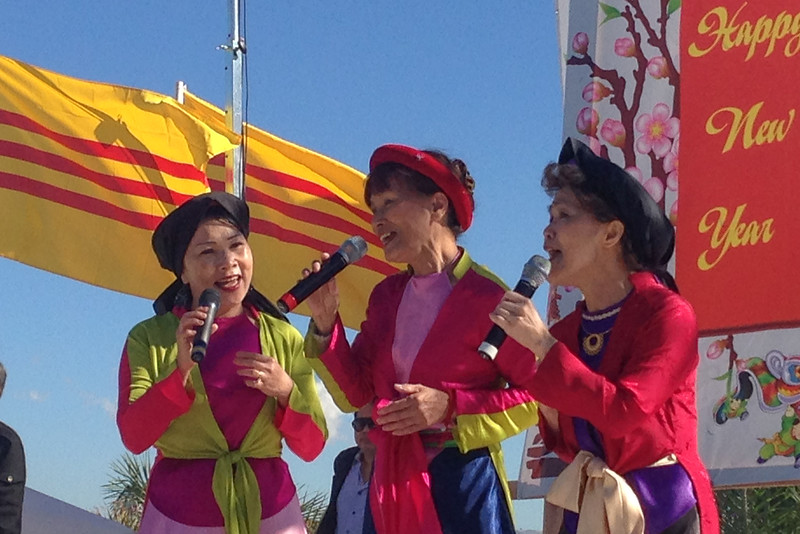 A few years ago, I went to one of the bigger Vietnamese New Year festivals, Tet San Jose. The event took over the county fairgrounds and drew about a thousand or so people to celebrate with music, food, a beauty pageant (!), and a parade. Lots of people came dressed in colorful traditional costumes. I went alone and frankly, didn't understand much of it (everything was in Vietnamese except the welcoming remarks by local city council members and state representatives), but people were welcoming and excited to have their picture taken. The Tet Festival is happening again this weekend but I can't go this year, so instead, I dug up my pictures from 2014. I forgot how pretty it all was!
NOTE: If you've actually traveled to Vietnam, you probably do not recognize the yellow striped flag that is waving in most of these photos. This is not today's official Vietnamese flag (which is red), it's the historic flag of South Vietnam prior to their fall to Communist North Vietnam.
The striped flag is used by Vietnamese immigrants who fled to other countries as a statement of protest against the Communist government. In Vietnam, it's illegal to fly the striped flag (it's considered anti-government propaganda) and people who do so risk prosecution. Likewise, in the U.S. most Vietnamese-Americans consider the official red flag offensive and protests occasionally break out if an unknowing company or institution use it to represent the Vietnamese-American community. Many countries, states, and cities (including The State of California and City of San Jose) have recognized the yellow striped flag as the official symbol of the Vietnamese community–they call it the "Vietnamese Heritage and Freedom Flag."
With that in mind, here are some of the photos from the event. Happy New Year to you! Chuc mung nam moi!
I talked photography with these two for a while. He asked about my Nikon camera — Nikon people stick together! 
I have no idea what I ordered, but it was all vegetarian! It's very easy to find vegetarian Vietnamese food because there are so many practicing Buddhists who follow a vegetarian diet.