When I looked through the photos of the cooking class we took in Chile, I noticed I had forgotten to ask Pilar to send me a recipe for the white peach sangria we had made. It was really simple, peaches infused in a Chilean white wine and some sugar added, so I decided to try to replicate it.
Because it's summertime, I figured I'd make it sparkling. And when we made this, I was at my friend's house and she happened to have peach schnapps in her kitchen, so we added some of that for extra flavor. We threw in the nectarine for color and texture.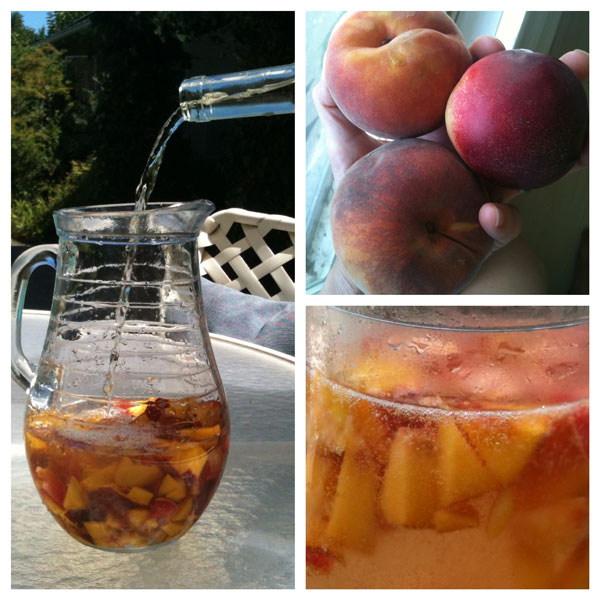 Sparkling White Peach Sangria Recipe
Ingredients:
1 Bottle of white wine (I used a sauvignon blanc from Chile's Central Valley)
1/3 cup Peach Schnapps
1/3 cup sugar or more (depending on how sweet you like things) and equal parts water.
2 sliced peaches
1 sliced nectarine
1/2 liter of seltzer water
Preparation:
Make a simple syrup, dissolving equal parts sugar in water over heat. Let cool.
Pour wine and Schnapps in the pitcher and add sliced peach and nectarine. Next add simple syrup and stir gently. Chill mixture for at least one hour. Add sparkling water just before serving.
If you'd like to serve it right away, use chilled white wine and seltzer.
Other ideas: Use ginger ale, Sprite, or sparkling wine instead of seltzer; use an orange instead of nectarine; throw in some strawberries!
---
Give it a try and let us know what you think!