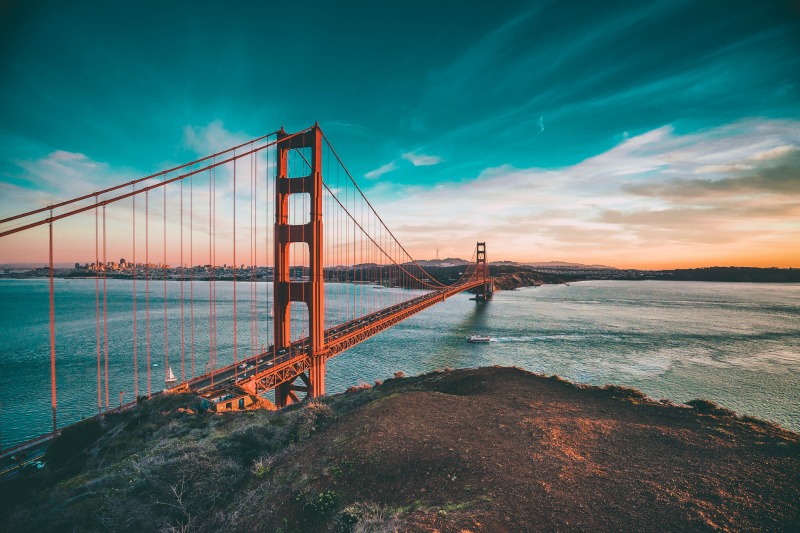 How would you spend a summer weekend in San Francisco?
Travel search engine, KAYAK, asked me to share my best summer travel tips to help sync up with the launch of their Summer Travel Hacker Guide. Among other insights, they scoured their travel booking data to come up with the top 10 U.S. cities for a long weekend summer getaway, which I thought was an interesting list–some destinations I would expect for quick summer getaways (Key West, Myrtle Beach) and others that surprised me (isn't Austin really hot in the summer?)
Obviously, my favorite city on KAYAK's list is my home, San Francisco. Their San Francisco city guide has some useful pricing data to help you plan your trip. Their Trips tool lets you manage your itinerary all in one place by forwarding all receipts to an email address ([email protected]). You can also save results from a search, to track prices before you buy.
I paired some of this data with some of my favorite things to see, do, and eat for this San Francisco weekend travel guide.
Looking to plan a summer trip to San Francisco? Check out these tips:
When to Go to San Francisco:
Here are some of the findings KAYAK offers about San Francisco in their Summer Travel Hacker Guide:
The lowest overall median airfares and hotel prices are in May and September
The average temperature in is highest in July, August, and September
The average precipitation is basically zero all summer.
The lowest median airfare prices are 30 days before departure date.
I'd say this data matches my personal experience. If you are looking to book a summer trip to San Francisco, try to visit in September — it's sunny and warm and less likely to be foggy and cold as the early summer months. Also, the flight and hotel prices are much lower in September than the earlier months.
Things to See & Do:
Here are some of my favorite things to see and do in San Francisco.
San Francisco Ferry Building: San Francisco's historic ferry terminal turned gourmet food marketplace is one of my favorite places in the city. It's a great place to try all the flavors of San Francisco in one place. Visit them during the Saturday morning Ferry Building Farmer's Market to meet local farmers and food producers from across Northern California.
Fisherman's Wharf & Ghiradelli Square: This area is cheesy and touristy but there are several reasons to visit. I love the sea lion colony (at Pier 39) and nonprofit Sea Lion Center, Boudin Bakery for the city's famous sourdough bread, and Musee Mechanique to play quirky antique arcade games. For wine tasting with a view of the Bay, check out the Bluxome Street Winery in Ghiradelli Square, or the home of boozy Irish coffee, at Buena Vista Cafe.
Coit Tower & Telegraph Hill: Climb the stairs up Telegraph Hill and watch for wild parrots who live in the trees. Visit Coit Tower built as a tribute to local firefighters (that's why it looks like a fire hose!) Explore the 1930's leftist and revolutionary New Deal Era murals.
The Mission & Castro Districts: Walk through these historic, but fast-changing communities. The Mission was traditionally a Mexican and Latin American immigrant neighborhood and the Castro was the center of the city's large LGBT community. Both areas were centers of the fight for social justice and equality and continue to be centers of these communities, though they are increasingly diverse.
The Golden Gate Bridge & the Marin Headlands View: Walk, bike, or drive across the bridge to Battery Spencer in the Marin Headlands, for the best view of San Francisco (see the photo above).
Twin Peaks Overlook: If you have a car or are up for a hike head up this hill for my second favorite view of the city–when the skies are clear. If it's foggy, don't bother making the trek up.
Golden Gate Park: This 1,000 acre city park has a lot to do for visitors. Some great stops are the Academy of Sciences (natural history museum), the de Young (art museum), the San Francisco Botanical Garden, Japanese tea garden, a Dutch windmill, and even a pack of wild bison! The best way to explore the sprawling park is by bike.
SF MOMA: This award-winning San Francisco modern art museum just reopened in March 2016 after a multi-million dollar renovation more than doubling the size and collection. I haven't been yet, but the place has received rave reviews.
The Exploratorium: A hands-on science museum that is fun for all ages on a gorgeous setting at Pier 15 on the Embarcadero.
Anchor Steam Brewing Company: Beer lovers shouldn't miss doing a brewery tour at Anchor Steam Brewing Company, one of America's oldest brewery and a pioneer of the modern craft beer industry.
Shopping: Visit Union Square, the shopping and commercial heart of San Francisco where all the major chain and global brands are. Find more local shops and boutiques in the city's many neighborhoods including the Marina, Hayes Valley, Noe Valley, the Mission, and Castro districts.
Where to Eat:
San Francisco is a proud foodie city with a hyper-competitive restaurant market. Any place that isn't good won't survive long. Even exceptional local favorites turn over fast, so it's hard for me to give specific recommendations.
With that said, here are some general tips for finding good eats in San Francisco:
Eat at the San Francisco's Ferry Building (see above). Every food vendor here is great.
Visit the Mission District for San Francisco's famous Mission burritos (the "El Tonayense" trucks are my favorite), authentic Mexican/Latin American restaurants, and lots of artisan food makers.
Try pizza and Italian baked goods in San Francisco's "Little Italy" neighborhood, North Beach
For the city's best Chinese food, skip tourist-orient Chinatown, for the outlying Sunset and Richmond districts.
Sample some of the city's best street food vendors at the weekly Friday night "Off the Grid" food truck gathering in Fort Mason park.
Where to Stay:
The Embarcadero, Fisherman's Wharf, and Union Square areas are probably the most conveniently located places to stay and the areas that have the highest hotel room density. If you can find a hotel or vacation rental in any of the city's great neighborhoods, they can be a comfortable base for seeing the city as a local would.
General Tips:
In the summer, San Francisco weather is often foggy and can even be unseasonably cold (in the 50's on a summer day). This is a unique feature of San Francisco's location on the Bay just west of California's blisteringly hot Central Valley. The valley sucks cool air in from the ocean and drags it through San Francisco, which typically makes the city much cooler than other parts of California. Be sure to pack warm clothes including a sweater, light jacket, or long pants. Don't miss a sunny moment to take a photo of the Golden Gate Bridge because it's possible it will be shrouded in fog the next time you look!
There is no need to rent a car if you plan to stay in the city, which I would recommend on a quick weekend trip. Public transportation is great and goes most everywhere you need to go in San Francisco and the East Bay (Oakland/Berkeley). A car rental is useful if you plan to head up to the North Bay (Marin, Sonoma, Napa) or drive down the Pacific coast into Silicon Valley or Santa Cruz.
Don't call the city "San Fran," or worse yet, "Frisco." Locals hate that.
Local friends: What are your favorite tips for seeing San Francisco in the summer?
Follow Kayak on Instagram to see more data-driven summer travel hacks to help you plan your getaway. Photo source: Pixabay.com, Creative Commons 0 (CC0) License. This is a sponsored conversation written by me on behalf of KAYAK. The opinions and text are all mine.