This article is a guest post written by Jennifer Upton.
My husband Tony and I explore our city like travel writing locals. We dream of one day living life out of a backpack, traveling the world, but why should we expect to be trusted with distant travels, if we cannot excavate and discover where it is we currently reside? If we cannot engage our own neighbors, how then will we know how to engage other cities and cultures in meaningful ways?
We are choosing to pen ourselves into the lines of story being written around us; sync our heartbeats with the pulsating vibe of our city. Sharing sidewalks with women and men who walk them daily, while always making room for someone else. When I read that Cassie from Ever In Transit was planning a #SweetsCrawl in San Francisco, I knew we had to mimic the same in Decatur, the Atlanta community we call home. What could be more fun than "crawling" from bakery to bakery; sampling specialty sweets each one is known for?
We didn't participate for the sweets, but for sustenance, for connection to one another and to local community. We went for the sharing of story between each bite; the capturing and penning of the new while telling of the old. Our newly engaged friends Jason and Shera joined us, along with our son Austin. Jason shared stories of his mother's Guamanian food heritage between bites of his Southern Sweets Bakery grown up grilled cheese. Tony shared his mother's southern food heritage- pinto beans and cornbread. Southern Sweets Bakery served as our lunch stop before consuming too much sugar.
Between bites of my salmon colored chicken salad (they used Thousand Island dressing in place of mayonnaise) I witnessed the watering of both eyes and mouths as we shared food memories of mothers no longer present. Shera added sugar to her lunch of shrimp and grits, straight out of her own childhood; Austin's simplistic pallet munched on a plain turkey sandwich and Zaps chips.
We ended lunch with a plate of warm Bread Pudding- five forks and straight bourbon flowing down the sides of Georgia deliciousness. Southern Sweets Bakery was birthed 30 years ago as a Grandmother passed down the art of baking to her Granddaughter. This art filled cafe with vintage black and white floors is hidden within an industrial park- a true Decatur gem.

Southern Sweets was our second stop, and the most memorable for me, so I had to share it with you first. Our actual "first" stop was Revolution Donuts, a hipster friendly spot where donuts are served on baking pans atop waxed paper. We weren't sure how to begin our sweets crawl, but with a loaded Nikon, Holga and a couple of iPhones in hand, we ordered an array of yeast donuts, captured them through our lenses and then cut into them all at once. Our baking pans held the Dough-Nut which was their low gluten variety, Salted Caramel Bacon, Cinnamon and Blueberry.
We did as a friend says "All the things" on our 12 hour #SweetsCrawl, which included a side field trip to the famous Dekalb Farmers Market after lunch. The Bourbon Bread Pudding was still warmly mulling within us so we thought it timely to explore multiple food cultures at once. We investigated with mesmerized eyes, unique shapes, colors and smells.
Live Blue Crabs and lobsters became our playground inside the farmer's market seafood department. I mean, when nets and tongs lay next to vast tanks of water, what's a group with childlike spirits supposed to do? We played. We played and we remembered our growing up days. Jason and Shera recalled Maryland and Virginia; we recalled Florida and Georgia. Austin drew the clawed creatures from the bottom of the tank for us to see up close.
Our side field trip was good for Austin, who is in the process of cutting weight for The U.S. Army. I asked him to describe the #SweetsCrawl, "Painful, helplessly standing by as sweets were engulfed. The sweetest thing I had was bittersweet lemonade from Revolution Donuts."
After our fun inside Dekalb Farmers Market, it was coffee time and I had been dying to try coffee at Cakes & Ale Bakery. A bakery situated along historic Downtown Decatur's city square. I had read that they use the pour-over method for brewing coffee. Pour-over is a method in which water is poured by hand in a slow and steady stream into a filter cone. It is said to help extract the best flavor of the coffee bean and to reduce bitterness. I just have to say, "It was the best cup of coffee I have ever tasted and the seasonal blueberry macron made our pour-over experience complete."
Cakes & Ale was our last planned stopped, but this "crawl" proved to have its own itinerary written in the stars. It led and we followed straight to Oakhurst's annual BBQ, Blues & Bluegrass Festival, walking distance from our home. There we ate fried Oreo's that tasted like I imagine a chocolate filled funnel cake to taste. Austin even joined in on this sweet with us, a sweet not listed for our day, but isn't that how it goes? You write out an itinerary, only to discover the unplanned along the way, or should I say, "The unplanned discovers you."
New Belgium's Heavenly Feijoa Tripel also discovered us at the festival. A combination of Dieu du Ciel's love of hibiscus flowers with New Belgium's passion for strange fruit. In this brew, the strange fruit is Feijoa, or pineapple guava. Our sugar high combined with 9% alcohol content, had us dancing the do-si-do.
Our last stop was at an event for Living Walls-The City Speaks, an annual conference on street art and urbanism. Another stop not on our own itinerary, but we trusted the leading once again. The event was held inside a former warehouse-turned-artists' collective, The Goat Farm. A local food truck was parked nearby, selling sweet treats to tempt us, but we instead chose to dance beneath rusted iron beams inside the main warehouse. Wild ivy hung free from broken glass panes; brick walls dripped in candlelight. Sugar and Feijoa still running through our veins.
We hit a 24 hour diner (Steak & Shake) after The Goat Farm, because well, it just seemed like the right ending to a very sweet date engaging local culture. We rooted up gems, placing them within the spaces of ourselves that hold memories. A reminder to continue exploring, always making room for others to join.
---
Our Decatur, GA #SweetsCrawl Itinerary:
Revolution Donuts – 908 College Avenue
Southern Sweets Bakery – 186 Rio Circle
Dekalb Farmers Market – 3000 E Ponce De Leon Ave
Bakery at Cakes & Ale – 151 Sycamore Street
BBQ, Blues & Bluegrass Festival w/ New Belgium – Annual event in the neighborhood of Oakhurst (our spot)
The Goat Farm – Art Collective – 1200 Foster St, Atlanta
---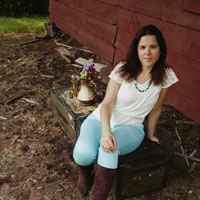 Jennifer Upton is a storyteller, an excavator of the sacred, exploring the world with an open and listening heart, diving deep into the jungled areas of life to uncover the stories hidden there. She writes as an act of faith, sharing the gritty truth and beauty of life on the pages of her blog, SpiritualGlasses. Find her on Twitter: @Jennifer_Upton