I just came across some notes I scribbled one night in a bar in Valparaiso, Chile. I'm working on a post about our time there, but in the meantime I wanted to share the "rock en español" songs we played on the jukebox that night. FYI, I have an unhealthy obsession with Spanish rock music, especially stuff from the 80's and early 90's.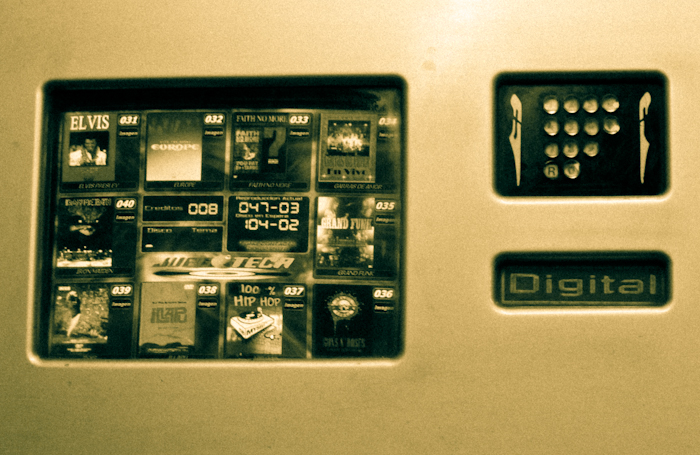 The Juquebox
This bar was as divey as dives can be, we stopped there to have a "terremoto" and a greasy empanada while we waited for the bar next door that we heard had great live music, to open. They never did.
So we were left to the lonely jukebox, or "ju-que-box" as Kevin and I imagined it would be pronounced. I browsed the files, and was disappointed to find a pretty similar mix of English language 80's rock to contemporary hits that I would expect to find at home (Guns N Roses –> Lady Gaga). Instead, I stuck with the 80s-90s rock en español classics that I knew, starting with the bands I knew were from Chile and Argentina.
A Playlist for Sudamerica:
Tren al Sur – Los Prisioneros (Chile)
My friend Jenny, brought me back a tape (yes, tape!) of these guys about 10 years ago after a trip to Ecuador. I love them, love this song.
De Musica Ligera – Soda Stereo (Chile/Argentina)
Soda Stereo was on my mind. A few days before, I'd been talking to Jaime on our flight to Punta Arenas, who told me that the lead singer, Gustavo Cerati, has been in a coma since 2010. He had a stroke immediately following a show in Buenos Aires. He was only 50… very sad.
Pachanga – Vilma Palma e Vampiros (Argentina)
Just an awesome, rocking song!
Mentira – La Ley (Chile)
My friend Rocio is a big fan of La Ley. We saw them live in L.A. once when they played on a local TV station. Beto Cuevas is sooo dreamy.
En Algun Lugar – Duncan Dhu (Spain)
In Torres del Paine we met Maite, originally from the basque region of Spain–where these guys are from. I mentioned that I knew of Duncan Dhu and that they were basque, and she shrieked. She said that her sister was a huge fan, would be very proud that I knew them… so this one went out to your hermana, Maite!

Devuelvame A Mi Chica – Hombres G (Spain)
Great song, I've always just called it the "pica song".
---
Do you like rock en español? What's your favorite song/band?